Potato Curry 
A vegetarian curry with plenty of heat, spice and freshness. Made with bite-sized cooked potatoes and finished with lots of lime juice.
Substitute:
No potatoes? Try with parsnips or swede instead. 
No chickpeas? Use butter beans instead. 
No garam masala? Try with curry powder instead. 
No fennel seeds? Use fenugreek instead. 
No fresh coriander? Try with parsley instead. 
No vegetable oil? Use olive oil or ghee instead. 
Prep time: 15 minutes
Cook time: 30 minutes
Total time: 45 minutes
Servings: 2
Ingredients:
300 g Potatoes
2 tbsp Vegetable oil
1 tsp Cumin seeds
1 tsp Ginger paste
1 tsp Garlic puree
1 Green chilli (sliced )
1 tsp Ground turmeric
1 can chickpeas (drained and rinsed )
1 tbsp Tomato puree
1 tsp Garam masala
1 tsp Fennel seeds
2 tbsp Coriander leaves (chopped )
Sea salt 
1 tbsp Lime juice
For serving:
1 Red onion (chopped )
Lime wedges
Recipe:
Boil the potatoes in salted water until just tender.
Drain, then cut into small bite-sized pieces. 
Place a large pan over medium heat. Add the vegetable oil, cumin seeds, ginger paste, garlic puree and green chilli. Cook for 2-3 minutes, until fragrant. 
Add the turmeric, a generous pinch of sea salt and the potatoes.
Mix to coat the potatoes with the spices then add 400 ml water. 
Bring to a boil then add the chickpeas. Cook for 5 minutes.
In the meantime, chop the red onion, coriander and prepare the lime juice. 
Now add the garam masala, fennel seeds and tomato puree into the pan. Cook for 2 minutes, make sure the potatoes are cooked to your liking. Use a wooden spoon to lightly crush some potatoes to get a creamier texture, add the lime juice and season to taste. 
Divide the potato curry into bowls and top with red onion and fresh coriander. Serve with lime wedges.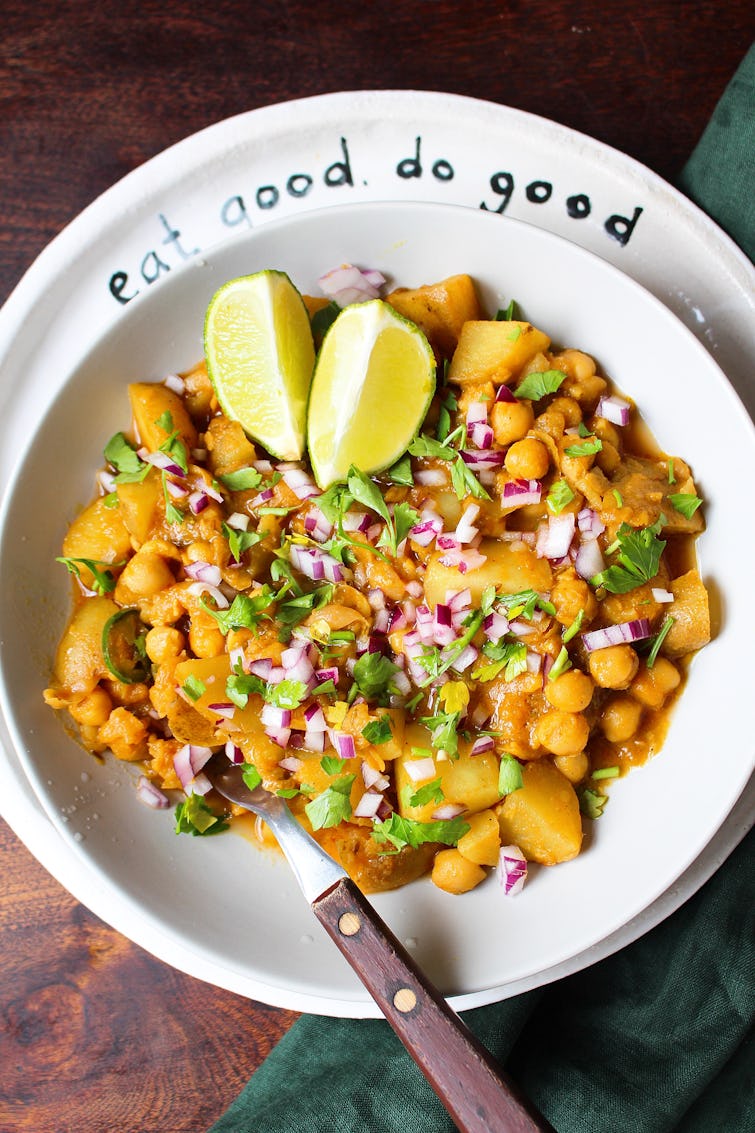 ---
How to store
Store in the fridge for up to 3 days or in the freezer for up to 1 month. 
Leftovers
Make a potato curry soup: Blend your potato curry into a creamy soup and serve with a dollop of yoghurt/vegan yoghurt or with a side of chapatis or naan bread.