Potato Croquettes
Cheesy mashed potato balls rolled in breadcrumbs and baked until crisp and golden on the outside and tender on the inside.
Substitute:
No potatoes? Try with sweet potato instead! 
Vegan? Use vegan parmesan.
No paprika? Try with ground cayenne pepper.
Prep time: 20 minutes
Cook time: 40 minutes
Total time: 60 minutes
Servings: 2
Ingredients:
For the potato mixture:
800 g Potatoes
5 tbsp Parmesan / vegan parmesan
1 tsp Ground nutmeg 
Salt & pepper
For the breadcrumbs:
60 g Panko breadcrumbs
1 tsp Paprika
3 tbsp Vegetable oil
Recipe:
Cut the potatoes in quarters and preheat the oven to 200 C/180 fan/6 gas mark. 
Place the potatoes in a saucepan, cover with water and cook for 15 minutes, or until ready tender.
Use a fork to mash the potatoes and mix in the grated parmesan, and nutmeg. Season to taste with salt and pepper. 
In a bowl, combine the breadcrumbs and paprika. Spoon about 1 tbsp of the potato mixture out of the bowl, and form into a cylinder. If the mixture is too sticky, wet your finger with water it will help you for the croquettes. 
Roll the potato croquettes in the breadcrumbs to coat and place on a lined baking tray. Lightly brush each croquettes with oil (I used vegetable oil spray but you can gently brush or drizzle).
Bake for 20 minutes then flip the croquettes and bake for another 20 minutes, until golden and crisp. 
Serve and dip into your favourite dip!
Enjoy!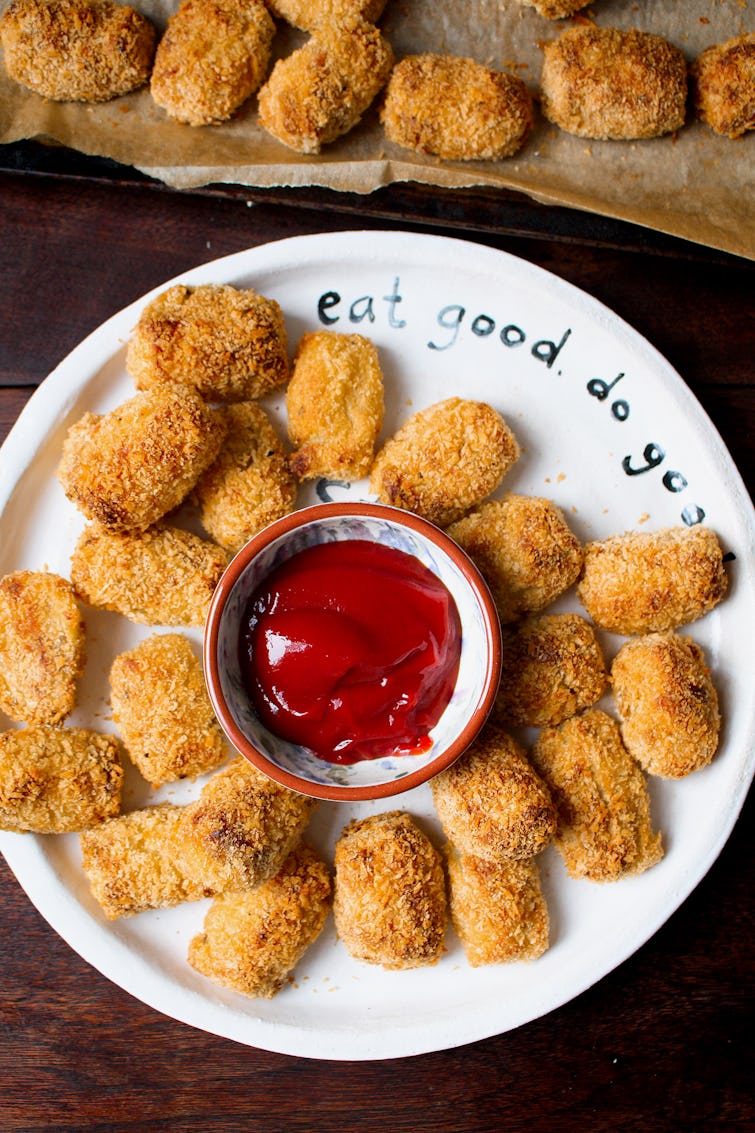 ---
How to store
Store in an airtight container, in the fridge for up to 3 days, or in the freezer for up to 1 month. Defrost and reheat in the hot oven until warm and crispy. 
Leftovers
The potato croquettes are great as a side or canapes. They will work well along any curry, stew or salad recipes.