Potato, Carrot and Leek Galette
A cheesy potato, carrot and creamy leek galette using flakey, buttery, puff pastry (or vegan puff pastry). The potatoes and carrots are very thinly sliced. Super easy to do and it's served topped with honey/maple and a pinch of flaky sea salt for a sweet, and salty touch.
Substitute:
No carrots? Try with parsnips instead.
No potatoes? Try with sweet potatoes instead. 
No leek? Use onions instead. 
Prep time: 10 minutes
Cook time: 30 minutes
Total time: 40 minutes
Servings: 5
Ingredients:
2 Potatoes
2 Carrots
2 Leeks
1 sheets ready rolled puff pastry / Vegan puff pastry
150 g Goats cheese / Vegan cheese
1 tbsp Dried thyme
1 Egg / Plant based milk
Olive oil
Salt & pepper
1 tbsp Runny honey / Maple syrup
Recipe:
Cook the chopped leeks and thyme in 2 tbsp olive oil, until tender. Season with salt and pepper. 
Transfer the rolled puff pastry to a baking tray. Prick the pastry with a fork. Spread the leeks over the pastry, leaving a 3 cm border around the edges. Top with the cheese. 
In a bowl, toss the sliced potatoes and sliced carrots with 1 tbsp olive oil. Season with salt and pepper.
Arrange the potatoes and carrots in an even layer over the cheese, leaving a 3 cm border. 
Fold the edges up and over, brush the edges of the pastry with egg.
Bake at 190 C/170 fan/5 gas mark, for 30-35 minutes, until golden brown. 
Serve with a drizzle of honey.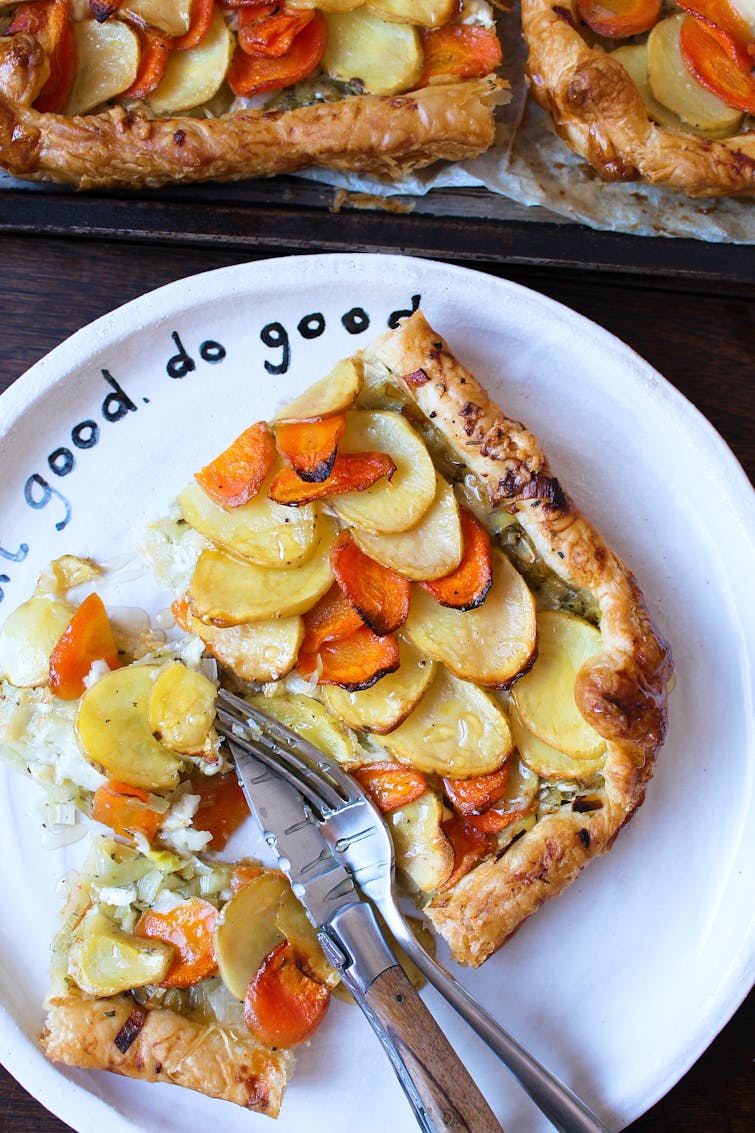 ---
How to store
Store in an airtight container for up to 3 days. The galette can be eaten cold, or reheated in the oven for 5-10 minutes. 
Leftovers
Serve alongside a lettuce salad, with a mustard vinaigrette.