Potato cakes
Try these little herby potato cakes that are made from mashed potatoes shaped into small patties, and fried until golden brown. They are served warm with a simple shallot and red wine vinegar sauce. These are fun to make so get the kids involved in the kitchen, and cook a batch to freeze! 
Substitute: 
No parsley? Use any fresh herbs you have on hand - dill and mint would be delicious! 
No egg? Vegans can substitute the egg for flaxseed. 
No lemon? Try with lime juice and zest instead. 
No shallot? Use a small onion instead.
Prep time: 15 minutes
Cook time: 30 minutes
Total time: 45 minutes
Servings: 4
Ingredients:
4 Potatoes
a bunch of Parsley (1/3)
1 Egg
1 tsp Mustard
Lemon (Juice and zest of ½ lemon )
3 tbsp Breadcrumbs
Vegetable oil
For the sauce:
1 Shallot (finely chopped)
6 tbsp red wine vinegar
1 tbsp Olive oil
Recipe:
Scrub clean the potatoes and rinse under cold water.
Chop with the skin on, and place into a saucepan.
Cover with water, add a good pinch of salt and bring to the boil. Cover and simmer for 10-15 minutes, or until tender. Drain and mash using a fork.
In a large bowl, mix mashed potatoes, breadcrumbs, parsley, egg, mustard, lemon juice, lemon zest, and spring onions. Mix well to combine and season to taste with salt and pepper.
Shape into small patties - if too sticky, wet your fingers with water. Place patties on a plate, and freeze for 10 minutes. This will help the patties hold their shape better when cooking. 
Make the sauce: In the meantime, mix the red wine vinegar, olive oil and shallot into a small bowl. Set aside.
Heat a generous drizzle of vegetable oil in a large frying pan over medium heat. When the oil is hot, fry the potato cakes on each side for about 4 minutes, or until golden brown.
Serve warm with the shallot sauce.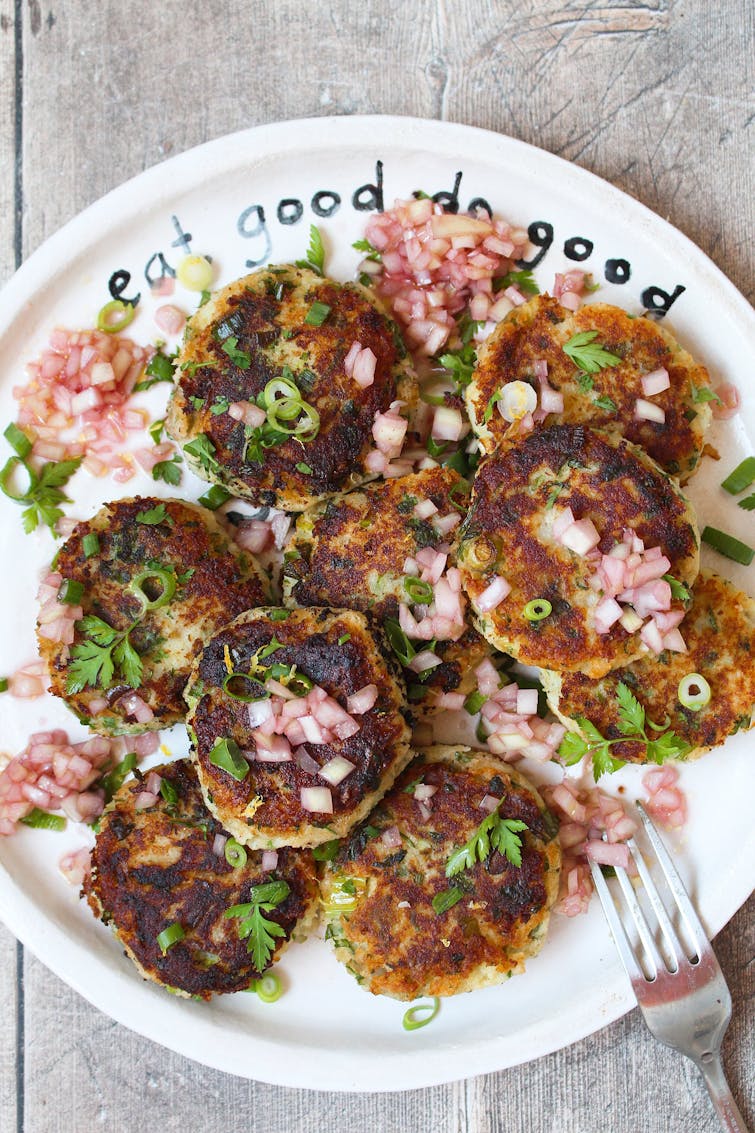 ---
How to store
Store the potato cakes in the fridge for up to 3 days. You can freeze the potato cakes (uncooked or cooked) for up to 3 months. 
Leftovers
Place leftover potato cakes on a large baking tray, sprinkle with cheese and bake at 180C/160 fan/4 gas mark, for 10-15 minutes, or until the cheese has melted over. Serve alongside a green salad. The potato cakes are also delicious served with a dollop of creme fraiche/vegan creme fraiche.