Pomegranate Filo Pie
Try this filo pastry tart filled with pomegranate, feta, spinach and potatoes.
Prep time: 20 minutes
Cook time: 30 minutes
Total time: 50 minutes
Servings: 6
Ingredients:
1 Pomegranate
300 g Potatoes
200 g Feta
100 g Spinach
3 tbsp Pine nuts
5 Filo pastry sheets
extra virgin olive oil
Salt & pepper
Recipe:
Preheat the oven to 190 C/170 fan/5 gas mark. Wash the potatoes under cold water. Keep the skin and cut the potatoes in small pieces. Place in a saucepan, cover with water and add salt. Bring to the boil then simmer for about 15 minutes, or until tender.
Meanwhile, wash the pomegranate under cold water. Then slice the pomegranate in half horizontally. Place the pomegranate cut side down in your hand. Place a bowl under your hand with the pomegranate.
Take a wooden spoon and tap firmly on the top surface of the pomegranate.
If needed cut the pomegranate in quarters and follow the same process; hold the pomegranate cut side down, and tap with a wooden spoon to release the seeds.
Place the mixed seeds into an oven tray, place in the hot oven to toast for 5 minutes. Roughly chop the spinach and crumble the feta.
In a bowl, add the pomegranate seeds, potatoes, seeds, feta and spinach.
Add 1 tbsp of olive oil and mix well. Season to taste with salt and pepper.
Brush the inside of a cake tin (I used a 20 cm cake tin) with olive oil. Line with the filo sheet, one at a time, brushing with just a little bit of olive oil between each sheet. Leave any excess pastry hanging over the edge.
Spoon the pomegranate mixture into the tin.
Fold the overhanging filo sheets up and over the top of the pie. Drizzle with a little olive oil and use your fingertips to gently spread the oil around.
Bake for 25-30 minutes, until the pastry is golden brown and crisp.
Serve warm or cold.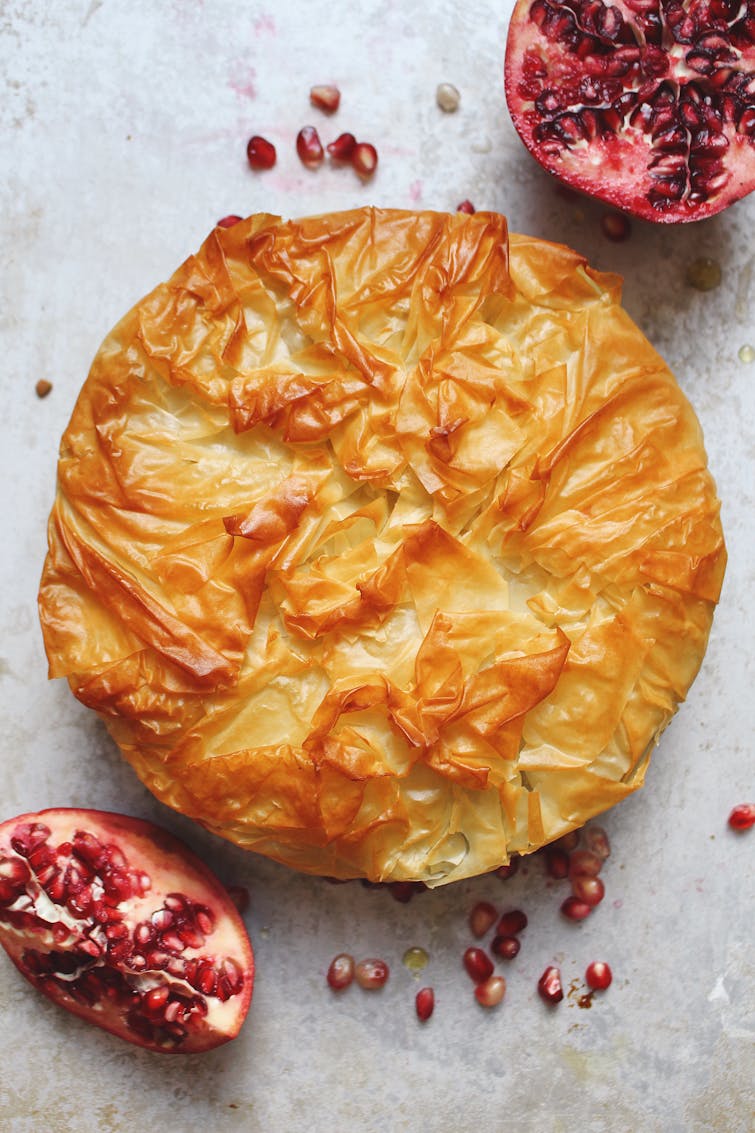 ---
How to store
You can freeze the pie uncooked. Place the raw pie in a reusable plastic bag and freeze. Defrost in the fridge then bake at 190 C/180 fan/6 gas mark, until golden brown, crispy and piping hot in the center.