Poached plums & Golden Oats
Tender poached plums in a vanilla syrup topped with a quick granola style oat.
Substitute:
No plums? Try with peaches, apricots, nectarines or figs instead. 
No flaked almonds? Use the nuts and seeds of your choice. 
No ice cream? Try with a dollop of creme fraiche/vegan creme fraiche or yoghurt/vegan yoghurt instead. 
No vanilla extract? Use a vanilla pod instead.
Prep time: 15 minutes
Cook time: 5 minutes
Total time: 20 minutes
Servings: 2
Ingredients:
For the plums:
4 Plums
30 g Caster sugar
2 tsp Vanilla extract
500 ml Water
For the oats:
40 g Rolled oats
20 g Flaked almonds
20 g Walnuts
40 g Maple syrup
10 g Olive oil
For serving:
Vanilla ice cream
Recipe:
Cut the plums in half and remove the stones. Compost the stones.
In a small pan add the sugar, vanilla and water. Bring to the boil then turn down the heat to a simmer. Add the plums and turn off the heat. Set aside to poach while making the granola.
In a small frying pan, add the rolled oats, flaked almonds and walnuts. Place over a medium heat and cook for 2-3 minutes, tossing often, until light golden brown. Add the oil and maple syrup, mix well and turn off the heat. Set aside to cool.
Serve the poached plums with the oats and a scoop of vanilla ice cream. Enjoy!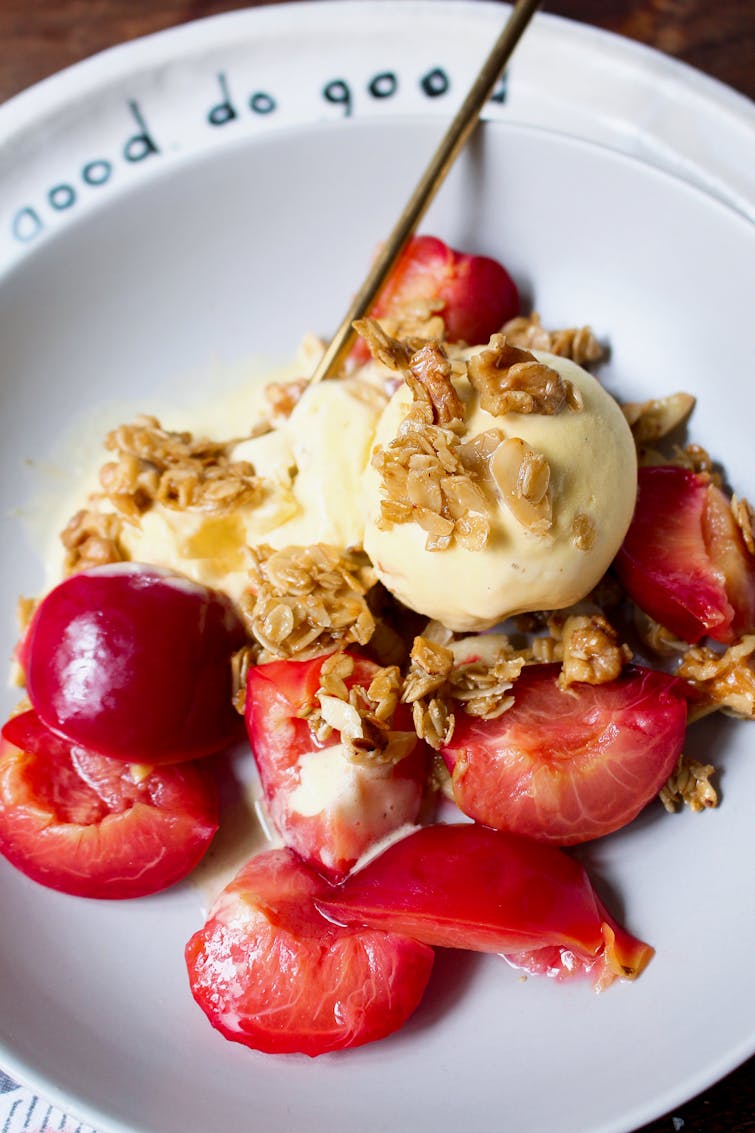 ---
How to store
Store the plums in the fridge for up to 3 days. Store the granola in an airtight container for up to 7 days.
Leftovers
Use any leftover vanilla syrup for cocktail recipes. Pour into an ice cube tray and freeze until needed.