Pickled Rhubarb
This easy recipe means you'll always have tangy, tart, pink rhubarb ready to add to salads, cheese boards and bbq spreads.
Substitute:
No rhubarb? Try this with carrots, cauliflower, or apples instead. Cut the cauliflower in small florets, cut the carrots and apples in batons, and follow the same steps. 
No apple cider vinegar? Use white vinegar, white wine, or rice vinegar instead. You can use these vinegars alone or in combination.
No pink peppercorns? Use a couple of balck peppercorns instead. 
No sugar? Use honey or maple syrup instead.
No bay leaves? Try this with a few sprigs of fresh thyme. 
Other seasonings? Try with a piece of fresh ginger, mustard seeds, or even vanilla. 
Prep time: 10 minutes
Cook time: 5 minutes
Total time: 15 minutes
Servings: 2
Ingredients:
350 g Rhubarb
100 ml Apple cider vinegar
Water
½ tsp Pink peppercorns
2 tbsp Sugar
2 Bay leaves
Recipe:
Sterilize your jars: Wash your jars with soapy boiling water and dry well. Place them in the oven at 160C/140 fan/3 gas mark for 5 minutes. You can use any heat proof upcycled jars - like jam jars.
Chop the rhubarb: Wash and chop your rhubarb into equal sized pieces. Make sure to cut them so they match the height of your jars. 
Make the brine: Place the vinegar, water, sugar, pink peppercorns and bay leaves into a medium-sized, non reactive stainless steel saucepan. Bring to a simmer and stop when the sugar has dissolved. Let cool to room temperature.
Make the pickled rhubarb: Pack the rhubarb into the jars and pour over the cooled brine. Seal and keep in a cool dark place for a few days, or until pickled to your liking.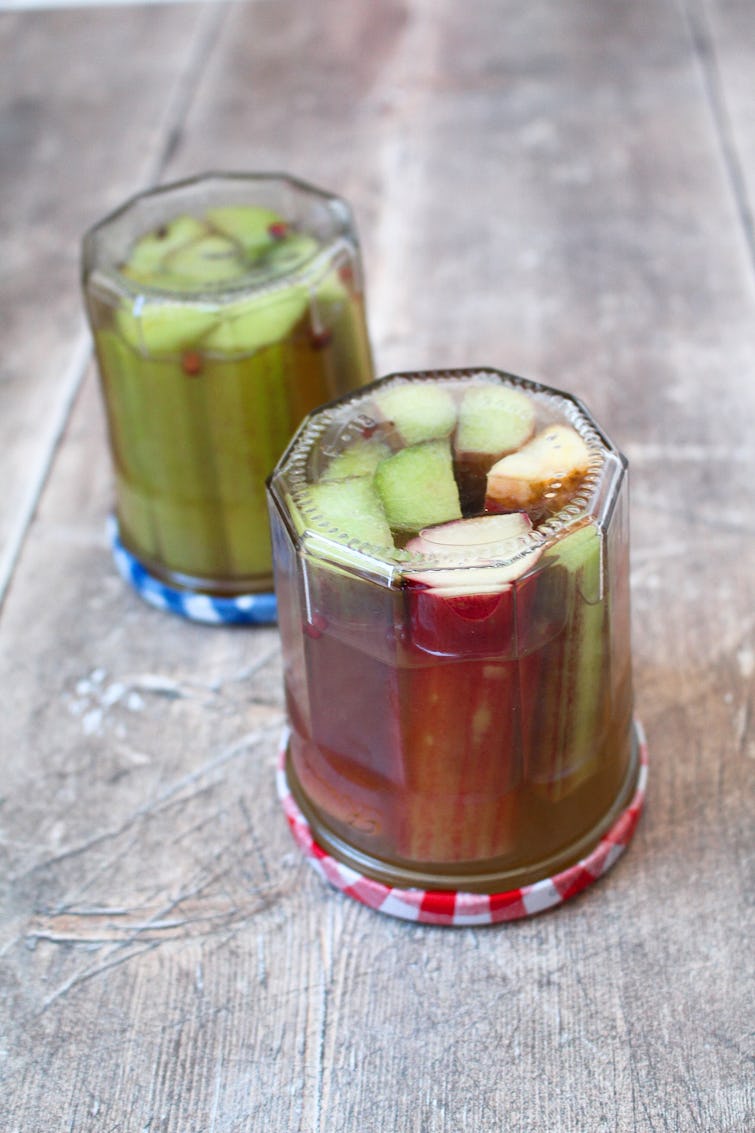 ---
How to store
Store your unopened pickled rhubarb in a cool dark place for up to 2 months. Once opened, keep your rhubarb in the fridge and consume within 2 weeks.
Leftovers
You pickled rhubarb can be chopped and added to salads, and would be a great addition to a cheese board and BBQ spread.