Peach Iced Tea
Here is how to make peach iced tea at home in under 30 minutes with just 3 ingredients; peaches, tea bags and sugar.
Substitute:
No peaches? Use nectarines, plums or apricots instead.
Prep time: 10 minutes
Cook time: 10 minutes
Total time: 20 minutes
Servings: 6
Ingredients:
3 Peaches
50 g Caster sugar
2 Tea bags
Recipe:
Add the tea bags to a large heatproof jug. Cover with boiling water and set aside while preparing the remainder of the peach iced tea. Be careful to use a heatproof jug for this - Thin glass jugs can explode if boiling water is added to them.
Wash the peaches well and cut them into wedges. Compost the stones.
Add the sliced peaches and sugar to a pan and heat over medium heat to soften. If the peaches aren't very juicy add 100 ml water to help with the sugar dissolving and the peaches cooking.
Bring to a boil, then reduce the heat to a simmer and cook for 5 minutes. When the peaches are soft, use a fork to mash them into a puree.
Transfer the peach puree to a sieve placed over a mixing bowl. Press with a wooden spoon to get out as much of the syrupy juice as possible. Don't throw away the leftover peach pulp. This can be used to add to smoothies, overnight oats, over ice cream,  with yoghurt, on bread or with granola.
Remove the tea bags from the tea and then add the peach syrup, stirring well. To serve immediately add ice cubes to glasses and pour over the peach tea. Otherwise, let cool the tea and store in the fridge until nice and cold. Optionally to serve, add some extra peach slices and fresh mint.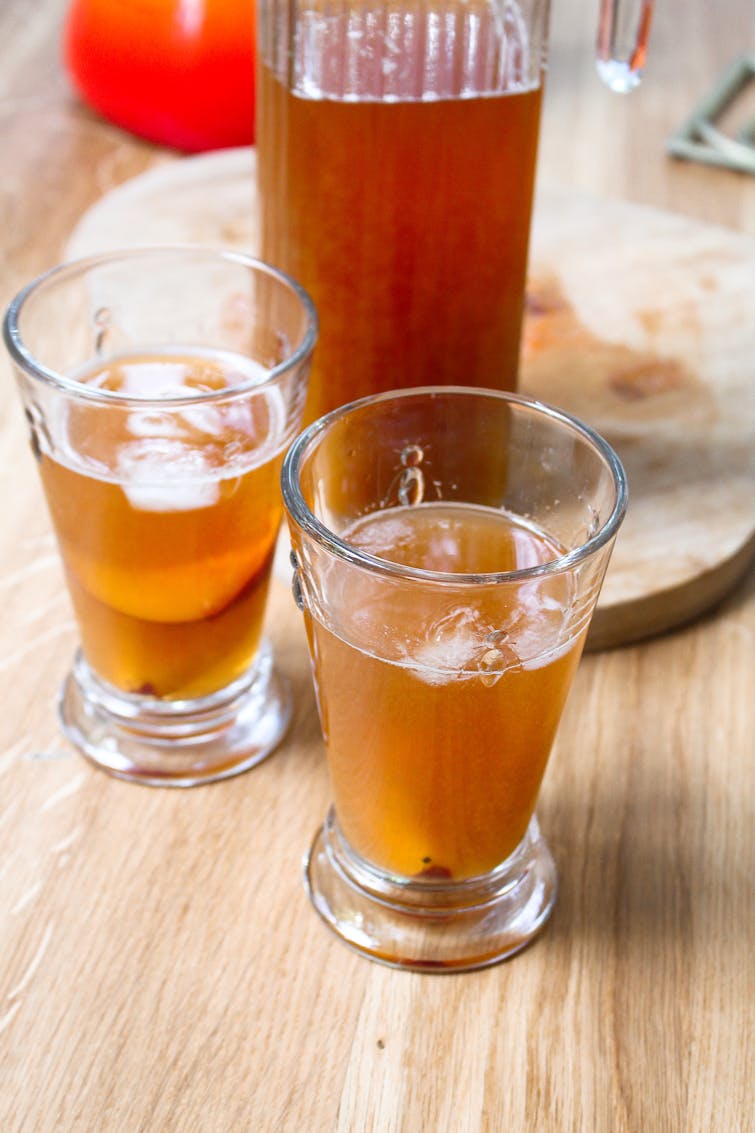 ---
How to store
Store the peach tea in the fridge for up to 3 days.  You can prepare and store the peach syrup for the tea in the fridge for 7-10 days. You can also store the syrup in an ice cube tray in the freezer for 2-3 months.