Our best savoury peach recipe - Peach & Courgette Pizza
Peaches and nectarines are undoubtedly delicious. But other than the obvious choices of cobbler, tarts, and crumbles, how else can we enjoy these stone fruits? Well, luckily for all of us, our good friend and guest ODDBOXer chef Camille (@callherchef) has a delicious savoury recipe for us all to enjoy:
Notes:
For the pesto:
Use a pre-made green pesto or make one by mixing a small bunch of basil leaves, 1 tbsp of sunflower seeds, 1 clove garlic, 2 tbsp water, 1 tbsp olive oil and a pinch of salt in a blender.
Variant: Delicious with Camembert or mozzarella cheese. Just add it before cooking.
Resting your dough: Leave your dough in a warm place or preheat your oven to 50C, then turn it off and leave it in there.
Prep time: 75 minutes
Cook time: 10 minutes
Total time: 85 minutes
Servings: 2
Ingredients:
2 Peaches (sliced)
½ Courgette (sliced)
2 tbsp Pesto
1 sprig Rosemary (chopped)
Salt & pepper
300 g White bread flour (+ extra for dusting)
½ tsp Salt (+ extra)
5 g Dried yeast (or 2tbsp baking powder)
1 tsp Honey (or sugar)
2 tbsp Olive oil (+ extra for baking)
200 ml Warm water
Recipe:
Make the pizza base: In a small bowl, mix the water, olive oil, honey and yeast. In a big mixing bowl, add the flour, the salt and make a well. Pour the water mixture in the middle and slowly incorporate the flour with the help of a fork. Then knead until you have a smooth dough. Put the dough in a bowl, dust with flour, cover with a damp cloth and rest an hour until the dough has doubled in size.
Build the pizza: Knead the dough around a bit to push the air out with your hands, then cut it in 2. Using your hands, flatten your dough in a baking tray covered with a little olive oil to prevent the pizza from sticking. Add the pesto, courgette, peaches and season with rosemary, salt and pepper. Drizzle with a little olive oil.
Cook the pizza: Cook in a preheated oven (200C), for about 10 minutes or until golden brown.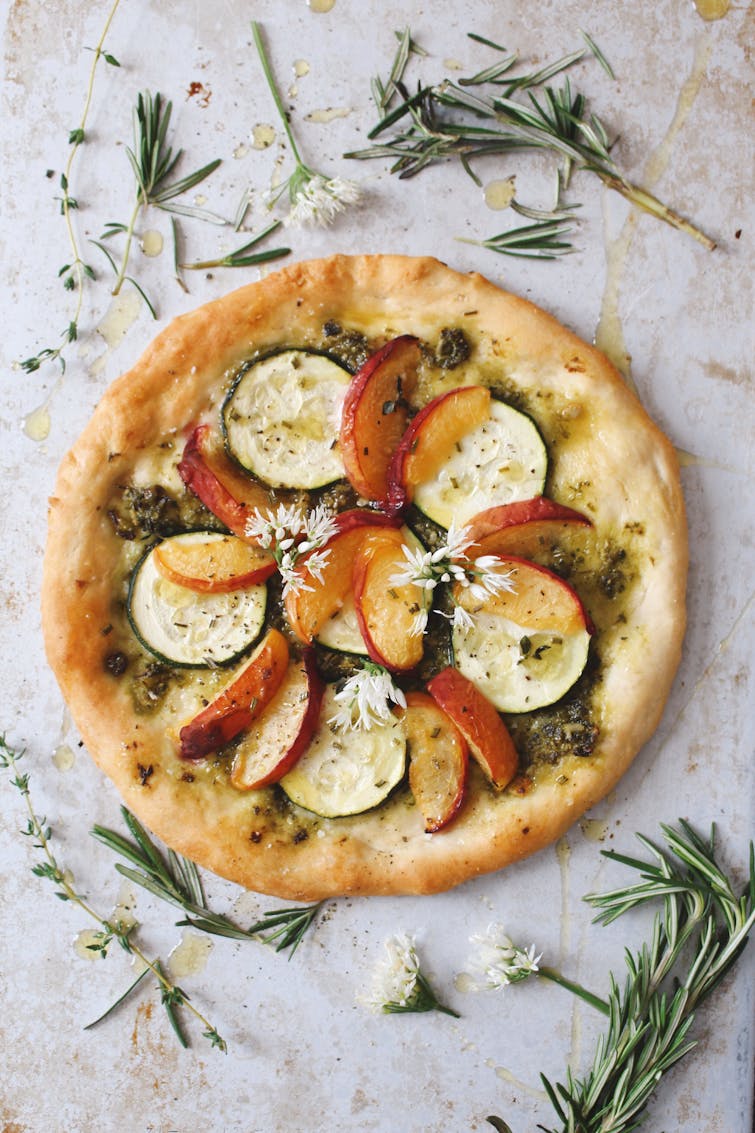 ---