Passion Fruit French Toasts
Slices of brioche dipped in a passion fruit custard base, pan fried and served with a whipped passion fruit cream. 
Substitute:
No passion fruits? Serve your french toasts with baked apple slices or citrus segments (orange, clementine, mandarin or satsuma)
Vegan? Swap the eggs for 3 tbsp chia seeds, and use plant based butter and milk. 

Extra tips: 
The flour in the custard is used to help the bread form a crust.
The coconut oil is used to prevent the butter from burning
Sugar: Sprinkle a teaspoon of sugar in the melted butter before cooking for a nice caramelised bread
Prep time: 10 minutes
Cook time: 15 minutes
Total time: 25 minutes
Servings: 4
Ingredients:
5 Passion fruits
8 slice White bread brioche
For the custard:
3 medium Eggs
3 tbsp Caster sugar
a pinch of Salt
½ tsp Vanilla paste
2 tsp Plain flour
230 ml Milk
2 tbsp Beurre noisette
For the cream:
200 ml Double cream
1 tbsp Caster sugar
For cooking:
Butter
Coconut oil
Recipe:
Make the custard: In a large and flat mixing bowl, beat together the eggs, sugar and salt. Add the milk, flour, vanilla and ⅓ of the passion fruit seeds. Stir until well combined. In a small saucepan, melt the butter until the obtention of a nice gold "beurre noisette". Add the beurre noisette to your custard, mix well and set aside.
Make the passion fruit cream: Whisk the cream and sugar until light and thick, then fold in the passion fruit seeds.
Cook the french toasts: Dip the slices of bread into the custard for about 30 seconds on each side. Melt 1 tsp butter and 1 tsp coconut oil in a non-stick frying pan. Cook the bread slices over medium heat, for 2-3 minutes on each side, or until golden. Serve with the whipped passion fruit cream.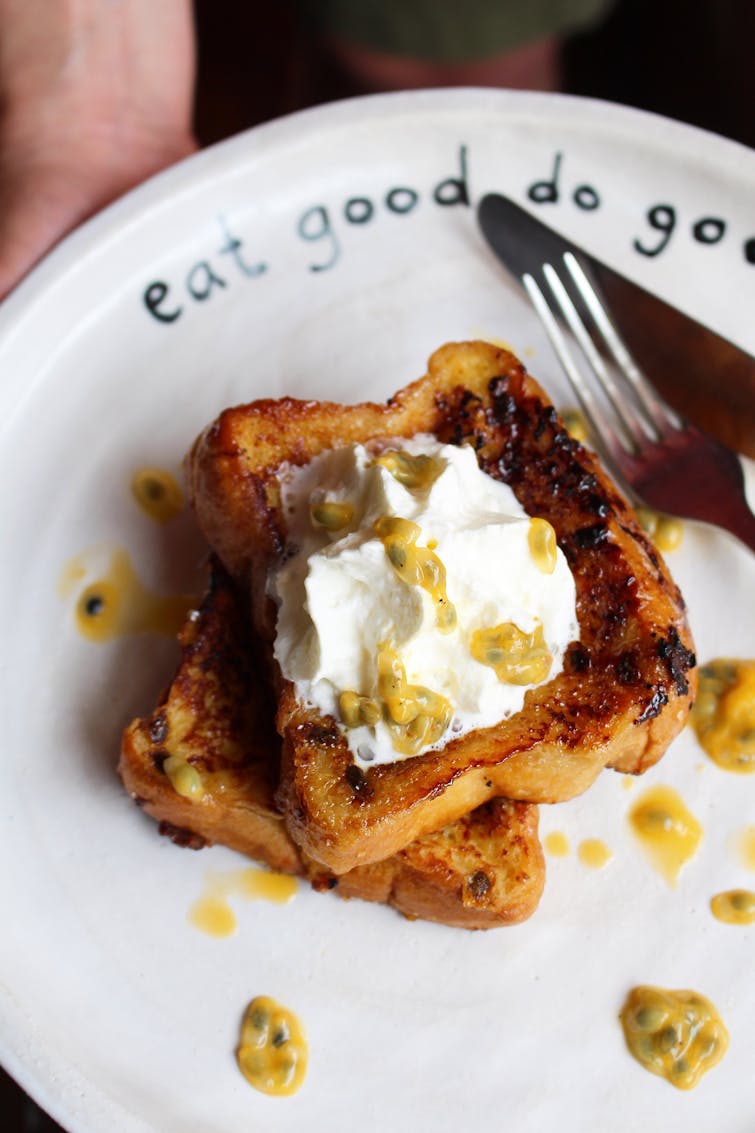 ---
How to store
Let them cool, cover and place in the fridge, where they should last up to 3 days. To freeze, place a sheet of baking paper between each slice of french toast, then wrap tightly and store in the freezer for up to 3 months.
Leftovers
Make french toast trifle: Cube a slice of french toast and, in a glass, layer the pieces with yoghurt or whipped cream and fresh fruit.