Parsnip Teriyaki with Sesame Ginger Rice
Substitute:
No parsnips? Use any root vegetables such as celeriac, carrots, jerusalem artichokes or turnips. 
No honey? Use the sweetener of your choice, such as maple syrup or caster sugar instead. 
No rice? Try using noodles instead. 
No spring onions? Use coriander, chives or parsley instead.
Prep time: 15 minutes
Cook time: 30 minutes
Total time: 45 minutes
Servings: 2
Ingredients:
50 g Soy sauce
40 g Honey
30 g Mirin
250 g Parsnips
For the rice:
90 g Rice (cooked)
1 tsp Ginger (grated)
1 tbsp Sesame seeds
3 Spring onions (chopped )
Recipe:
Preheat the oven to 180 C/160 fan/4 gas mark. Cut the parsnips in quarters lengthwise and place in a baking dish.
Add the soy sauce, mirin and honey in the baking dish. Mix to coat the parsnips.
Cook in the oven for 30-40 minutes, until the teriyaki sauce thickens and the parsnips are tender, saucy, sweet and tangy.
Serve your teriyaki parsnips over cooked rice seasoned with grated ginger. Top with chopped spring onions and sesame seeds.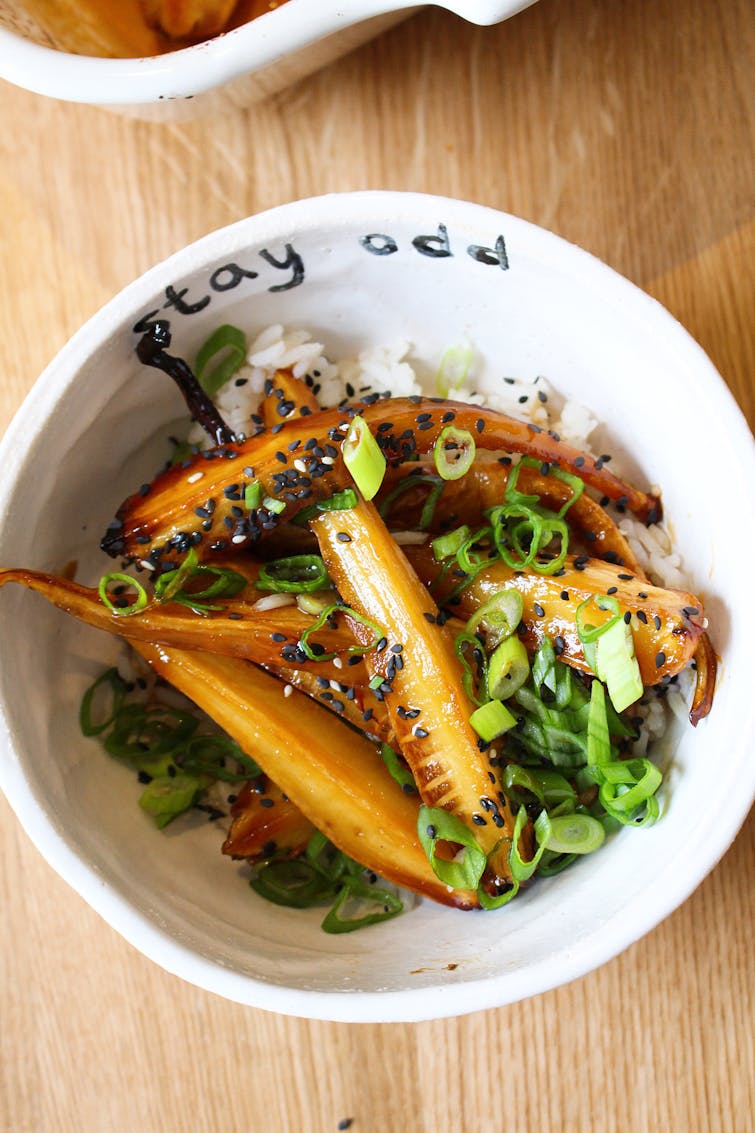 ---
How to store
Store in an airtight container in the fridge for up to 3 days.
Leftovers
Serve the leftovers chopped in stir fry or salad recipes.