Pak Choi Noodles
Make this under 30 minutes vegan adaptable pak choi recipe. The pak choi is fried with garlic and ginger, then poached in a soy based sauce. 
Prep time: 10 minutes
Cook time: 25 minutes
Total time: 35 minutes
Servings: 2
Ingredients:
2 Pak Choi
1½ tbsp Olive oil
2 Garlic cloves
Ginger (1)
½ tsp chilli flakes
2 tbsp Soy sauce
300 ml Water
1 tsp Cornflour
150 g Noodles
a bunch of Coriander
1 tsp Sesame seeds
2 Eggs (optional)
Recipe:
Cook the pak choi: Cut the pak choi in half, or in quarters for the bigger ones. Chop the garlic and ginger. Heat the olive oil in a large frying pan, and stir fry the pak choi along with garlic, ginger and chilli flakes. Cook for 5-7 minutes, until lightly coloured. In the meantime, mix together the cornflour, water and soy sauce. Deglaze the pak choi with the soy sauce mixture, and simmer for 3 minutes. 
Cook the noodles: Push the pak choi on the side and make enough space to add the noodles into the pan. If needed add a little bit more water. Simmer until the noodles are cooked. 
Cook the eggs: Bring a saucepan (large enough to hold the eggs in a single layer) of water to a boil over medium-high heat. Using a slotted spoon, gently lower the eggs into the water one at a time. Cook for 6 minutes, adjusting the heat as necessary to maintain a gentle boil. Meanwhile, fill a bowl with cold water and if you have some ice cubes. When the eggs are done cooking, transfer them to the water and chill until just slightly warm, about 2 minutes. Gently crack the eggs all over and peel. 
Serve: Serve the noodles in a bowl, along with the pak choi and soy sauce juice. Place the egg on top, along with fresh coriander and sesame seeds.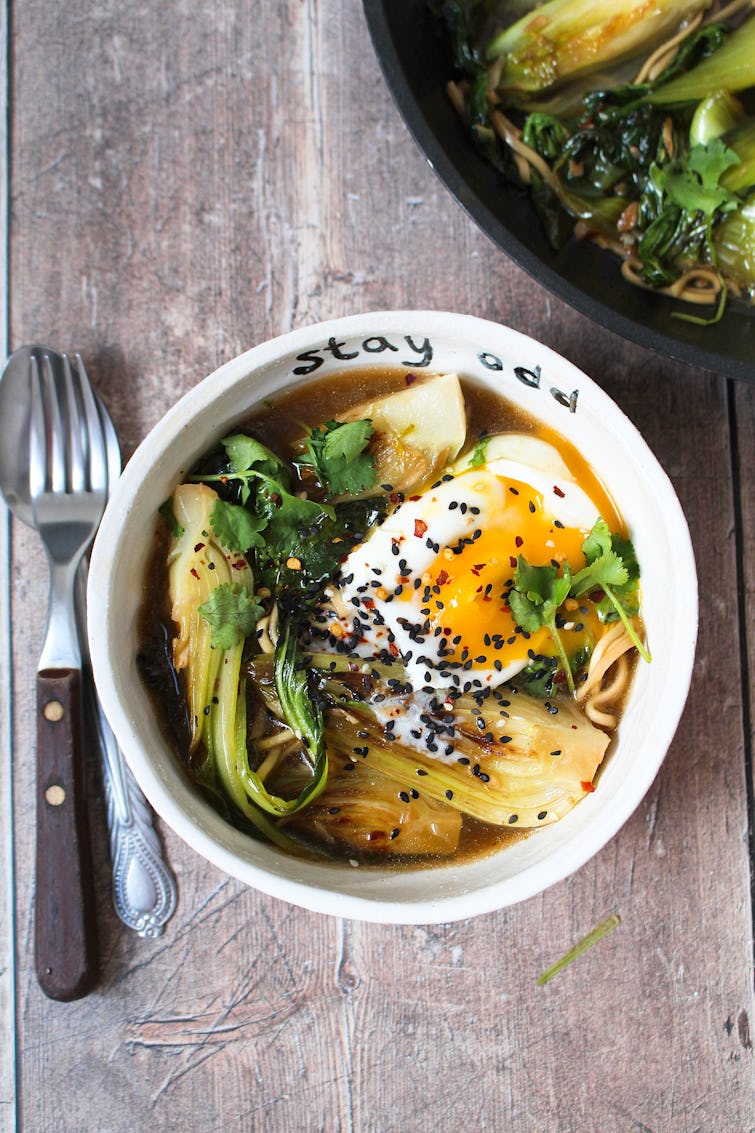 ---
How to store
Store in the fridge in an airtight container for up to 3 days. 
Leftovers
Stuff spring rolls with your noodles leftover, along with thinly shredded cabbage, carrot or any vegetables you have on hands.