Onion and Squash Soup with Roasted Baby Potatoes
Try this creamy soup made from onion and butternut squash, topped with crispy rosemary baby potatoes and crumbled feta.
Substitute:
No butternut squash? Try with pumpkin instead. 
No onions? Use shallots instead. 
Prep time: 10 minutes
Cook time: 20 minutes
Total time: 30 minutes
Servings: 2
Ingredients:
600 g Butternut squash
200 g Onions
300 g Small potatoes
1 tbsp Rosemary
100 g Feta / Vegan feta
400 ml Vegetable stock
Olive oil
Salt & pepper
Recipe:
Chop the butternut squash in cubes, and the onions in quarters.
Cook the onions and butternut squash in 2 tbsp of olive oil, for 5-7 minutes, until tender and a little caramelised. Season with salt and pepper, and pour the stock over. Add water to fully cover the vegetables if needed. Cook for 20 minutes, or until tender. 
Preheat the oven to 200 C/ 180 fan / 7 gas mark. Add the potatoes to a mixing bowl along with 1 tbsp olive oil, the chopped rosemary, and a good pinch of each salt and pepper. Toss to coat and place the potatoes in an oven tray. 
Roast the potatoes for 10-15 minutes, until golden and crispy. 
Blend the soup until smooth. Season to taste with salt and pepper. 
Serve the soup with the crispy potatoes, and crumbled feta. 
Enjoy!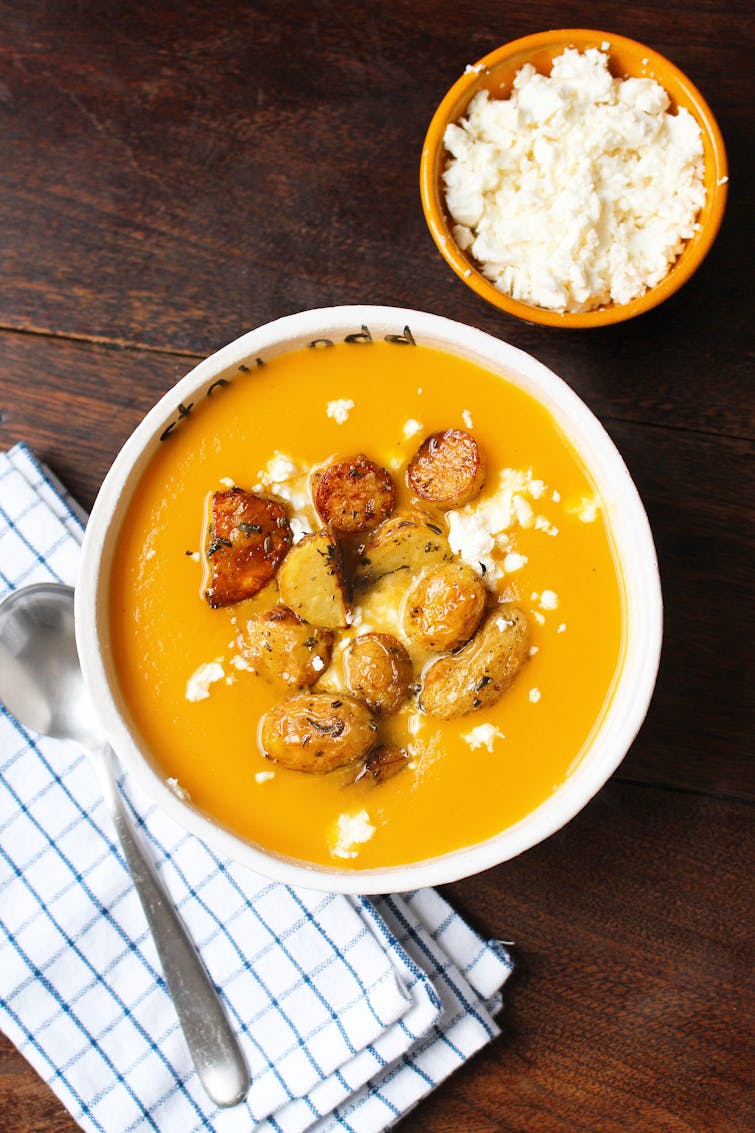 ---
How to store
Store in an airtight container, in the fridge for up to 3 days. Store in the freezer for up to 3 months. 
Leftovers
Serve any leftover soup with golden and crip croutons, or with al dente pasta.