One Pot Caramelised Onion Pasta Bake
This one pot recipe pasta bake has french onion soup flavours, with the addition of pasta, a creamy sauce, and melted cheese. 
Substitute:
No onion? Try with sliced mushrooms, shallots, leeks or fennel. 
No thyme? Try using rosemary or other dried herbs. 
No soy sauce? Use worcestershire sauce instead. 
No goat cheese? Try with pecorino or other hard cheese. 
Prep time: 10 minutes
Cook time: 45 minutes
Total time: 55 minutes
Servings: 6
Ingredients:
4 Onions (thinly sliced)
4 Garlic cloves (chopped)
3 sprig Thyme
2 Bay leaves
850 ml Vegetable stock
300 ml white wine
1 tbsp Soy sauce
450 g Short pasta
200 ml Single cream / Vegan cream
100 g Goats cheese (grated) / Vegan cheese
2 tbsp Olive oil
1 tbsp Butter / Vegan butter
Salt & pepper
Recipe:
Caramelise the onions: In a large ovenproof pan, melt the butter with olive oil. Add the onions and cook over medium-high heat, stirring often, for 10 minutes, until softened. Add the thyme, garlic, bay leaves, and continue to cook for another 10 minutes until the onions are deeply caramelised. Season with salt and pepper.
Cook the pasta: Preheat the oven to 200C/180 fan/6 gas mark. Add the wine, stock, soy sauce, stock, single cream and the pasta. Bring the mixture to a boil and cover the pan to create steam. Stir frequently until the pasta is al dente and the stock has been absorbed, about 8-10 minutes. Remove from the heat.
Bake the pasta: If needed (if you are not using an ovenproof pan), transfer the pasta to a large baking dish. Top with the grated cheese, and bake for 15-20 minutes, or until the cheese has melted and is lightly browned on top.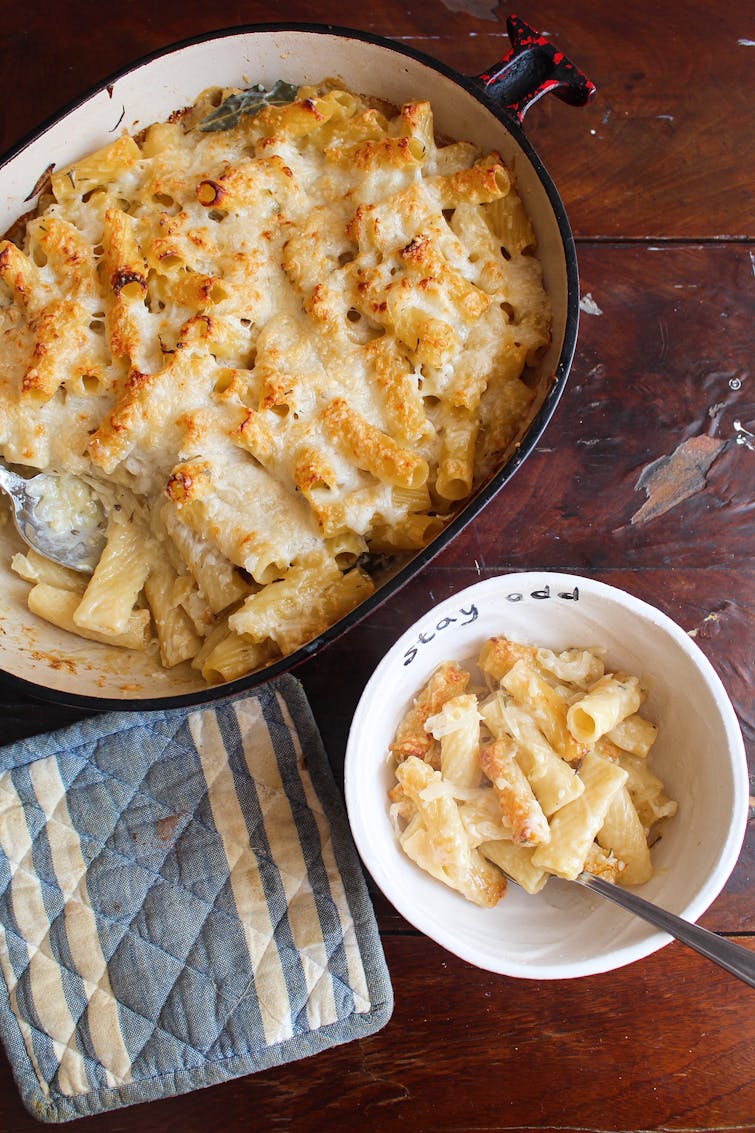 ---
How to store
Store the onion pasta bake in an airtight container, in the fridge, for up to 3 days. Reheat over the stove, or in the oven. 
Leftovers
Serve the leftovers with a side of lettuce seasoned with a light vinaigrette.