Old-Fashioned French Onion Soup
"This recipe requires very little ingredients and is perfect to warm you up during the coldest months. The onion soup is vegan, naturally creamy by blending half of the onion mixture, giving it a smoother and thicker texture.
Swap the bread and cheese with a vegan or gluten free alternative to make it right for your dietary requirements. The onion skins are used to deepen the flavour and colour of the vegetable stock, making it planet friendly and delicious. Enjoy!"
- guest ODDBOX chef Camille @callherchef
Prep time: 5 minutes
Cook time: 60 minutes
Total time: 65 minutes
Servings: 2
Ingredients:
6 Onions (medium)
1½ tbsp extra virgin olive oil
1 vegetable stock cube
300 ml Water
Salt (to taste)
Black pepper (to taste)
80 g Gruyere cheese
Sourdough bread
Recipe:
Prepare the onions: Peel and finely slice the onions. Add the onion peels to a saucepan, cover with 200ml of water and bring to a boil. Reduce the heat, add the cube of vegetable stock and simmer until ready to use. 
Cook the onions: In a large saucepan, heat the olive oil, and cook the onions on a low heat for 30 minutes, stirring often. Add salt, pepper, 300 ml water and the onion peels vegetable stock (discard and compost the onion peels). Bring to a soft boil and cook for 15 minutes.
Puree the onions: Scoop out half of the onions and purée them in a blender. Return the pureed onions to the soup and mix well. The soup should be similar to a veloute with extra bits of onions for texture. Add a little water if the soup is too thick. 
Make the cheese toast: In a preheated oven at 200 °C, grill a few slices of sourdough bread topped with slices of gruyere for a few minutes, until the cheese is melted and slightly golden. Serve the soup in individual bowls topped with the melted cheese tartines.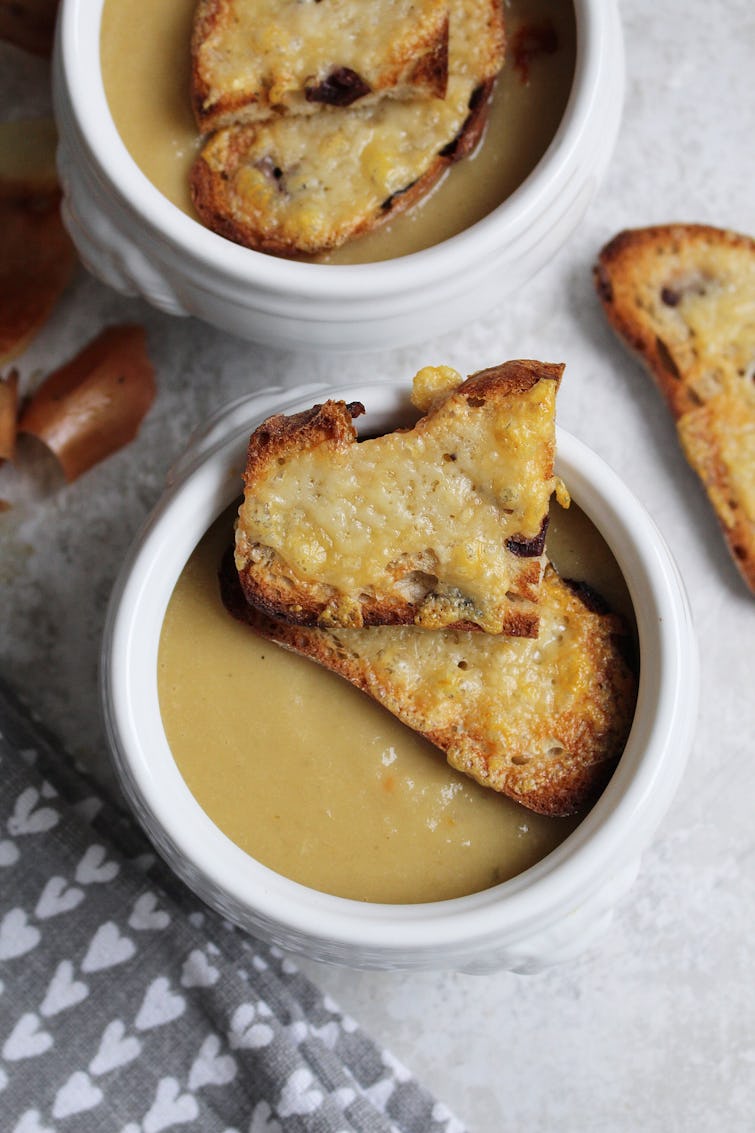 ---