Nutty Beetroot Brownies
These deliciously fudgy brownies are packed full of earthy goodness from the beetroot – using the beets also means less sugar and butter. These brownies are a wonderful use for the humble beetroot and perfect alongside a cup of tea or coffee. They also keep wonderfully in a tupperware for a few days – if they last that long!
No beetroot? You can use butternut squash or sweet potato purée as a replacement. 
Guest chef Storm Ashdown @whatstormeats
Prep time: 20 minutes
Cook time: 45 minutes
Total time: 65 minutes
Servings: 4
Ingredients:
600 g Beetroots
50 g Walnuts (chopped)
100 g Unsalted butter
250 g Dark chocolate
250 g Golden caster sugar
1 tsp Vanilla extract
3 Eggs
50 g Cocoa powder
150 g Plain flour
25 g Icing sugar
Recipe:
Wearing gloves, top and tail the beetroot and peel (save them peels for roasting in the oven!). Chop into pieces; add a splash of water, cover, and pop in the microwave for about 15 mins until the beetroot is soft. Pour away any residual liquid into a little bowl for later and leave to cool for 10 mins.
Preheat the oven to 180 degrees. Line a deep baking tray or cake tin with unbleached compostable baking paper and grease with a little neutral oil.
In a saucepan, melt the butter and 200g of chocolate on a low heat until smooth. Leave to cool.
In a food processor, add the beetroot, chocolate/butter mix, and whizz to form a smooth batter-like consistency.
In a separate bowl, add the sugar, 1 tsp of vanilla and eggs and beat until creamy. Gently fold in the beetroot mixture little by little. Then add the flour and cocoa powder.
Once the mixture has been combined, add the chopped walnuts and chunks of the remaining chocolate.
Pour the brownie mix into a lined tin. Spread out so the surface is even, then bake for 55 minutes to 1 hour until only a few crumbs remain when you poke with a skewer or cocktail stick.
Remove the brownies from the oven and place on a wire rack. Leave until entirely cool, then lift out of the tin. Dust with the cocoa powder and cut into 20 squares.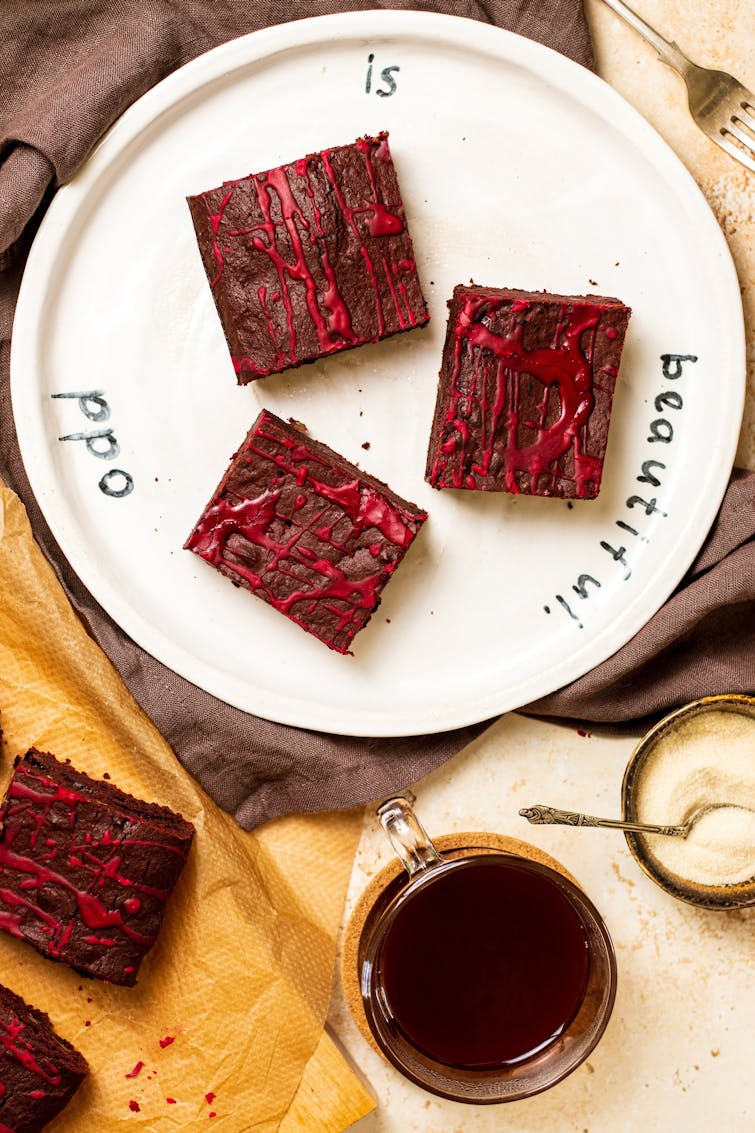 ---