No-fuss Marrow Pasta
Quick, simple and vegan adaptable. Try using your marrow or courgette, plus a handful of other ingredients to make this pasta dish.
Substitute:
No marrow? Use courgette instead. 
No linguine? Use any pasta you have on hand. 
Other options? Add a pinch of chilli flakes for a little heat and top with fresh herbs like basil or parsley. 
No parmesan/vegan? To get that creamy consistency, add a dollop of butter/vegan butter instead.
Prep time: 10 minutes
Cook time: 15 minutes
Total time: 25 minutes
Servings: 2
Ingredients:
400 g Marrow
200 g Linguine
1 Lemon
3 Garlic cloves
1 vegetable stock cube
50 g Parmesan (grated)
4 tbsp Olive oil
Salt & pepper
Recipe:
Prepare the ingredients: Cut the marrow into chunks and thinly slice the garlic cloves.
Cook the pasta: cook the linguine in boiling salted water, until al dente. Reserve at least 200 ml of the pasta cooking water.
Cook the marrow: Place a large frying pan over a medium-high heat. Add the olive oil and marrow chunks. Pan fry for 5-7 minutes, until lightly charred to get extra flavour and a little colour. Add the garlic slices, lemon zest and a generous pinch of both salt and pepper. Cook for 1 minute, then crumble the stock cube over. Add the lemon juice and the reserved pasta water. Cook for 2-3 minutes until the stock has dissolved.
Finish and serve: Add the linguine directly in the pan along with the grated parmesan. Toss well, season to taste and serve.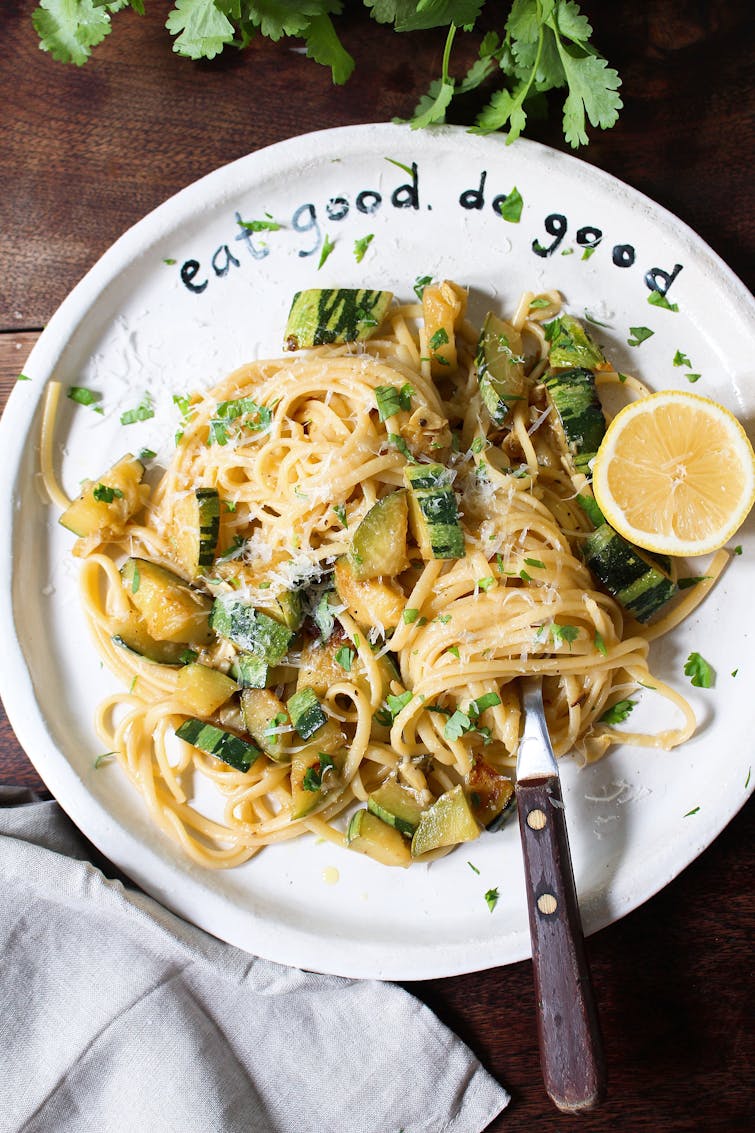 ---
How to store
Store in an airtight container, in the fridge for up to 3 days or in the freezer for up to 1 month.