No Bake Savoury Melon Cheesecake
Try this fresh and savoury cheesecake showcasing melon in the cheesecake mix, melon balls on the top along with mint and a touch of garlic. Perfect for the hottest summer days.
Prep time: 20 minutes
Cook time: 0 minute
Total time: 20 minutes
Servings: 5
Ingredients:
1 Cantaloupe
200 g Cream cheese
1 Garlic clove (chopped)
Black pepper
10 Mint leaves (chopped)
For the base:
140 g savoury biscuits (or crackers)
80 g Unsalted butter
Recipe:
Make the biscuit base: Place the crackers in a food processor and blend into powder. Melt and pour the butter over the crackers, mix until fully combined. The base is a little hiden with the cake tin I am using but you can use smaller rings or double the base quantities to make it thicker.
Prepare the melon: Cut the melon in half and make balls with a parisienne scoop (or use a tea spoon). Set the melon balls aside, and cut the melon in wedges. Peel and finely chop the melon flesh.
Make the cheesecake mix: Place the cream cheese and double cream in a mixing bowl, along with the chopped garlic, and chopped mint. Whisk until thick and smooth. Fold in the chopped melon flesh, reserving the melon balls for the topping.
Finish: Line some small rings or a small 15-18 cm cake tin with baking paper. Put a layer of cracker base in the bottom, and press until compact and flat. Cover with the cheesecake mix, and place in the freezer for at least 6 hours or overnight (less for smaller cheesecake). Serve with the fresh melon balls on top.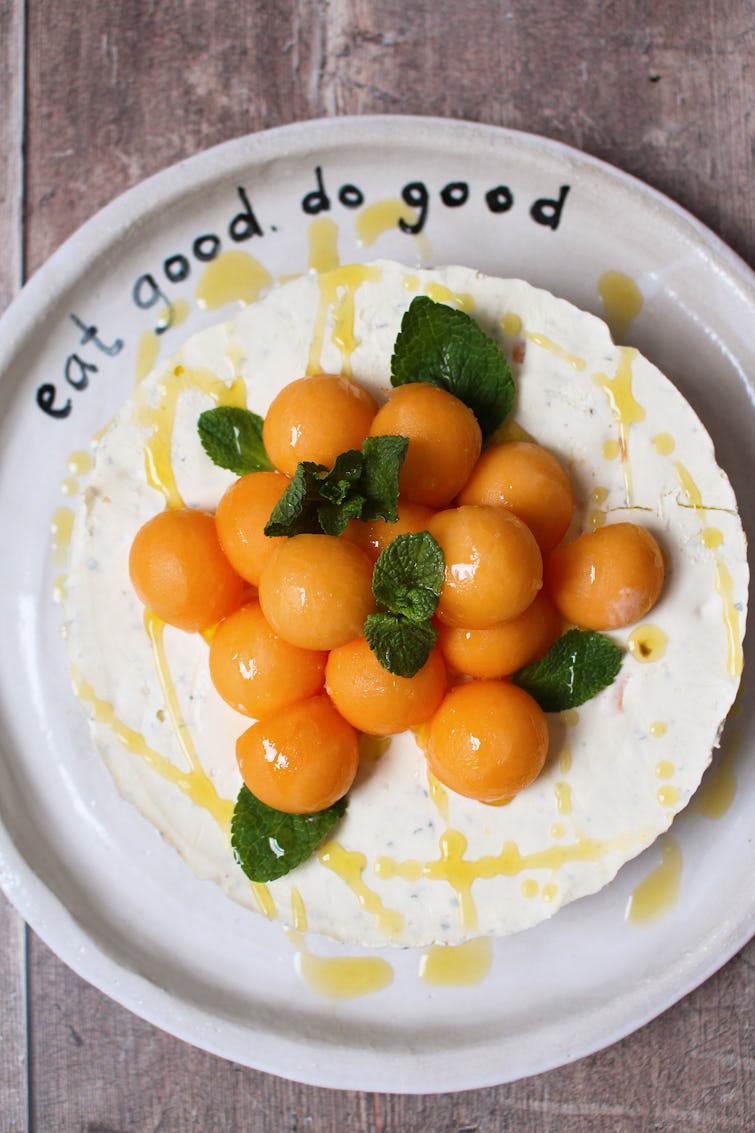 ---
How to store
Store your cheesecake in the freezer until ready to eat. 
Leftovers
Serve the savoury cheesecake as a starter to share with a side of green salad.