Nectarine Almond Clafoutis
Make the most of your nectarines with this revisited french classic dessert. Here the nectarines are chopped and covered with an almond and vanilla custard batter. The clafoutis is soft and tender, just sweet enough, with bursts of juicy nectarines, almond crunch, and a puffy golden top.
Substitute:
Vegan? Make the batter vegan with 150g plain flour, 400ml plant based milk and 150ml coconut cream or soja cream.
No nectarines? Try this recipe with peach, cherries, berries, apricots, or rhubarb. 
No milk? Use any milk you want. Full fat milk or plant based milk. For the recipe, almond milk and oat milk works well. 
No ground almonds? You can use normal flour instead. That would be 100 g flour total for this recipe. 
No sugar? You can do the recipe without sugar. If your fruits are nice and sweet, do without. If you need a sweetener you can use coconut sugar, honey, maple syrup, or light brown sugar.
No vanilla pod? You can use vanilla paste, or ½ tsp cinnamon. 
No flaked almonds? Use any nuts or seeds you have on hand.
Prep time: 10 minutes
Cook time: 25 minutes
Total time: 35 minutes
Servings: 5
Ingredients:
6 Nectarines
4 Eggs
250 Milk of choice
80 g Plain flour
20 g Ground almonds
50 g Sugar
25 g Flaked almonds
1 Vanilla pod
Recipe:
Preheat the oven to 180C/160 fan/4 gas mark. Grease a baking dish or individual ramequins, with butter/vegan butter or olive oil. 
Pit and chop the nectarines into wedges and then into pieces of 1.5 cm. Compost the pits. Place the nectarine pieces in a bowl, along with the sugar. Toss well to coat and place at the bottom of the prepared dish - or a handful at the bottom of each ramekin.
In a large mixing bowl, whisk together the milk, eggs, and vanilla seeds. Add the flour and ground almonds, and whisk until smooth. It will look like there are lumps, but it is just the ground almonds, so it is normal.
Bake the clafoutis: Pour the batter on top of the nectarines and bake for 25 minutes - or longer for a bigger dish. The clafoutis is done when puffed and brown on the edges, and a knife plunged in the center comes out clean. The clafoutis will deflate as it cools, and can be eaten both warm or cold.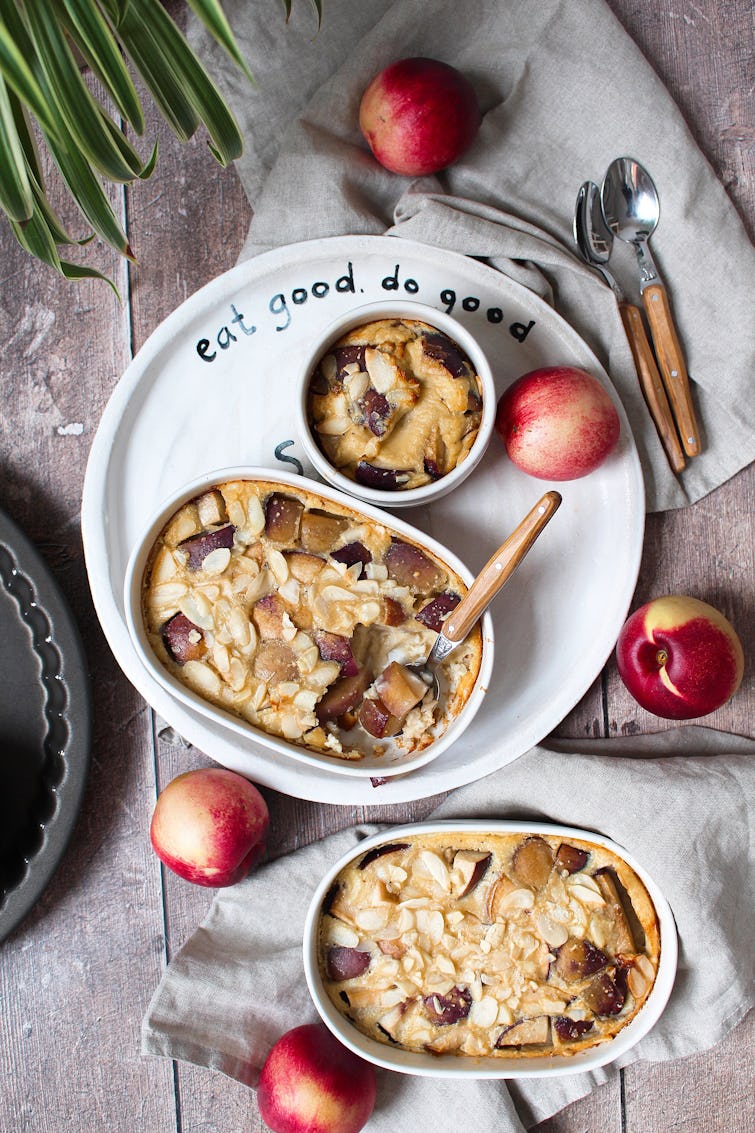 ---
How to store
Store your clafoutis covered in the fridge for up to 3 days. You can reheat your clafoutis in the oven for a few minutes if you like it at room temperature.