Mushroom Turnovers
Cheesy, flaky, creamy, delicious mushroom filled turnovers topped with sesame seeds and baked to golden perfection.
Substitute:
No cheese? Use crumbled tofu instead. Cook the tofu in the pan along with the mushrooms. If too dry, add more sesame oil and soy sauce. 
No mushrooms? Use leeks or cooked potatoes instead. 
No white wine? Use vegetable stock instead or 1 tbsp balsamic vinegar diluted in 100 ml water. 
No egg? Use milk of choice instead.
Prep time: 15 minutes
Cook time: 30 minutes
Total time: 45 minutes
Servings: 4
Ingredients:
300 g Mushrooms (roughly chopped )
1 tbsp Butter
1 tbsp Sesame oil
1 Onion (chopped )
2 Garlic cloves (grated )
1 tbsp Thyme (chopped )
100 ml white wine
1 tbsp Soy sauce
100 g Parmesan (shredded )
Salt & pepper
1 ready rolled puff pastry
1 Egg (lightly beaten)
1 tbsp Sesame seeds
Recipe:
In a large pan, add the butter/vegan butter and sesame oil over medium-high heat. Add the onion, garlic and thyme and a pinch of both salt and pepper. Cook for 1 minute, then add the mushrooms.
Cook, stirring every so often for about 5 minutes. Stir in the wine and soy sauce, and cook until evaporated.
 Remove from the heat and add the grated cheese. Mix to combine and set aside.
Preheat the oven to 180 C/160 fan/4 gas mark. Open the ready rolled puff pastry sheets and cut into 6 squares, including the baking paper the pastry comes with. This will prevent the turnovers from sticking.
Divide the mushroom mixture among the 6 squares. Don't overfill or else it will be very difficult to seal edges.
Brush egg wash around the perimeter of each pastry square and carefully fold dough over filling to create triangles. Use a fork to close to seal the edges.
Brush the top of each turnover with egg wash and sprinkle with sesame seeds. Place on a large baking tray, still keeping the baking paper under each turnover.
Bake for 20-25 minutes, or until golden. Serve hot or at room temperature with a sprinkle of chopped fresh thyme and flaky sea salt.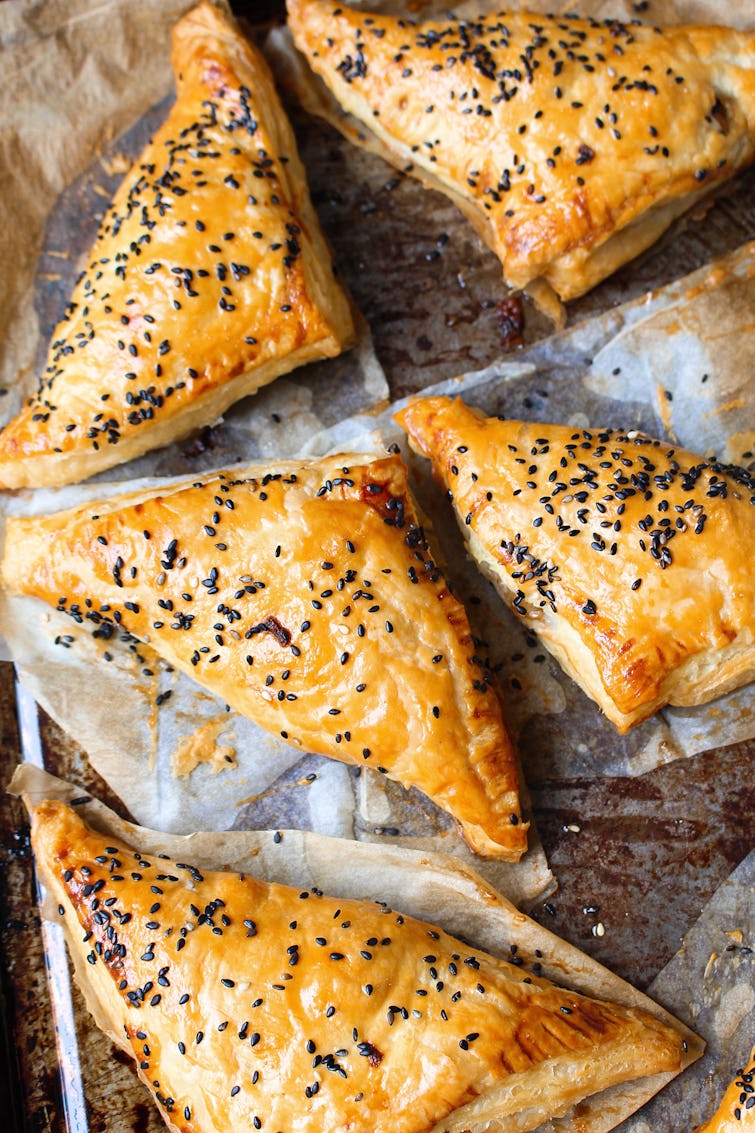 ---
How to store
Store in an airtight container, the fridge for up to 3 days, or freeze uncooked and store in the freezer for 1 month. 
Leftovers
Serve hot or cold, alongside the salad of your choice.