Mushroom Tortilla Wraps
These grilled tortilla wraps are showcasing delicious chestnut mushrooms, and a nutritious mashed butter beans mixture. Quick and tasty! 
Substitute:
No mushrooms? Try with courgette or aubergine instead. 
No butter beans? You can use any beans you have on hand. Red kidney beans and cannellini beans are good options. 
No red onion? Use shallot instead. 
No garlic? Try with 1 tsp of garlic powder instead. 
No smoked paprika? Use other paprikas, or a little chilli powder. You can also do without. 
No coriander? Use parsley instead. 
No red wine vinegar? Use lime juice or any light vinegars, such as white wine vinegar or apple cider vinegar. 
No flour tortillas? Try with corn tortillas. 
No cheddar? Use any mild cheese that melts well. 
Prep time: 15 minutes
Cook time: 10 minutes
Total time: 25 minutes
Servings: 2
Ingredients:
200 g Chestnut mushrooms
400 g Butter beans (1 tin)
1 Red onion
2 Garlic cloves
½ tsp Smoked paprika
¼ a bunch of Coriander
½ tbsp red wine vinegar
4 Flour tortillas
60 g cheese (cheddar) / Vegan cheese
Olive oil
Salt & pepper
Recipe:
Prepare your ingredients: Chop the mushrooms into small pieces. Chop the garlic, onion and coriander. Drain and rinse the butter beans. 
Cook the mushrooms: Heat a pan over medium high heat, and add a drizzle of olive oil. Fry the mushrooms, along with the smoked paprika, garlic, salt and peer, until golden and soft. 
Make the mash butter beans: Roughly mash the butter beans with the red vinegar, 1 and tbsp olive oil. Add the red onion and coriander. Mix to combine and season to taste. 
Stuff the tortillas: Sit the tortillas flat on the surface, and make a cut to the center - which will allow you to fold the tortilla. Add the butter bean mash on one side, fold over, then add the mushrooms, fold again, and finish with the grated cheddar. Repeat until you have filled all the tortillas. 
Cook the tortilla wraps: Cook on a hot dry pan for 3 minutes until slightly crisp and golden. Turn, then cook the other sides for 3 minutes until the cheese has melted. Cut into wedges to serve.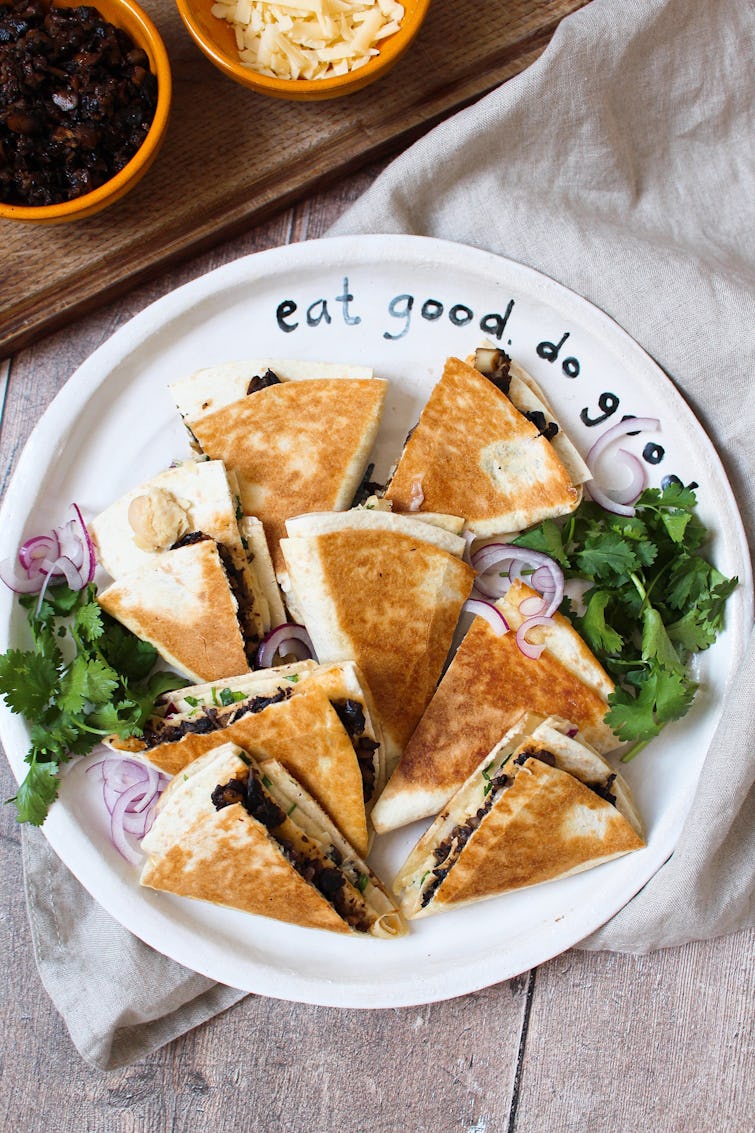 ---
How to store
Store your tortilla wraps in an airtight container for up to 3 days. You can freeze them, for up to 3 months. Pop them in the oven to defrost, and to get the tortilla crispy again. 
Leftovers
They would be delicious as part of a platter selection, along with vegetables, fruits and cheeses.