Mushroom, Cabbage and Potato Potstickers
These little dumplings are stuffed with mushrooms, cabbage, onion, garlic, potato, soy sauce and sesame oil. They are pan fried and steamed, which create a nice crispy exterior and a juicy interior.
Substitute:
No mushrooms? Try adding grated carrots to the filling instead. 
No cabbage? Use bell pepper instead. 
No onion? Try with spring onions. 
Prep time: 30 minutes
Cook time: 15 minutes
Total time: 45 minutes
Servings: 2
Ingredients:
For the stuffing:
200 g Mushrooms
¼ Cabbage (shredded)
150 g Potatoes (cut in 3 cm pieces)
1 Onion (chopped)
2 Garlic cloves (chopped)
1 tsp Ginger (grated)
1 tbsp Sesame oil
1 tbsp Soy sauce
For the wrappers:
250 g Plain flour
1 tsp Salt
150 ml Hot water
For the dipping sauce:
1 tbsp Soy sauce
1 tbsp Rice vinegar
1 tsp Sesame oil
Chilli oil
Sweet chilli sauce
chilli flakes
1 tsp Ginger (grated)
Recipe:
Make the potsticker wrappers: Add the water to the flour. Gently mix with a pair of chopsticks or a fork, until no more loose flour can be seen. Then combine and knead with your hand. Cover and leave to rest for 30 minutes. 
Make the stuffing: Cook the chopped potatoes in salted boiling water for 10 minutes, or until tender then mash the potatoes with a fork. Heat up a little oil in a large frying pan, and saute the onion for 3-5 minutes until soft. Add the garlic, ginger and mushrooms and saute for 5 minutes, or until the veggies have softened. Add the cabbage and let cook for another minute. Remove from heat and mix in the potatoes, sesame oil and soy sauce. 
Finish the wrappers: Cut the dough in four and shape each one into a log. Cut each log into 7 pieces and roll them all into little balls. Roll out each piece into thin circles and keep the dumpling wrappers separated with small pieces of parchment paper.
Assemble the potstickers: Add 1 tablespoon of filling to the middle of a wrapper. Fold half of the wrapper over the filling and, using your fingers, pleat the edges to seal. Repeat with the remaining fillings and wrappers.
Make the sauce: In a small bowl, stir together all the dipping sauce ingredients.
Cook the potstickers: In a frying pan, heat a little oil over medium-high heat, and add a few potstickers, cooking them in batches. Once the bottoms of the potstickers start to brown, add a splash of water and cover with a lid. Steam for 3 minutes, until the potstickers are cooked and the water has evaporated. Remove the lid and cook a little longer to get them crispier. Transfer to a towel-lined plate to remove any excess grease. Serve hot with the dipping sauce.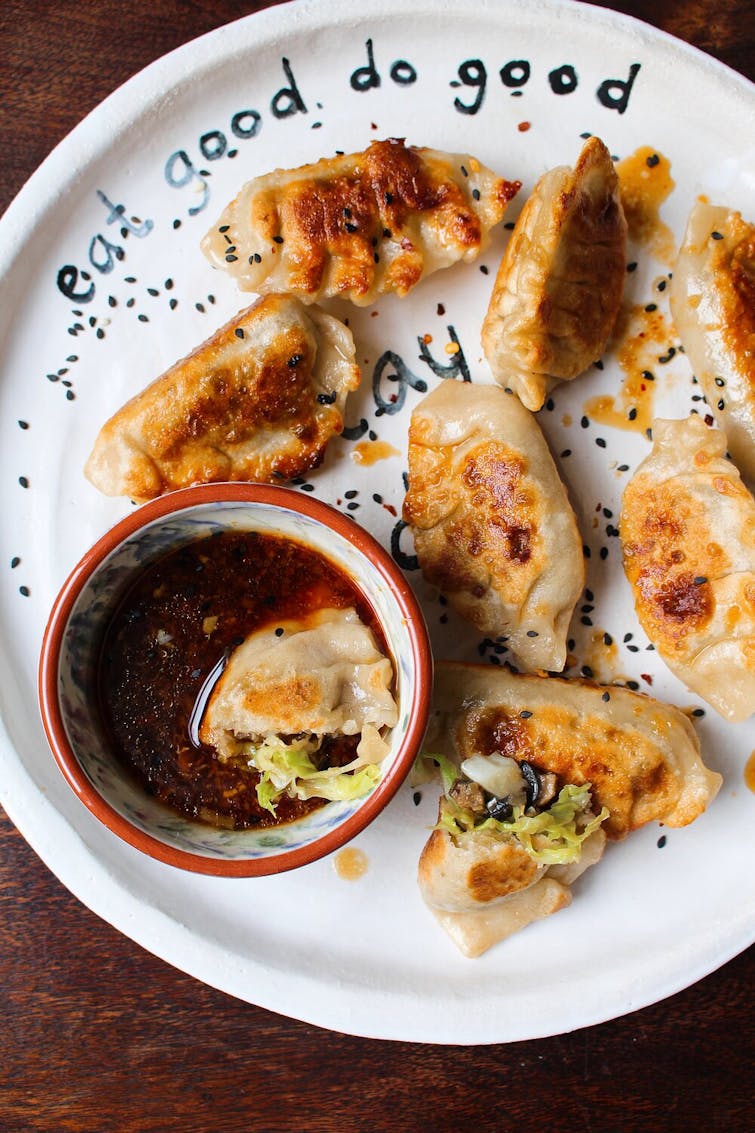 ---
How to store
Store in an airtight container, in the fridge for up to 3 days, or in the freezer for up to 3 months. 
Leftovers
Serve these with a side of roasted vegetables from your Oddbox; broccoli, carrots…etc.. Otherwise pop them into a warm mushroom broth and serve with fresh coriander and sesame seeds on top.