Mini Aubergine Pies
These little pies are filled with creamy aubergine and make the best snack to share. If you have extra aubergine filling, use it as pasta sauce, or freeze until you are ready to make the next batch.
Substitutes:
No aubergine? You can use mushrooms or any other soft in texture vegetables. Bake and chop before adding to the other ingredients.
Vegan egg wash option? If you don't have plant based milk, you can use olive oil or coconut oil to brush your pies with. Vegetarians can use a beaten egg.
No chia seeds? Another vegan option would be flaxseed. Mix 1 tbsp of flaxseed with 2.5 tbsp of warm water. Let sit for at least 10 minutes. Vegetarians can use 1 egg instead.
No feta/vegan feta? You can use a few tablespoons of tahini. The tahini will help with the texture and add delicious flavour to your pies.
No sesame seeds? Poppy seeds or hemp seeds are fun alternatives! Otherwise you can make these pies without.
Prep time: 30 minutes
Cook time: 30 minutes
Total time: 60 minutes
Servings: 4
Ingredients:
2 Aubergines
1 tbsp Chia seed
1 block Feta / Feta
600 g Ready rolled puff pastry / Vegan puff pastry
2 tbsp Plant based milk
1 tbsp Sesame seeds
Salt & pepper
Recipe:
Preheat the oven to 200C. Into a small bowl whisk together chia seeds and 3 tbsp warm water. Place the aubergines whole in a baking tray, and roast for 30 minutes. Scoop out and roughly chop the flesh, compost the skin. Place the aubergine flesh in a bowl, along with crumbled feta, salt and pepper. If you want to add spices, now is a good time. Cumin, cinnamon, curry, coriander and chili are good options.
Roll out the pastry and cut out round shapes, using a pastry cutter or glass rim. Place a small amount of the aubergine filling onto the pastry circles. Close the edges using a fork to seal. Place the pies on a lined oven tray. Brush the mini pies with milk and sprinkle the sesame seeds on top. Bake for 25-30 minutes.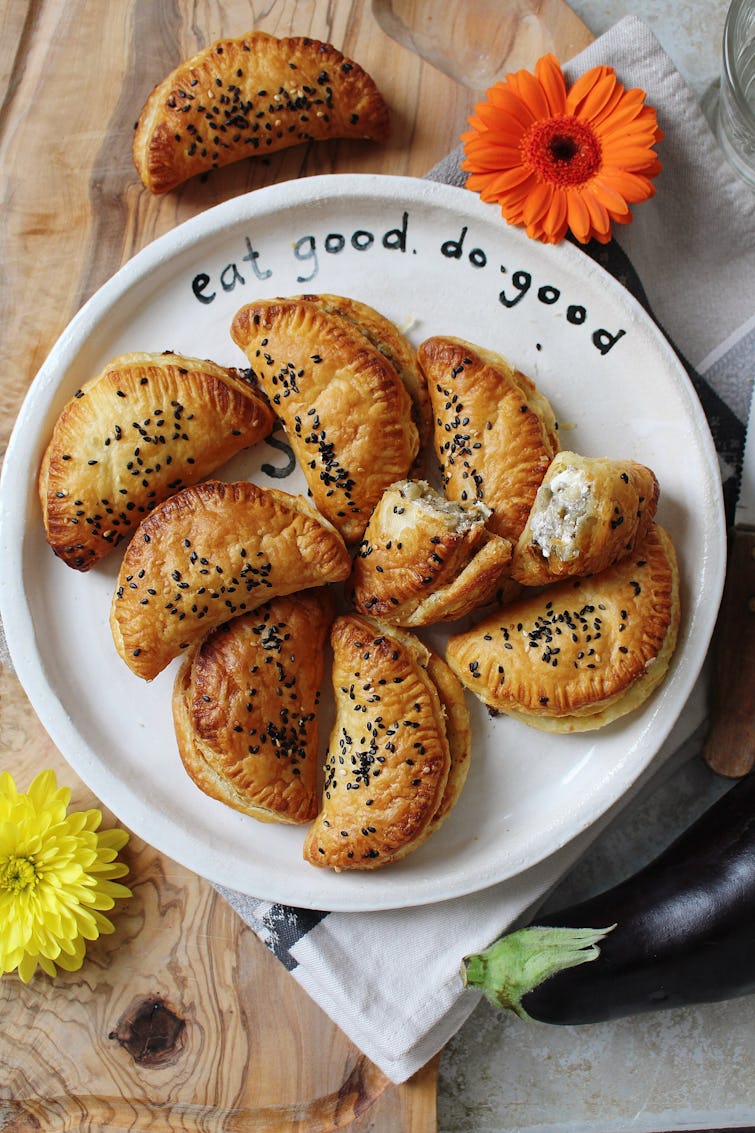 ---
How to store
How to store: You can make these little pies ahead and store them in the fridge for up to 3 days. Make sure to keep them in an airtight container to prevent them from getting soft. Extra aubergine mixture? Just freeze until you are ready to make your next batch.