Mexican Inspired Lasagne
This delicious recipe is brought to you by our friend Helen at The Big Wide World and Me. Cooking from humble kitchen, Helen's passionate about cutting food waste & creating simple yet yummy recipes for everyone to indulge in! Check out her blog and Instagram (@thebigwideworldandme) to see more…
Prep time: 20 minutes
Cook time: 90 minutes
Total time: 110 minutes
Servings: 4
Ingredients:
6 sheets Lasagne Sheet (depending on the size of your dish)
200 g Spinach (washed)
2 tbsp Nutritional yeast
Sweet Potato Layer
4 Sweet potatoes (medium sized cut into 2cm cubes)
2 tsp Cumin
2 tsp Paprika
1 tsp Chilli powder
Salt & pepper
Olive oil
Spiced Black Beans and Tomato Layer
1 Tin chopped tomatoes
1 Onion (medium, peeled and diced)
3 Garlic cloves (peeled and minced)
1 tbsp Chipotle paste
400 g Black beans
Cashew Béchamel
215 g Cashews (soaked (in water for at least 4 hours) and then drained)
1 tbsp Chia seed
½ tsp Garlic powder
½ tsp Salt
Recipe:
Preheat the oven to 200C or 180C (fan oven).
Spread out the sweet potato cubes on a large baking tray and drizzle with a little olive oil. Sprinkle with the cumin, paprika, chilli powder and salt and pepper then roast in the oven for 35 minutes until soft and slightly crisp.
Meanwhile, make the tomato and bean layer. Take a large frying pan and saute the onion gently in a little olive oil for five minutes or so until soft.
Add the garlic and cook for another minute.
Add the chopped tomatoes, chipotle paste and some salt and pepper to taste. Put a lid on the pan and leave to cook on a simmer for 15 minutes before stirring in the black beans and taking off the heat.
Gently wilt the spinach in another pan (or the microwave) using a little oil or water to stop it sticking if necessary. Set aside.
Place all the cashew béchamel ingredients in a blender along with 1½/375ml water and blend until thick and smooth.
Assemble the lasagne by layering the ingredients in your lasagne dish: place half the tomato and bean layer at the bottom and cover with half the sweet potatoes. Next spread out half the wilted spinach on top before covering with lasagne sheets (I use 3 for my size of dish). Pour half the béchamel on top and spread out.
Repeat these steps, starting with the remaining tomato and beans and finishing by covering the last layer of béchamel with the nutritional yeast.
Bake in the oven for 25-30 minutes until golden and piping hot. Serve with a simple salad (if you like).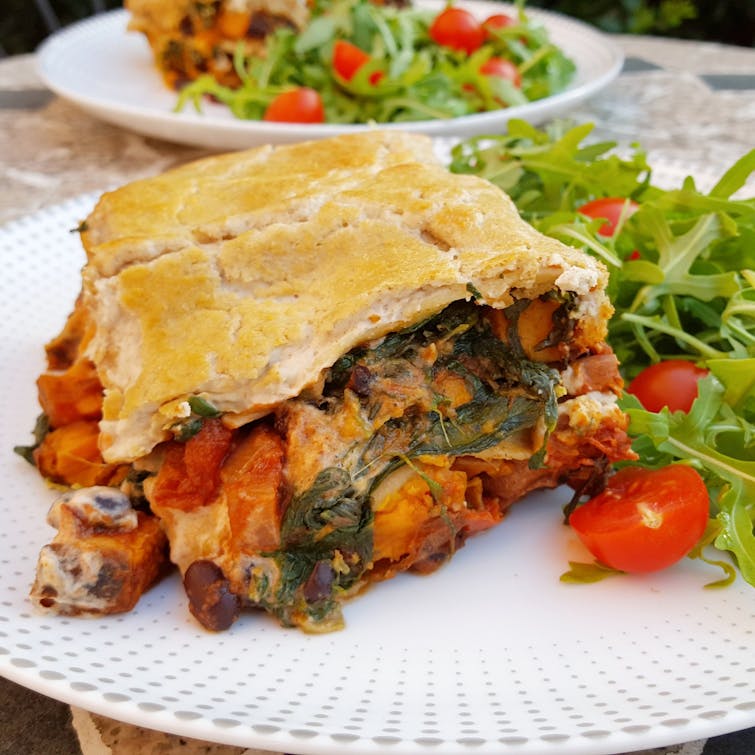 ---