Mexican Inspired Chopped Salad
A crunchy, colourful salad made from corn, red onion, tomato, cucumber, parsley and black beans, all dressed with a creamy and simple dressing made from fresh lime juice. A perfect picnic salad that can be made up to 3 days in advance and stored in the fridge. Delicious served on its own or served with tortilla chips for extra crunch.
Substitutes: 
No parsley? Use coriander instead. 
No lime juice? Try with lemon juice instead. 
No black beans? Use chickpeas or lentils instead.
Prep time: 20 minutes
Cook time: 0 minute
Total time: 20 minutes
Servings: 2
Ingredients:
1 Corn (off the cob)
1 Red onion (diced )
3 Tomatoes (chopped )
90 g Cucumbers (chopped )
6 tbsp Parsley (chopped )
400 g Black beans (drained and rinsed )
For the dressing:
3 tbsp Lime juice
1 tsp Ground cumin
1 Garlic clove (grated )
1 tsp Tabasco
2 tbsp Mayonnaise (or vegan mayonnaise )
6 tbsp Olive oil
Salt & pepper (to taste )
For serving:
Corn tortilla chips (to taste )
Recipe:
Prepare all of your ingredients.
In a bowl, add all the dressing ingredients and mix until combined. Season with salt and pepper.
Pour the dressing into an upcycled medium size jar.
Stack your ingredients starting with the red onion and following with the corn, black beans, tomatoes, cucumber and parsley. 
Press until airtight, close the jar and store in the fridge for up to 3-4 days, or until ready to eat. 
When you are ready to eat; simply pour all the content of the jar into a large mixing bowl and toss all of the ingredients together until coated in the dressing. 
Divide into plates and serve with corn tortilla chips for extra crunch.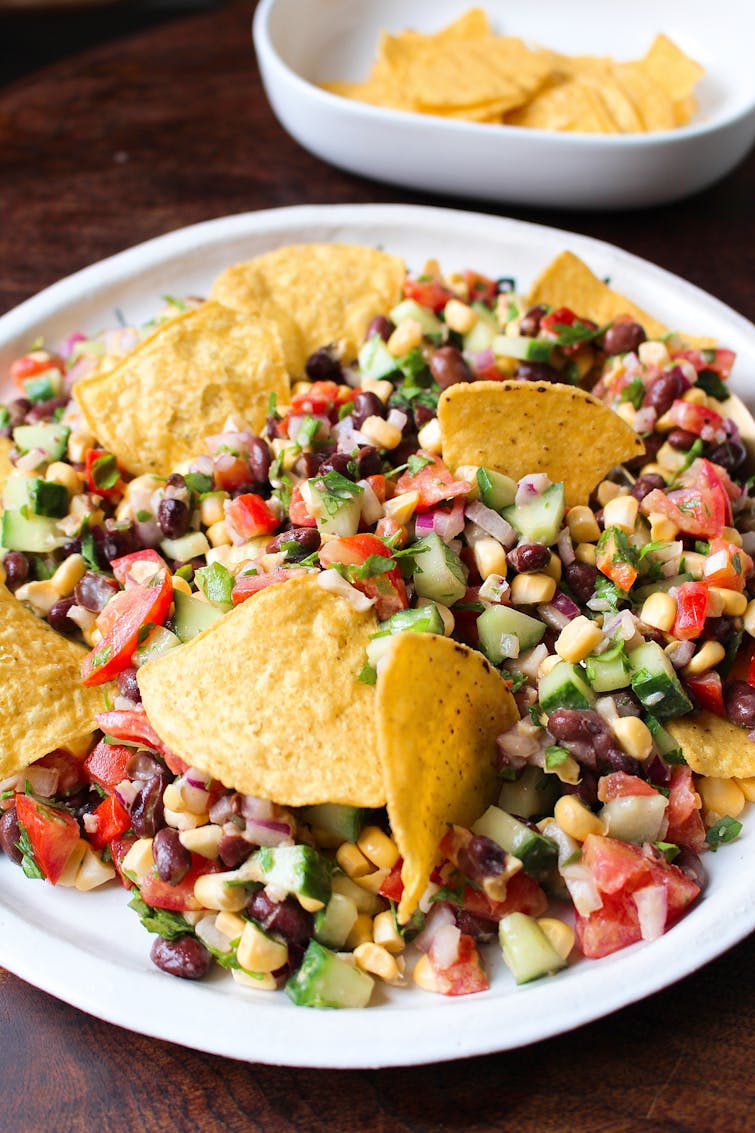 ---
How to store
Store in the fridge for up to 3-4 days. 
Leftovers
Avocado dip: Mash a couple of avocados until smooth and mix in your leftovers for a chunky dip. Serve with corn tortilla chips.