Mediterranean Pasta Salad
This salad is a crowd pleaser, it's almost no-cook, comes together quickly, and with very little effort. Lettuce, cucumber, tomatoes, red onion, parsley, corn, olives, salty feta cheese/vegan alternative, and a creamy, tangy, lemony dressing, all tossed up with pasta of choice. It's colourful, so delicious and can be made in advance and stored in the fridge for up to 2-3 days.
Substitute:
No mayonnaise? Use tahini instead. 
No red onion? Use shallot instead. 
No cucumber? Add peppers instead. 
No honey? Use maple syrup instead. 
No pasta? Try with quinoa or rice instead. 
No lettuce? Use kale or spinach instead. 
Other vegetable options? Try adding grated carrot, chopped spring onions, or sliced avocado.
Prep time: 10 minutes
Cook time: 10 minutes
Total time: 20 minutes
Servings: 4
Ingredients:
1 Living lettuce (chopped )
2 Tomatoes (chopped )
1 Red onion (sliced )
6 tbsp Parsley (chopped )
1 Corn (off the cob)
100 g Cucumbers (chopped )
100 g Olives
Feta (or vegan feta)
100 g Pasta
2 tbsp Pine nuts
2 tbsp Olive oil
For the dressing:
2 tbsp Lemon juice
1 tsp Dijon mustard
1 tbsp red wine vinegar
1 tbsp Mayonnaise (or vegan mayonnaise )
1 tbsp Honey (or maple syrup)
4 tbsp extra virgin olive oil
Salt & pepper
Recipe:
To cook the pasta. Bring a saucepan of salted water to a boil. Cook the pasta to al dente, according to package instructions. Drain. Add the pasta to the bowl with 2 tbsp olive oil. Mix well to coat and set aside to cool.
To make the dressing. Combine all the dressing ingredients in a glass jar and mix until smooth. Taste and adjust with salt and pepper.
To make the salad. In a large mixing bowl, add all of the salad ingredients. Pour over the dressing and toss well. Season to taste with salt and pepper. Enjoy!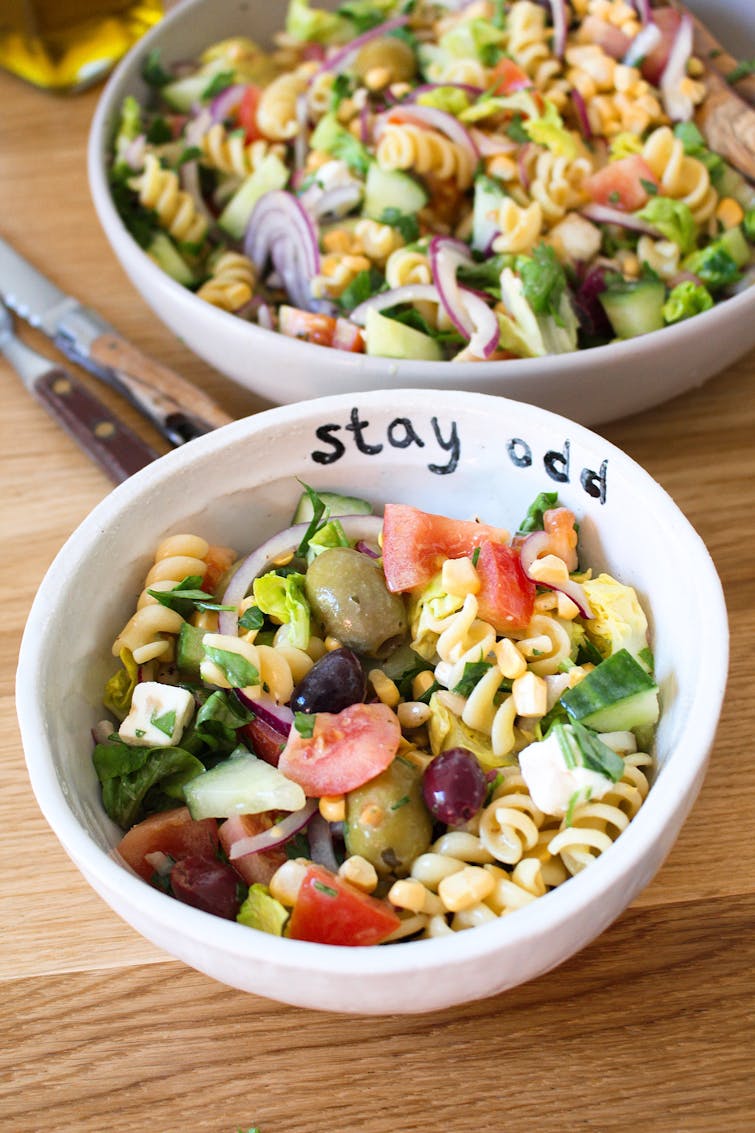 ---
How to store
Store in the fridge for up to 3 days.