Mediterranean Celery Salad
A quick and simple mediterranean salad, showcasing raw crunchy celery, chickpeas, black olives, red onion and parsley. The chickpeas make it nutritious enough to be a meal on its own, but this recipe would also be a great side dish or starter.
Substitute:
No celery? You can use fennel instead. 
No red onion? Try with shallot. 
No black olives? You can use green olives, or swap the olives for capers or cornichons. 
No red wine vinegar? Use what you have. Good options are white wine vinegar, and apple cider vinegar. 
No parsley? Swap parsley for fresh basil. 
Prep time: 15 minutes
Cook time: 0 minute
Total time: 15 minutes
Servings: 2
Ingredients:
Celery stalk (4)
400 g Chickpeas (1 tin, drained)
1 Red onion
15 Black olives
a bunch of Parsley
1 tbsp red wine vinegar
½ Salt
½ tsp Cumin seeds
2 tbsp Olive oil
Salt & pepper
Recipe:
Prepare your ingredients: Slice the celery, cut the olives in half, thinly slice the red onion, and chop the parsley (stem included). In a large bowl, combine celery, chickpeas, olives, red onion and parsley. 
Make the dressing: In a small bowl, combine the vinegar, cumin seeds, olive oil, salt and pepper. Whisk with a fork until the salt has dissolved.
Finish the salad: Pour the dressing over the celery chickpea salad, and mix well.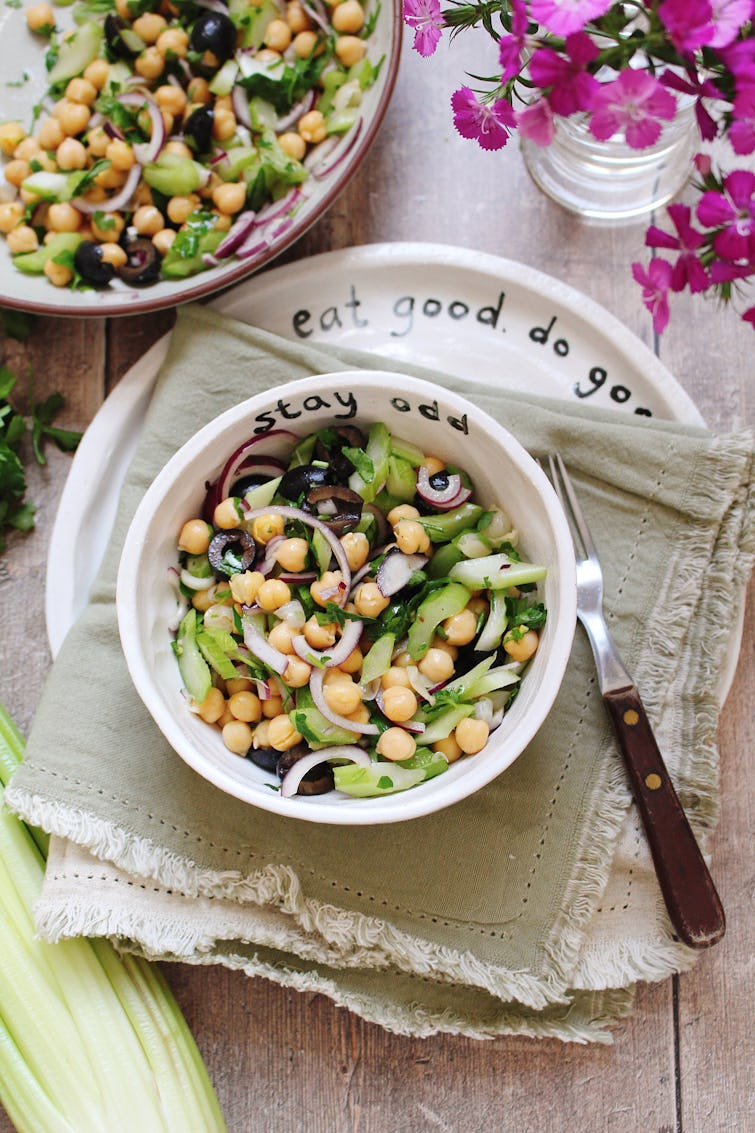 ---