Mashed Potato Pancakes
These crispy on the outside and fluffy on the inside mashed potato pancakes can be adapted for both sweet and savoury tastes. Serve for dinner with a vegetable topping such as pickled veggies, pan fried greens or leftover curry. Or enjoy the pancakes for breakfast with fruit compote, poached pears or fresh fruit slices, and a drizzle of maple syrup.
Substitutes:
No potatoes? Use sweet potatoes instead. 
No buckwheat flour? Use plain flour instead. 
No eggs? Substitute with flaxseed or chia seeds instead.
Prep time: 20 minutes
Cook time: 10 minutes
Total time: 30 minutes
Servings: 2
Ingredients:
Medium size potato (or 200 g mashed potato)
70 g Buckwheat flour
1 tsp Baking powder
2 Eggs
100 ml Milk of choice
4 tbsp Vegetable oil (for cooking )
Recipe:
Make the mashed potato: Scrub the potatoes clean under water and cut into chunks. Cook them in boiling water until tender. Drain well and press through a potato ricer or mash. Weigh out 200g and set aside to cool.
Make the pancake batter: Add the flour, baking powder, eggs and milk onto cooled mash. Whisk the batter until smooth. If you are making savoury pancakes you can add a pinch of both salt and pepper.
Cook the pancakes: Heat a large non-stick frying pan over a medium heat and add a drizzle of oil. When the oil is hot, start to cook the pancakes. Add 1 tbsp of batter for each pancake and cook for about 1 minute on each side or until puffed and golden brown. Add more oil as needed. The batter should give you about 8 pancakes. 
Serve the pancakes: Serve the pancakes with the topping or side of your choice. We love them with pan fried greens, leftover curry, soup, fruit compote, poached fruits or fresh fruit slices. Enjoy!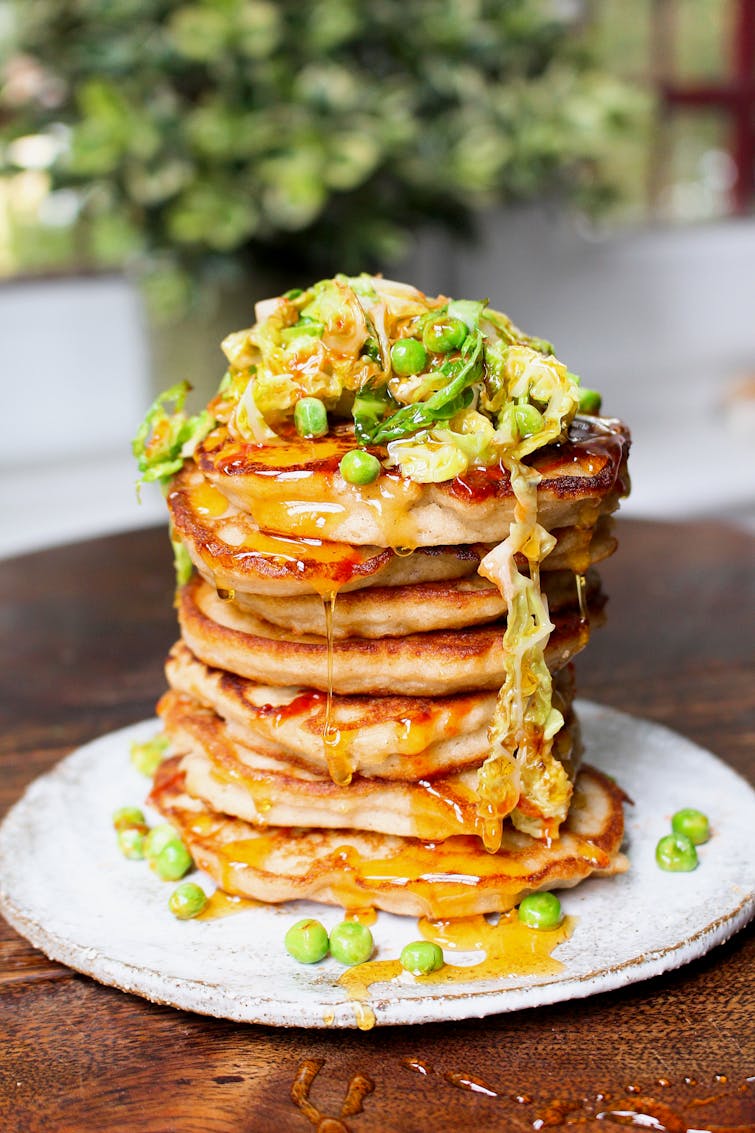 ---
How to store
Store in an airtight container, in the fridge, for up to 3 days, or in the freezer for up to 3 months.