Marinated Roasted Peppers
Marinated peppers are a fridge staple, and can be served on toast, salads, sandwiches or as part of a cheese board. 
Substitute:
No lemon? You can use lime, or do the recipe without. 
No bread? The marinated peppers can be served on their own or with rice or pasta. 
No garlic? You can do this recipe without garlic. 
No basil? Use parsley or rocket salad instead. 
Prep time: 15 minutes
Cook time: 60 minutes
Total time: 75 minutes
Servings: 4
Ingredients:
4 Bell peppers
3 Garlic cloves (chopped)
Lemon (zested and juiced)
Olive oil
Salt & pepper
Crusty bread
Basil leaves
Recipe:
Roast the peppers: Preheat the oven to 200°C/180 fan/6 gas mark. Wash and dry your peppers then place them into an oven tray. Add a drizzle of olive oil and roast until the skin is charred and the flesh is soft, about 45 minutes to 1 hour. The peppers will collapse on themselves. 
Cut the peppers: Allow the peppers to cool a little, then remove the stems, remove the seeds, and cut in long strips. 
Marinate the peppers: Add your pepper strips into an upcycled jam jar or reusable container, cover with olive oil (about 3 tbsp), add the garlic, lemon zest and juice, and season with salt and pepper. Toss gently and keep in the fridge for at least 45 minutes to marinate. The peppers are even better the next day!
Serve the marinated peppers: Slice and toast your bread until crispy. Top the toasted bread with marinated peppers and fresh basil leaves.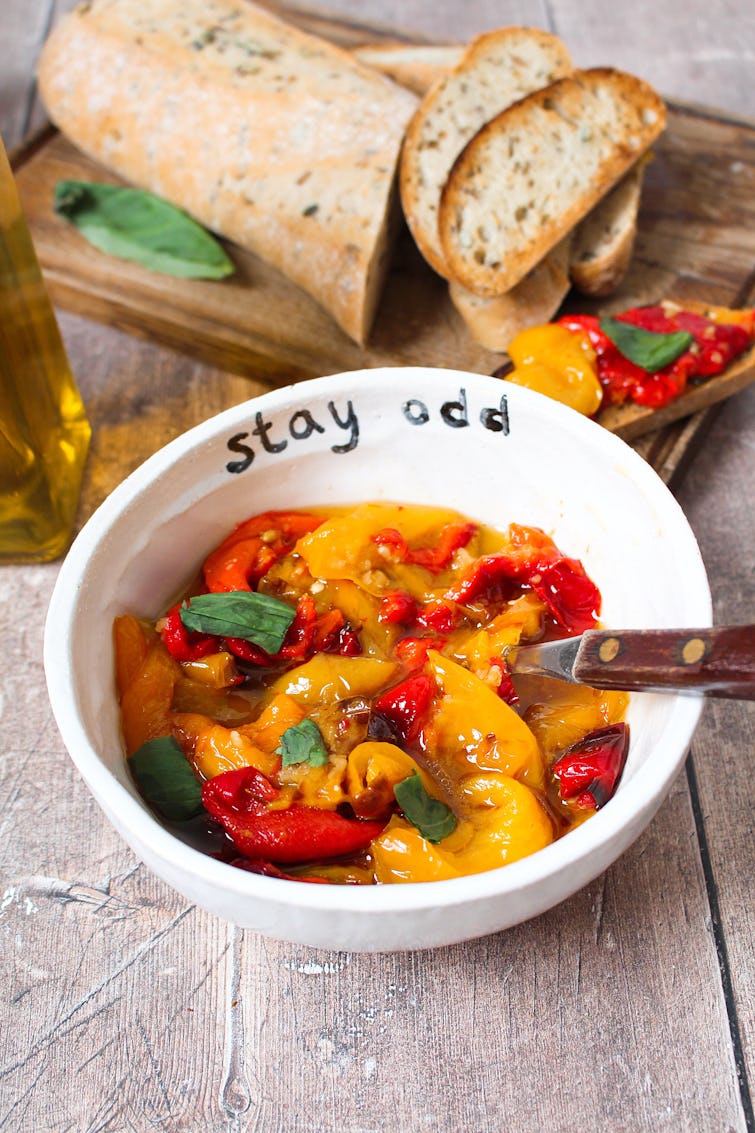 ---
How to store
Store your marinated peppers in the fridge for up to 7 days. The peppers will keep marinating in the fridge and the flavours develop. You can also freeze them, for up to 3 months. Let them defrost at room temperature, until ready to serve. 
Leftovers
Marinated peppers can be served on toast, salads, sandwiches or as part of a cheese board. You can also blend leftovers marinated peppers along with vegetable stock, to make a roasted pepper soup or pasta sauce.