Maple & Sesame Baby Carrots
Whole baby carrots blanched and tossed in a maple sesame sauce until nicely coated. Topped with fresh herbs and sesame seeds, this is a great recipe to serve alongside salads, rice, quinoa or noodles. Delicious eaten hot or cold this recipe is a great one for meal prep.
Substitute:
No spring onions? Use coriander or parsley instead. 
No noodles? Use cooked rice or quinoa instead. 
No maple syrup? Try with honey instead.
Prep time: 10 minutes
Cook time: 20 minutes
Total time: 30 minutes
Servings: 2
Ingredients:
400 g Baby carrots
2 tbsp Maple syrup
2 tbsp Sesame oil
2 tbsp Soy sauce
3 Garlic cloves (grated )
1 tbsp Vegetable oil
For serving:
1 tbsp Sesame seeds
4 Spring onions (sliced)
300 g Ready cooked noodles
Recipe:
Bring a large saucepan of water to the boil. Blanch the carrots for 10-15 minutes, until tender. A knife inserted in one of the carrots should come out easily.
In a large mixing bowl, add the maple syrup, sesame oil, soy sauce, garlic and vegetable oil. Use a fork to mix until combined and creamy.
Drain the carrots and add them to the mixing bowl. Toss well to coat and place back in the pan. Add the noodles (if using), toss well and cook for 2 minutes.
Add the spring onions, sesame seeds and serve.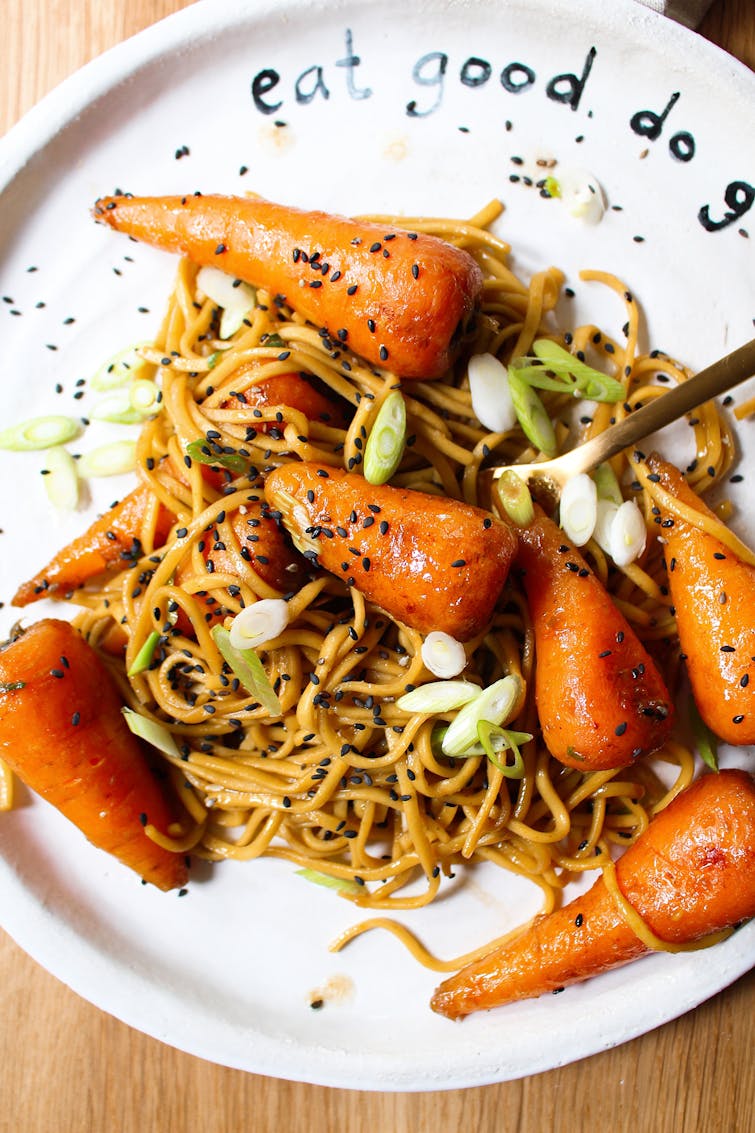 ---
How to store
Store in an airtight container, in the fridge, for up to 3 days. Eat cold or reheat in a frying pan for 5-6 minutes.