Maple Apple Butter
Apple butter is a simple apple topping that tastes great spread on toast, scones, or crepes. It's made primarily from apples, which are cooked down and concentrated to their essence. The recipe doesn't actually contain any butter or dairy of any kind. In fact, this maple apple butter is vegan!
Substitute:
No maple syrup? You can do without or use another sweetener of choice. 
Prep time: 10 minutes
Cook time: 50 minutes
Total time: 60 minutes
Servings: 2
Ingredients:
4 large Apples
100 ml Maple syrup
½ Lemon (juice )
Recipe:
Cook the apples: Core and chop the apples into approximately 1 cm pieces. Place them in a saucepan along with the maple syrup. Cook over low-medium heat, covered but stirring occasionally, for about 45 minutes, or until the apples have become very soft.
Blend the apples: Use a food processor to puree the mixture until smooth. Add the lemon juice and blend to combine.
Place the puree back into the saucepan and continue to cook, this time uncovered and stirring occasionally, for 10 minutes, or until thick, velvety, and a little darker in colour. Transfer the mixture to jars, and serve on crepes, toasts or with yoghurt.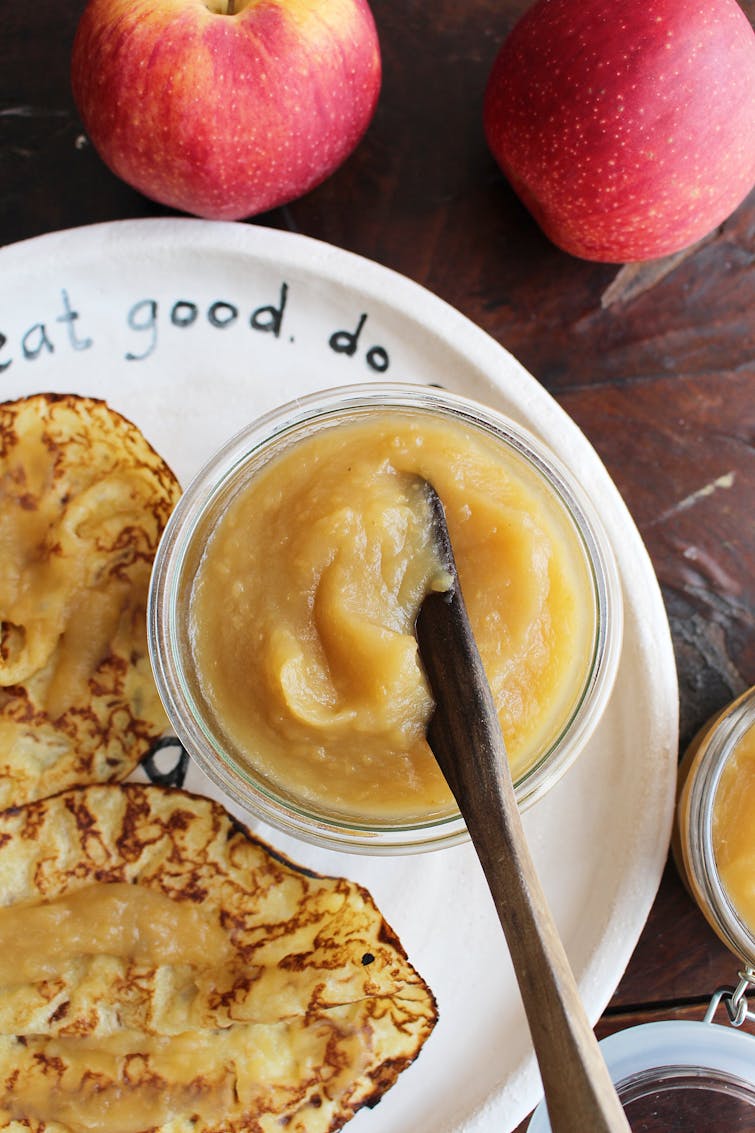 ---
How to store
To sterilise your jars, boil your lids until the seal is softened and gummy, and fill the jars with apple butter. Wipe the edges of the jars clean, screw on the lids, and submerge in boiling water for about 10 minutes. Remove from the water, and let the jars cool - you should then hear the lids suction down and "pop." This is how you know your seals are airtight.  In sterilised jars, the apple butter will keep for months in a cupboard at room temperature.  If you don't sterilise your jars, no worries, just keep your apple butter in the fridge. Once opened, a jar of apple butter should last in the fridge for several weeks to a month.
Leftovers
You can serve apple butter on toast, on crepes on pancakes, in cake recipes or even stirred in yoghurt. Apple butter jars would also make a great homemade present for loved ones.