Mango Jam Tart 
Creamy mango jam on shortcrust pastry; these jam tarts are so delicious and easy to make. If you've got other fruit to use up, make the jam with peaches, plums or strawberries instead.
Substitute:
No mangoes? Use peaches, strawberries, plums or any fruits of your choice. 
Prep time: 15 minutes
Cook time: 80 minutes
Total time: 95 minutes
Servings: 4
Ingredients:
2 Mangoes
1 Vanilla pod
100 g Caster sugar
1 Ready rolled shortcrust pastry
3 tbsp Flaked almonds
Recipe:
Peel and chop the mangoes. Compost the peel and stones.
Place the mango chunks into a saucepan, along with the sugar. Cut the vanilla pod lengthways and use a small knife to carefully scrape the seeds out. Add both vanilla seeds and pod to the pan.
Place the pan over a medium heat. Cook for about 45 minutes, stirring regularly, or until soft and jammy. If too dry add a splash of water, then blend into a smooth jam.
In the meantime, preheat the oven to 180°C /160 fan/4 gas mark. Place the pastry on a tart tin (or 3-4 small tart tins), then fill the pastry case with a circle of baking paper and add baking beans (or rice) to weigh it down.
Bake for 15 minutes, then carefully remove the paper and beans and cook for another 5 minutes. (This is called a blind bake and helps seal the surface to stop the pastry going soggy.)
Pour and spread the mango jam on top of the pastry. Sprinkle over the flaked almonds and slide back in the oven for 25-35 minutes, or until golden brown.
Serve on its own or with a big scoop of whatever you fancy.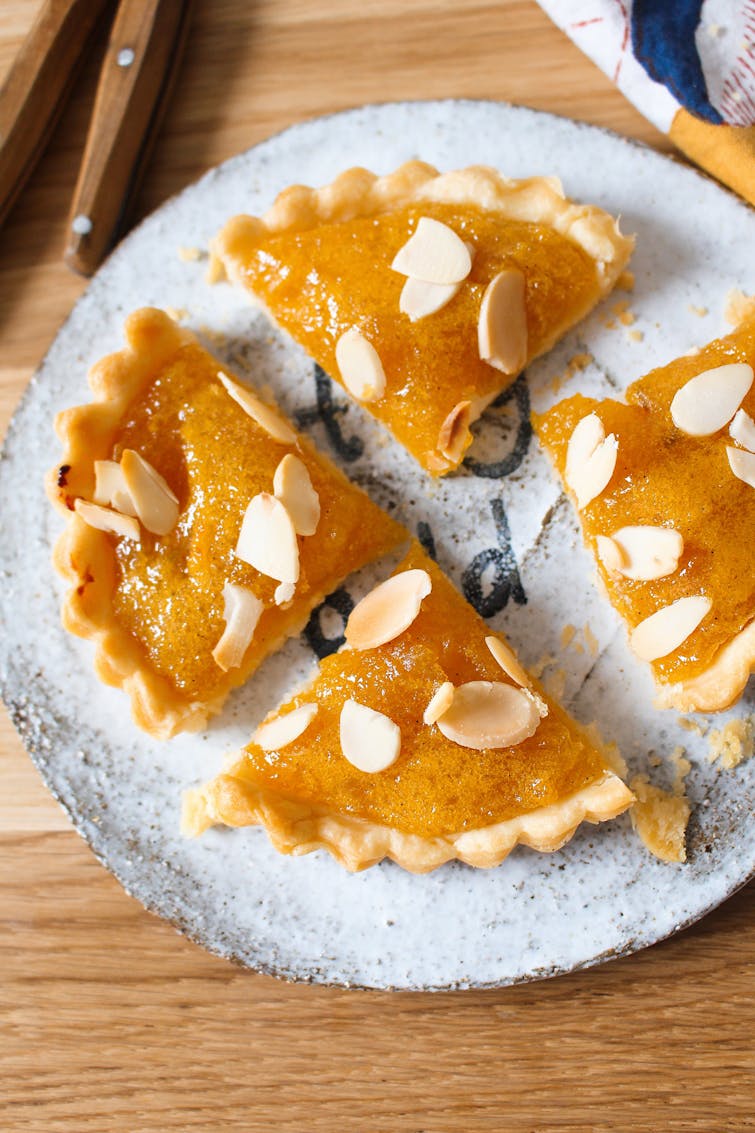 ---
How to store
Store in an airtight container in a cool place for up to 3 days. Store any leftover jam in the fridge for up to 7-10 days.
Leftovers
Spread any leftover jam on toast for breakfast or mix a spoon full of jam in your favourite natural yoghurt.