Lettuce Ricotta Crostini
The perfect party appetiser or starter. Crunchy, creamy and fresh; three words to describe these crowd pleaser lettuce ricotta crostini. 
Substitutes: 
No lettuce? You can use spinach and rocket instead of lettuce. Follow the same steps!
No ricotta? Choose another creamy, fresh and mild cheese. Vegan almond ricotta substitute would be delicious. 
No lemon? Use lime instead. 
No chilli flakes? You can use fresh chilli, or simply do without. 
No peas? Edamame would be a good substitute in this recipe. 
Prep time: 20 minutes
Cook time: 5 minutes
Total time: 25 minutes
Servings: 2
Ingredients:
½ lettuce
150 g Ricotta cheese  / vegan ricotta style cheese
½ Lemon (juice)
½ tsp chilli flakes
10 Mint leaves
120 g frozen peas
Olive oil
1 Garlic clove (cut in half)
Salt & pepper
6 slice Bread
Recipe:
Make the first layer: Mix the ricotta/vegan alternative with lemon juice, salt, pepper and chilli flakes. Put in the fridge to set. 
Make the second layer: Roughly chop the lettuce and pick the mint leaves. Save the mint stems to make mint infusion - simply pour hot water over the stems, add sweetener of choice and let sit for 5 minutes to infuse. Pour hot water over the frozen peas to defrost them. Drain after 3 minutes. Place the lettuce, mint leaves and peas in a food processor along with a drizzle of olive oil, and blend to a chunky consistency. Place in a bowl and season with salt, pepper. Mix well.
Make the crostini bread: Brush bread slices with olive oil, season with salt and scrub with garlic. Bake at 180C/160 fan/4 gas mark, for 5-10 minutes, until crispy and golden. 
Assemble the lettuce crostini:Layer your toasted bread with a layer of ricotta/vegan substitute mixture, and top with the green shresh lettuce mixture.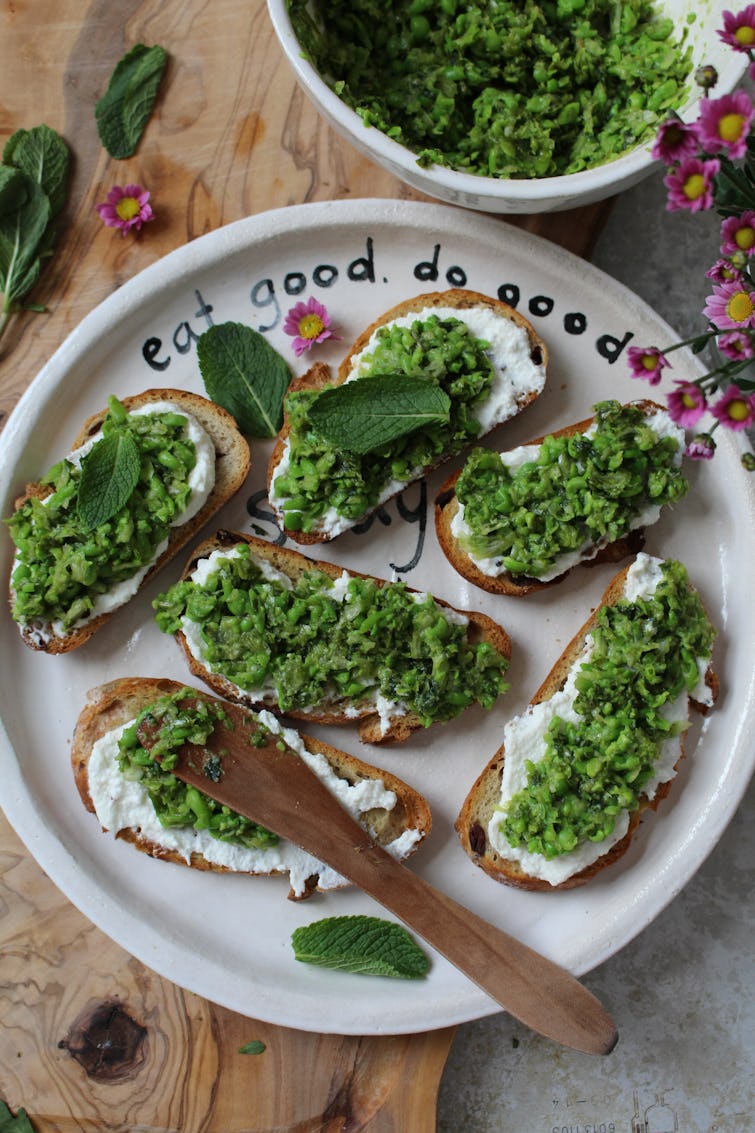 ---
How to store
How to store: Store your lettuce mixture, ricotta mixture and bread separately. This will prevent your crostini from getting soggy. Store all the fresh in the fridge for up to 3 days, and the bread in an airtight container at room temperature. 
Leftovers
Leftovers: Both ricotta and lettuce mixture would be delicious used as a pasta sauce recipe. Mix them together to a creamy consistency, and add your al dente pasta.