Lettuce Pesto Pasta
Try this quick and simple lettuce pesto recipe. The lettuce is blended with garlic, pine nuts, parmesan, lemon and olive oil and served with fresh pappardelle. 
Substitute:
No lettuce? You can use any sort of lettuce or leafy greens (spinach, kale…).
No basil? Try without, using only lettuce. 
No pine nuts? Use sunflower seeds instead. 
No pappardelle? Try with the pasta of your choice.
Prep time: 15 minutes
Cook time: 10 minutes
Total time: 25 minutes
Servings: 2
Ingredients:
1 lettuce
1 Garlic clove
a bunch of Basil leaves
30 g Pine nuts
20 g Parmesan / vegan parmesan
Lemon juice (1/2 a lemon)
4 tbsp Olive oil
Pasta pappardelle
Salt & pepper
Recipe:
Make the pesto: Wash and roughly chop the lettuce. Place the lettuce in a food processor along with the garlic, basil, pine nuts, lemon juice, and grated parmesan. Pulse blend for a few seconds, then add the olive oil and blend to combine. Season to taste with salt and pepper.
Cook the pasta: Bring a large pan of salted water to the boil. Cook the pasta al dente and reserve some of the cooking water. Drain.
Serve: Add half of the pesto to the pappardelle and toss to coat. Serve the pasta and add more lettuce pesto on the top.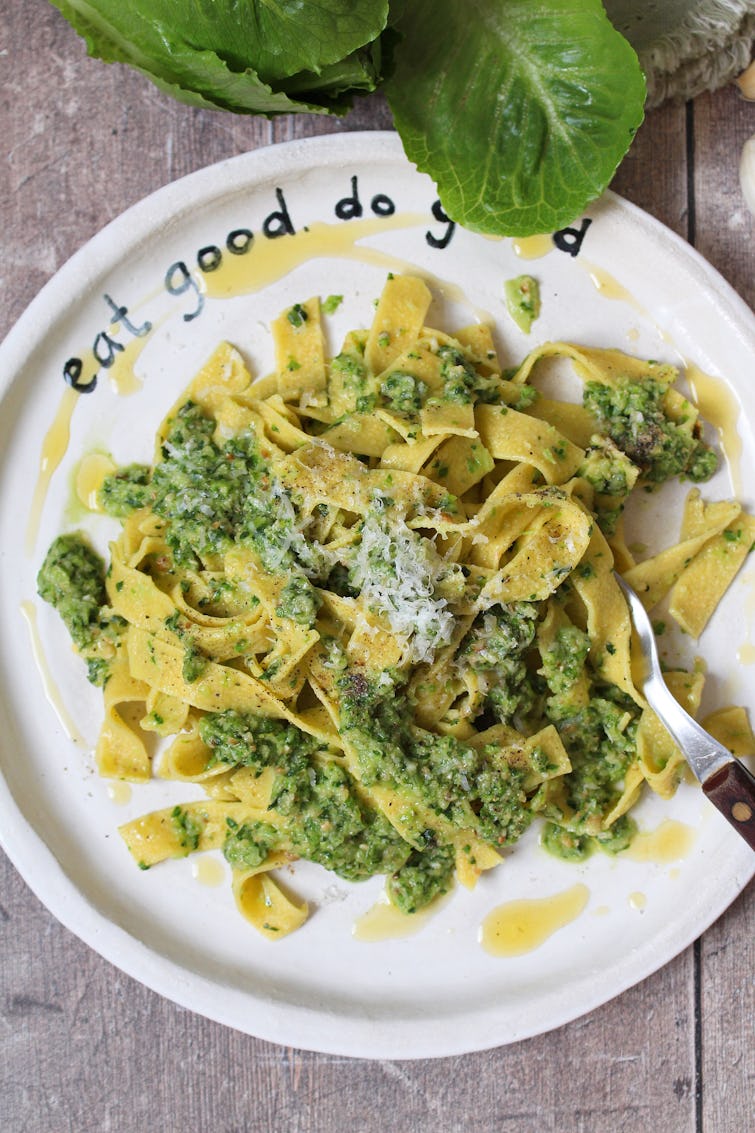 ---
How to store
Store the pesto in a small jar covered with olive oil to prevent oxidation. Keep the lettuce pesto in the fridge for up to 3 days. The pesto can also be stored in the freezer for up to 3 months. 
Leftovers
Use the lettuce pesto in roasted vegetables. Chop and roast the vegetables of your choice, then toss in lettuce pesto and serve.