Lettuce & Coriander Green Summer Salad
A simple green salad made with lettuce, fresh coriander, pumpkin seeds and any other greens you fancy. It's served with a mustard dressing that can be made up to 5 days in advance and kept in the fridge.
Substitute:
No coriander? Use any fresh herb you have on hand like parsley or dill. 
No pumpkin seeds? Try with sunflower seeds instead. 
No peas or green beans? Use any vegetables of your choice instead such as peppers or grated carrots. 
No cucumber? Try with chopped tomatoes instead. 
No shallot? Use red onion instead. 
No honey? Try without or use maple syrup instead.
Prep time: 15 minutes
Cook time: 5 minutes
Total time: 20 minutes
Servings: 2
Ingredients:
150 g lettuce (roughly chopped )
15 g Coriander leaves (chopped )
30 g Pumpkin seeds
100 g Frozen or fresh peas (blanched )
Green beans (blanched )
1 Avocado (chopped )
100 g Cucumbers
For the dressing:
2 tbsp extra virgin olive oil
1 tbsp Dijon mustard
1 tbsp red wine vinegar
1 tbsp Lemon juice
1 tbsp Runny honey
1 Shallot (chopped )
Salt & pepper
Recipe:
In an upcycled jar add all the dressing ingredients and a pinch of both salt and pepper. Close the jar and shake to combine all the ingredients together.
In a large mixing bowl, add the lettuce, coriander, pumpkin seeds, peas, green beans, avocado and cucumber.
Pour the dressing over and mix well to coat all the vegetables. Season to taste with salt and pepper and enjoy!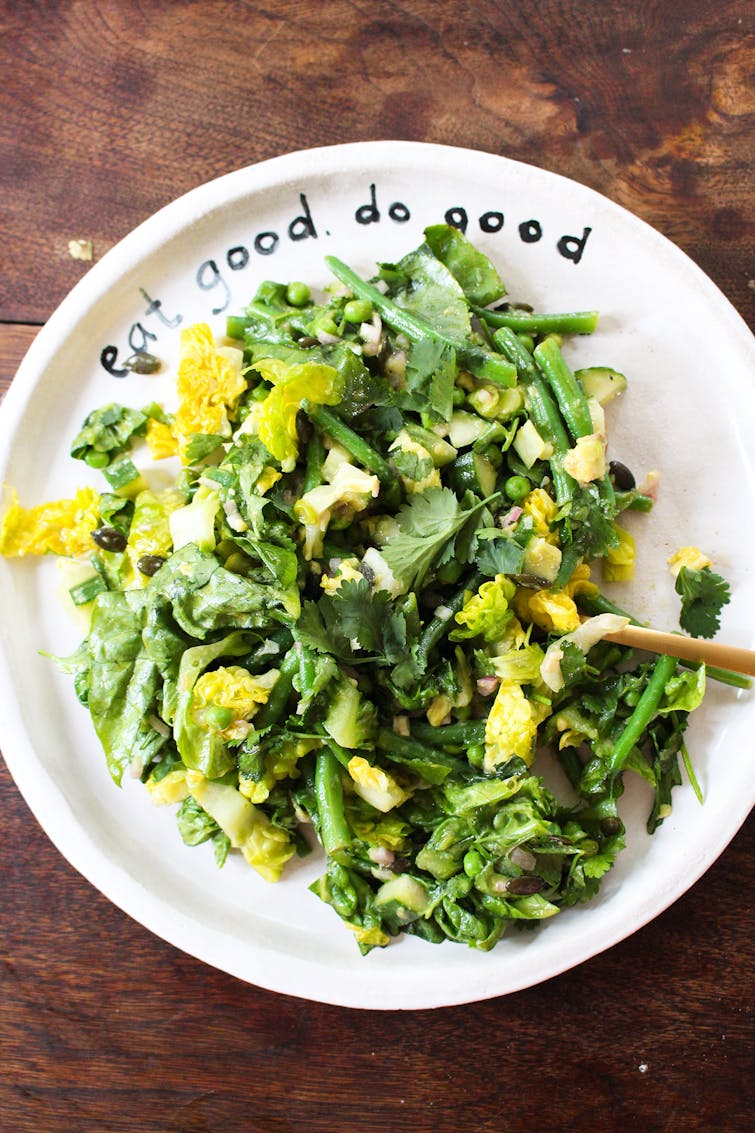 ---
How to store
Store the dressing in the fridge for up to 3 days. You can chop all the vegetables in advance and pour the dressing over when ready to eat.