Lemon Risotto Stuffed Courgettes
Try this Romanian inspired recipe, showcasing whole courgettes cut into cylinders, stuffed with a creamy and lemony risotto and served in a quick tomato broth.
Substitute:
No risotto rice? Use normal rice or cooked quinoa instead. If you are in a rush, using normal rice or quinoa will save you some time. 
No mint? Use parsley instead. 
No onion? Try with shallot instead. 
No white wine? Use only vegetable stock.
No lemon? Try with lime instead.
Prep time: 15 minutes
Cook time: 50 minutes
Total time: 65 minutes
Servings: 2
Ingredients:
500 g Courgettes
2 tbsp Olive oil
1 Onion (chopped )
2 Garlic cloves (chopped )
100 g Risotto rice
100 ml white wine
300 ml Vegetable stock
1 Lemon (zested and juiced )
1 tsp Smoked paprika
7 g Mint (finely chopped )
50 g Cooked puy lentils
Salt & pepper
For the broth:
400 ml Vegetable stock
2 tbsp Tomato puree
Recipe:
Heat 2 tbsp olive oil in a frying pan over medium heat. Add the chopped onion and chopped garlic, then fry for about 4-5 minutes until soft.
Add the risotto rice into the pan and cook for 1 minute. Pour over the white wine and let it bubble to nothing so the alcohol evaporates. Keep the pan over a medium heat and pour in a quarter of the stock. Simmer the rice, stirring often, until the rice has absorbed all the liquid. Keep on adding stock until the rice is cooked.
In the meantime, cut the courgettes into cylinders and gently scoop out the centre flesh to create hollow tubes. You can use an apple corer or small knife to do this.
Place the courgette flesh in a food processor and pulse until finely chopped. Alternatively, use a knife to chop the courgette flesh into small pieces.
Add the smoked paprika, lemon zest, lemon juice and courgette flesh to the risotto. Cook for 3 minutes, then turn off the heat.
Add the cooked lentils and mint to the risotto. Mix well to combine.
Using a teaspoon or reusable piping bag, stuff the filling into the hollows tightly. Set aside.
In a large frying pan, bring the stock to a boil and add the tomato puree.
Add the stuffed courgettes, turn the heat down to medium, cover the pan and simmer for 15 minutes, or until the courgettes are cooked but still firm on the outside.
Serve warm. Enjoy!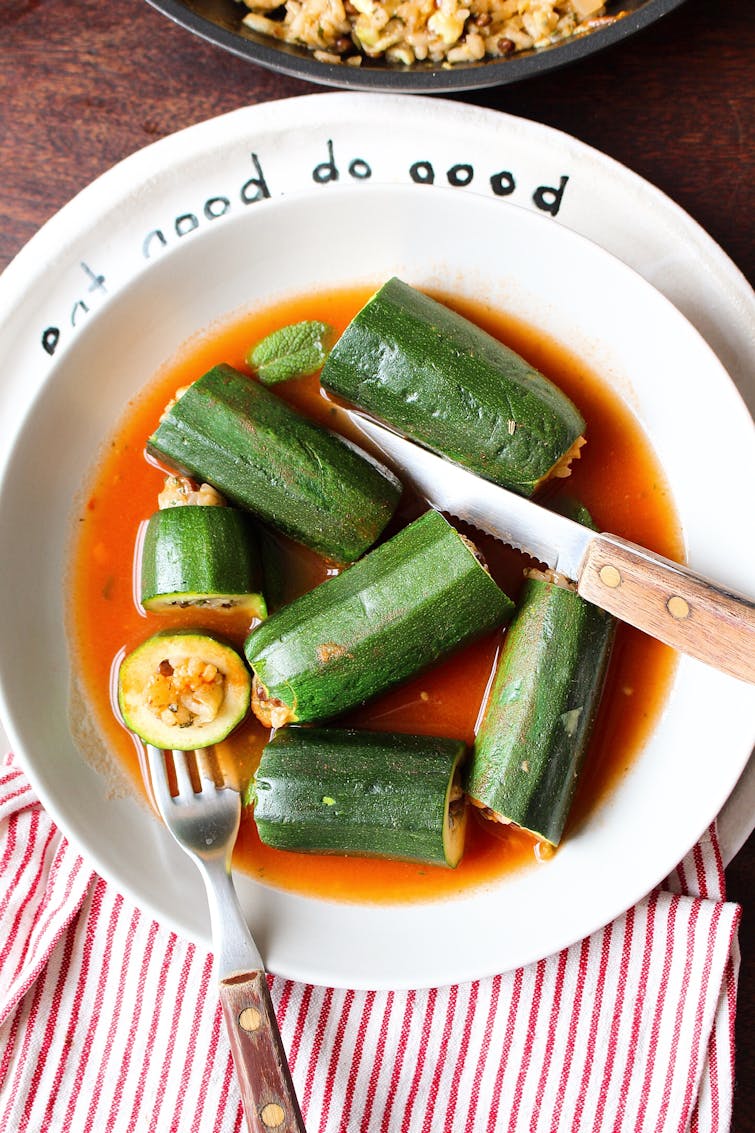 ---
How to store
Store in an airtight container, the fridge for up to 3 days or in the freezer for up to 1 month. 
Leftovers
Leftovers can be eaten cold or reheated and served with a dollop of yoghurt/vegan yoghurt.