Leftover potatoes? Try this easy loaded tortilla patata
Leftover potatoes from last week's boxes? Need a little inspiration from the usual pies, mashes, and fries? Try this fool-proof recipe for a Spanish style tortilla with our guest ODDBOX chef Camille (@callherchef) - perfectly cooked & crisped up in the oven for a filling brunch or lunch. Even better, this dish is delicious eaten hot or cold, making it the perfect take-away meal!
Prep time: 10 minutes
Cook time: 50 minutes
Total time: 60 minutes
Servings: 2
Ingredients:
400 g Potatoes
2 Onions
1 Bell peppers
1 block Feta
a bunch of Parsley
5 Eggs
Olive oil
Salt & pepper
Serve with:
Watercress
Lemon juice
Chilli jam
Recipe:
Wash the potatoes under cold water. Keep the skin and cut the potatoes in half. With a sharp knife or mandolin, finely slice the potatoes and onions.
Pour 100ml of olive oil into a saucepan, add the potatoes, onions and gently mix to coat. Cover to create a steam, and cook over low to medium heat for 20 minutes. Stir regularly.
In the meantime, heat a drizzle of oil in a frying pan on medium high heat. Once the oil is hot, add the peppers and season with salt and pepper. Fry for 10 minutes on medium heat, until slightly charred and soft. Stir often to prevent burning.
Finely chop the parsley with the stalk. Crumble the feta into chunks. Crack the eggs into a bowl, season with salt and pepper and beat with a whisk or a fork.
Preheat the oven to 200C. Strain the potatoes and let cool slightly. Keep the oil, which can be reused.
Add the potatoes, onions, peppers, parsley and feta to the eggs. Mix well to combine and pour into a grease oven dish. Cook for 25-30 minutes, until golden brown. Season the watercress with lemon juice. Cut the tortilla into slices, share between your plates and serve with watercress and chilli jam.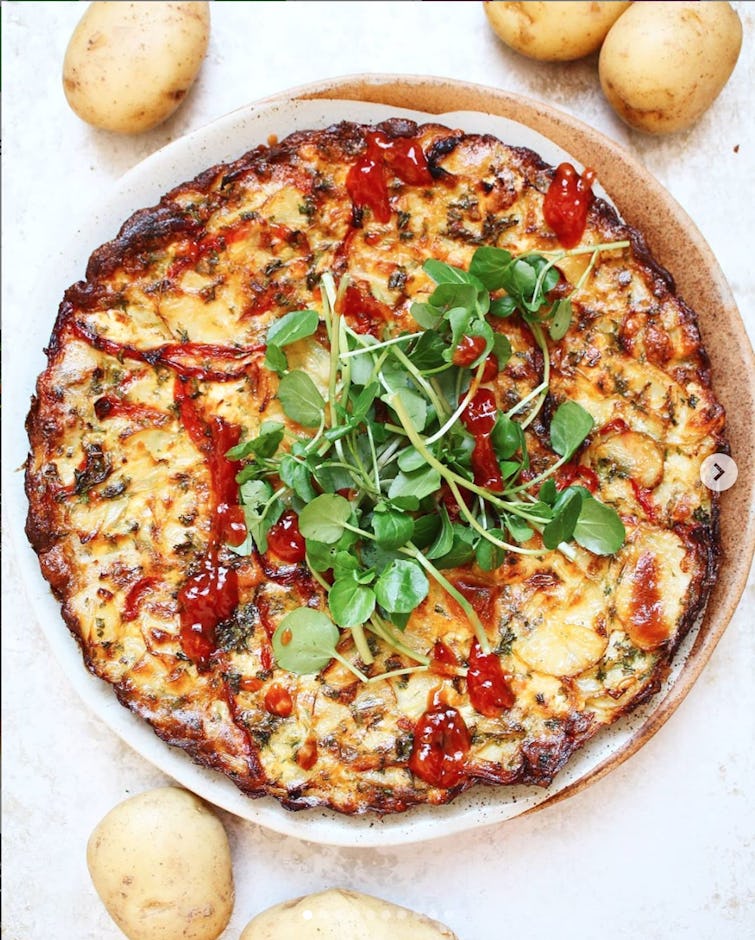 ---