Kohlrabi Rarebit Toast
Welsh inspired recipe showcasing creamy mashed kohlrabi mixed with a mustardy cheddar cheese bechamel sauce, spread onto grilled sourdough toast and grilled until golden brown. This is a particularly great brunch recipe, but would also work as a savoury breakfast or lunch recipe, and can be served with a poached egg, tomatoes, avocado or on its own.
Substitute:
No kohlrabi? Try with potatoes instead. You could also use leeks: finely chop the leek and cook until tender. 
Prep time: 30 minutes
Cook time: 5 minutes
Total time: 35 minutes
Servings: 2
Ingredients:
150 g Kohlrabi (approx. 1 kohlrabi)
25 g Unsalted butter (or vegan butter)
25 g Plain flour
100 ml Milk of choice
50 g Cheddar (or vegan cheese)
1 tsp Dijon mustard
Salt & pepper
2 Slices of sourdough bread
For serving:
Coriander leaves
a pinch of Chilli flakes
Recipe:
Roughly chop the kohlrabi with the skin on. Place in a small saucepan and cover with water. Bring to a boil, then reduce the heat and simmer until tender, for about 20 minutes. Drain, place into a food processor and blend until smooth.
Place the small pan back on the heat and add the butter.
Once melted, add the kohlrabi and a pinch of both salt and pepper. Cook for 2 minutes, until softened but not browned. Add the flour, and mix until you have a paste.
Then pour in the milk and stir well until you have no more lumps. Turn off the heat, then add the mustard and cheddar cheese. Stir until the cheese has melted and season to taste.
Preheat the grill oven to 200 C/180 fan/7 gas mark. Toast the sourdough slices, then spread the rarebit mixture evenly over the toasts, making sure to cover all the edges so that the corners don't burn when grilling.
Place in a baking dish and grill for 4-5 minutes, or until golden brown, then remove from the grill.
Serve with fresh coriander and a sprinkle of chilli flakes.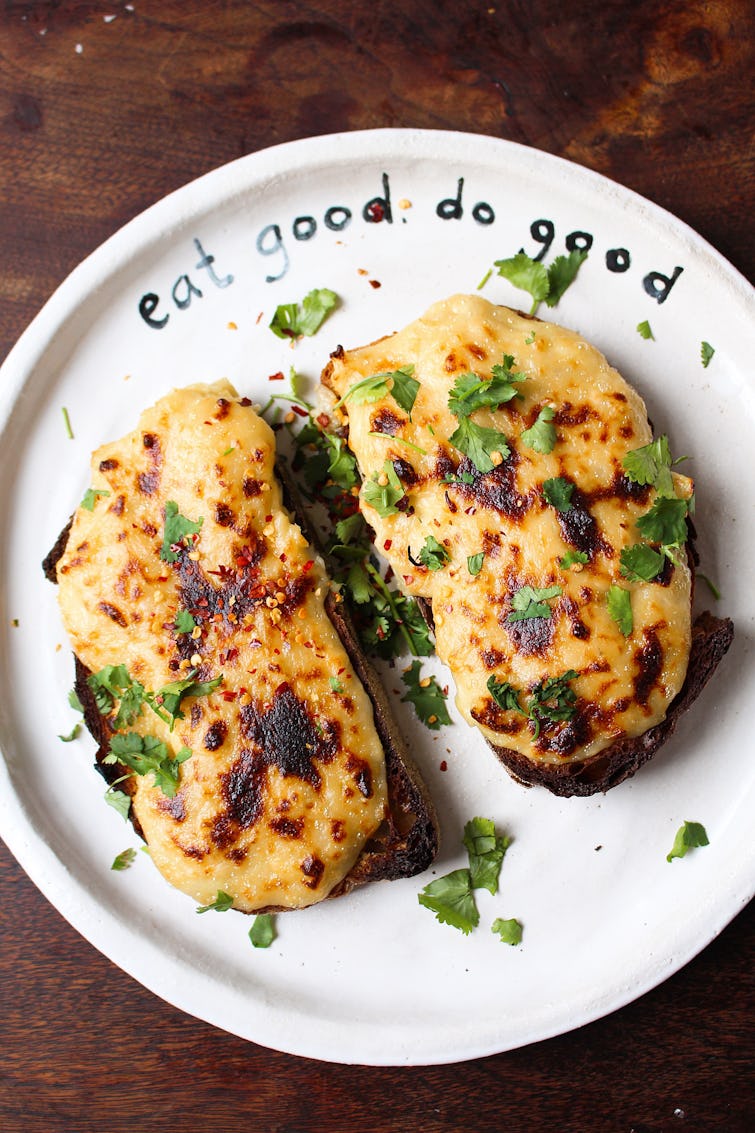 ---
How to store
Store in an airtight container, in the fridge for up to 3 days.