Kohlrabi Hash with Chimichurri Sauce
This recipe is a crowd pleaser and a great make ahead dish. The kohlrabi is diced and roasted then served with spicy and herby chimichurri sauce. Perfect served alongside fried eggs or the protein of your choice. 
Substitute:
No kohlrabi? Use potatoes or sweet potatoes instead. 
No shallot? Try with red onion or a couple of spring onions instead. 
No chilli flakes? Use fresh chilli or chilli paste instead. 
No sherry vinegar? Try with lemon juice, red wine or white wine vinegar.
Prep time: 10 minutes
Cook time: 35 minutes
Total time: 45 minutes
Servings: 2
Ingredients:
400 g Kohlrabi
1 tbsp Olive oil
1 tsp Smoked paprika
Salt & pepper
For the chimichurri:
1 Shallot (diced )
a pinch of Chilli flakes
1 Garlic clove (grated )
2 tbsp Sherry vinegar
2 tbsp Coriander leaves (chopped )
2 tbsp Parsley leaves (chopped )
tbsp Olive oil (5-6)
Salt & pepper
Recipe:
Preheat the oven to 190 C/170 fan/5 gas mark and wash the kohlrabi under cold water.
Cut the kohlrabi into 2 cm thick chunks. Do not discard the kohlrabi leaves, set aside for later. 
Place in a large lined baking tray, add the olive oil, smoked paprika and a pinch of both salt and pepper.
Toss to coat and bake for 35-40 minutes, until tender and golden. Make sure to evenly spread the kohlrabi, leaving space in between each piece. This will prevent them from steaming and getting mushy.
Finely chop the kohlrabi leaves.
In a bowl, combine the kohlrabi leaves, coriander, parsley, sherry vinegar, garlic, chilli flakes and shallot. Mix well adding olive oil until you have a pesto-like mixture. Season to taste with salt and pepper. 
Transfer the kohlrabi hash to a serving dish, drizzle generously with the chimichurri and serve.
Enjoy!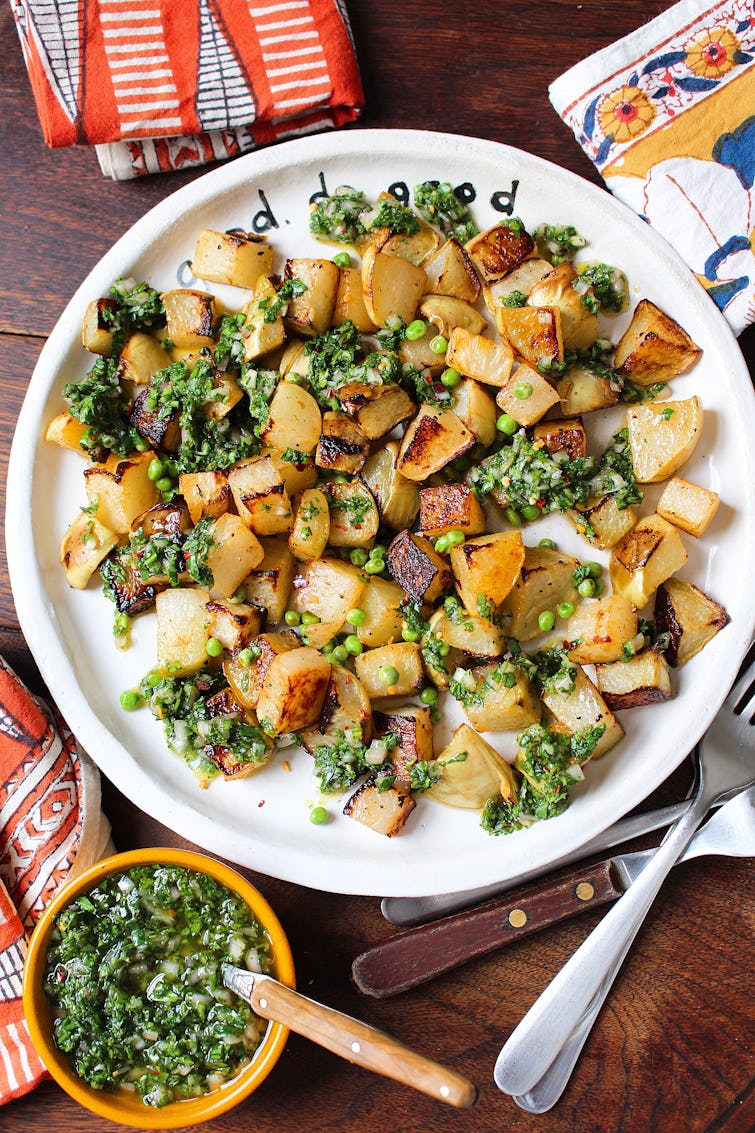 ---
How to store
Store in an airtight container, the fridge for up to 3 days or in the freezer for 1 month. 
Leftovers
The chimichurri sauce can be served as pasta sauce or drizzled over roasted root vegetables.