Kale Tabbouleh
A great picnic salad or side salad for BBQs. Made from chopped kale, couscous, cucumber, tomatoes and fresh herbs all tossed in a simple lemon dressing.
Substitute:
No kale? Use any green leaf or you could use fresh coriander instead.
Prep time: 20 minutes
Cook time: 0 minute
Total time: 20 minutes
Servings: 2
Ingredients:
60 g Kale leaves
100 g couscous
100 g Cucumbers
100 g Tomatoes
15 g Parsley
5 g Mint
4 tbsp Lemon juice
6 tbsp extra virgin olive oil
Salt & pepper
Recipe:
Tip the couscous into a heatproof bowl and pour over 100 ml of boiling water.
Cover with a lid or a plate and leave for 5-10 minutes until the couscous is soft. Fluff the couscous up with a fork and set aside.
Finely chop the kale, parsley and mint. Place in a large mixing bowl.
Cut the cucumber and tomatoes into small cubes. Add them into the bowl with the kale.
Add the couscous into the bowl and season with the lemon juice, olive oil and a pinch of both salt and pepper.
Mix well and season to taste with salt and pepper. If you have the time, let the salad rest for 15 minutes before serving to let the flavours infuse together. Otherwise, you can serve it immediately or chill it for later.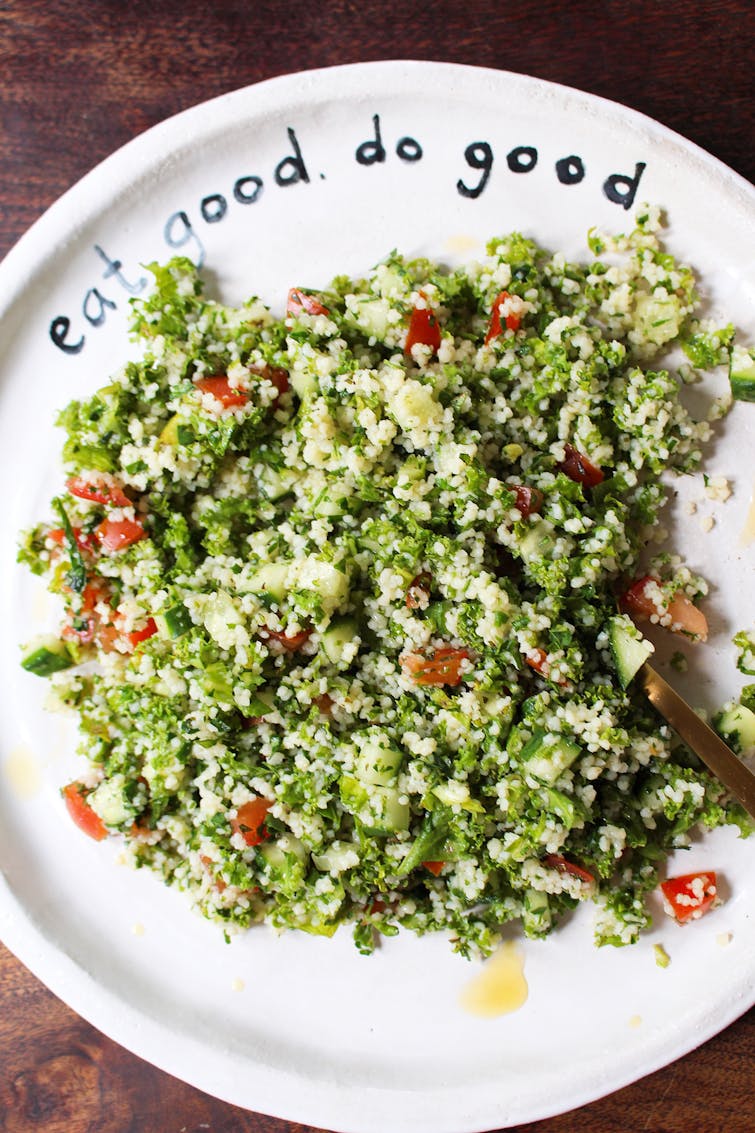 ---
How to store
Store the tabbouleh in an airtight container, in the fridge for up to 4 days.