Kale Shakshuka
A great comforting winter dish that can be served for breakfast, lunch or dinner. The kale is cooked in chopped tomatoes and served with (or without) poached eggs, feta cheese/vegan feta and served alongside crusty bread.
Substitute:
No kale? Use cavolo nero or spinach instead. 
No feta? Try with soft goat cheese, ricotta or any plant based alternative. 
No baguette? Use naan bread or pita bread instead. 
Vegan? Swap the eggs for more veggie, like peppers or sweet potato.
Prep time: 10 minutes
Cook time: 20 minutes
Total time: 30 minutes
Servings: 2
Ingredients:
100 g Kale
1 Red pepper (sliced)
1 Onion (sliced)
2 Garlic cloves (chopped )
1 Tin chopped tomatoes
2 Eggs
50 g Feta (crumbled) / Vegan feta
2 tbsp Olive oil
1 Small baguette
40 g Parsley
Salt & pepper
Recipe:
Preheat the oven to 180 C/160 fan/4 gas mark and roughly chop the kale.
Heat the olive oil in an ovenproof frying pan over medium-high heat. Add the onion, pepper, garlic and cook until beginning to soften, about 5 minutes.
Add the chopped tomatoes and season with salt and pepper. Cook for 5 minutes.
Add the chopped kale, and crack the eggs into the sauce and sprinkle with crumbled feta.
Transfer the pan to the oven and bake until egg whites are set but yolks are still slightly runny, 8-10 minutes.
Scatter parsley over top and serve warm from the pan along with bread.
Enjoy!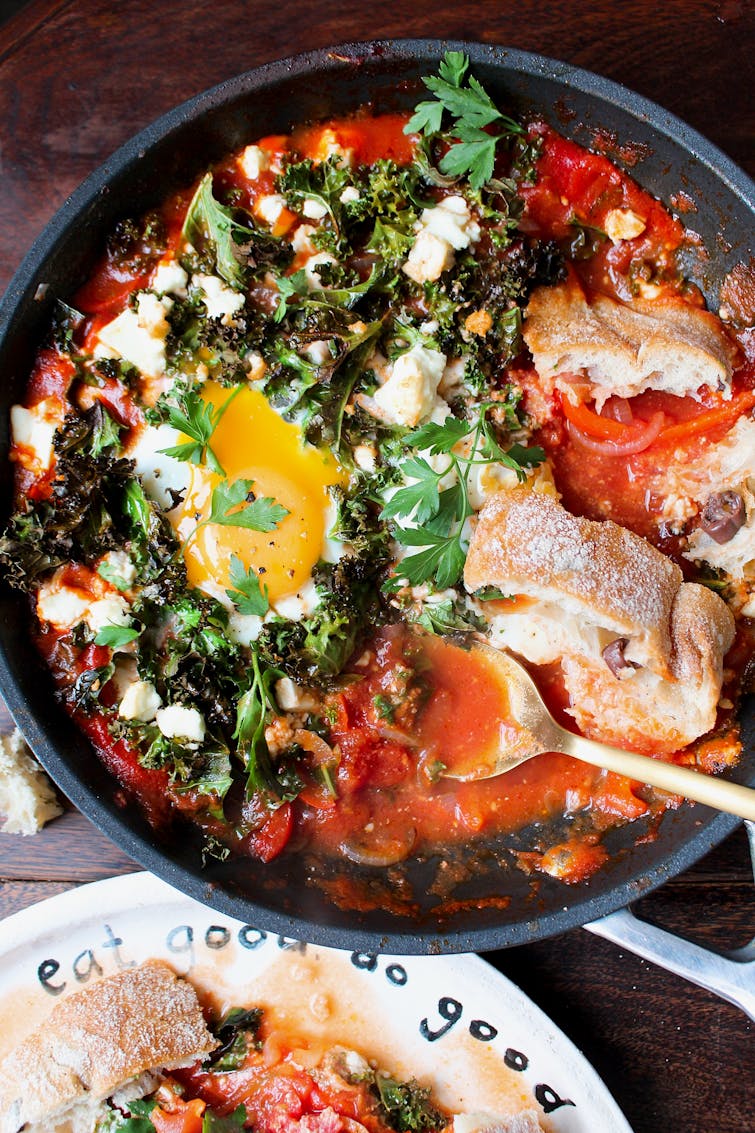 ---
How to store
Store in an airtight container in the fridge for up to 3 days.
Leftovers
Serve the leftovers with a side of green salad seasoned with a light vinaigrette.