Kale Noodle Broth
Try this comforting onion, garlic, dried mushroom and miso based broth with crispy and spicy roasted kale. It's sweet, salty, soft, crunchy, fresh, and spicy, and is served with sesame seeds and a soft boiled egg/tofu. 
Substitute:
No kale? Try with cavolo nero instead. 
No dried mushrooms? Use a cube of stock instead. 
No eggs? Try with tofu instead. 
Prep time: 10 minutes
Cook time: 20 minutes
Total time: 30 minutes
Servings: 2
Ingredients:
100 g Kale
1 Onion (chopped)
Garlic clove (chopped)
15 g dried mushrooms
1 tsp Miso paste
1 tbsp Soy sauce
1 tbsp Mirin
2 Eggs
90 g Noodles
1 tsp Sesame seeds
1 tsp chilli flakes
Salt & pepper
Recipe:
Make the broth: Cover the dry mushrooms with 1 L of boiling water. Set aside to infuse. In the meantime, heat 2 tbsp of olive oil in a large pan over low-medium heat. Cook the onion and garlic for 10 minutes, until tender. Remove the mushrooms from the liquid - do not discard them. Pour the mushroom stock in the pan with the onion and simmer for 20 minutes. Finely chop the rehydrated mushrooms and add them to the stock too.
Roast the kale: Preheat the oven to 150 C/130 fan/2 gas mark. Remove any tough stalky bits from the kale leaves (keep them for stocks or soups), then place in a baking tray. Toss it with a little olive oil, chilli flakes, salt and pepper. Roast for 10-15 minutes, or until crisp and still green. 
Cook the soft boiled eggs: Bring a saucepan (large enough to hold the eggs in a single layer) of water to a boil over medium-high heat. Gently add the eggs into the water one at a time. Cook for 6 minutes, adjusting the heat as necessary to maintain a gentle boil. When the eggs are done cooking, transfer them to ice cold water and chill until just slightly warm, about 2 minutes, then gently peel the eggs.
Cook the noodles: Add the miso, soy sauce and mirin to a small bowl, and mix to combine. Add the miso mixture to the broth and bring to a boil. Add the noodles and cook according to the packet instructions. 
Serve: Once everything is ready, divide the noodles and broth between two bowls, along with the mushrooms, onion, garlic, eggs and roasted kale on the top. Sprinkle over sesame seeds and serve.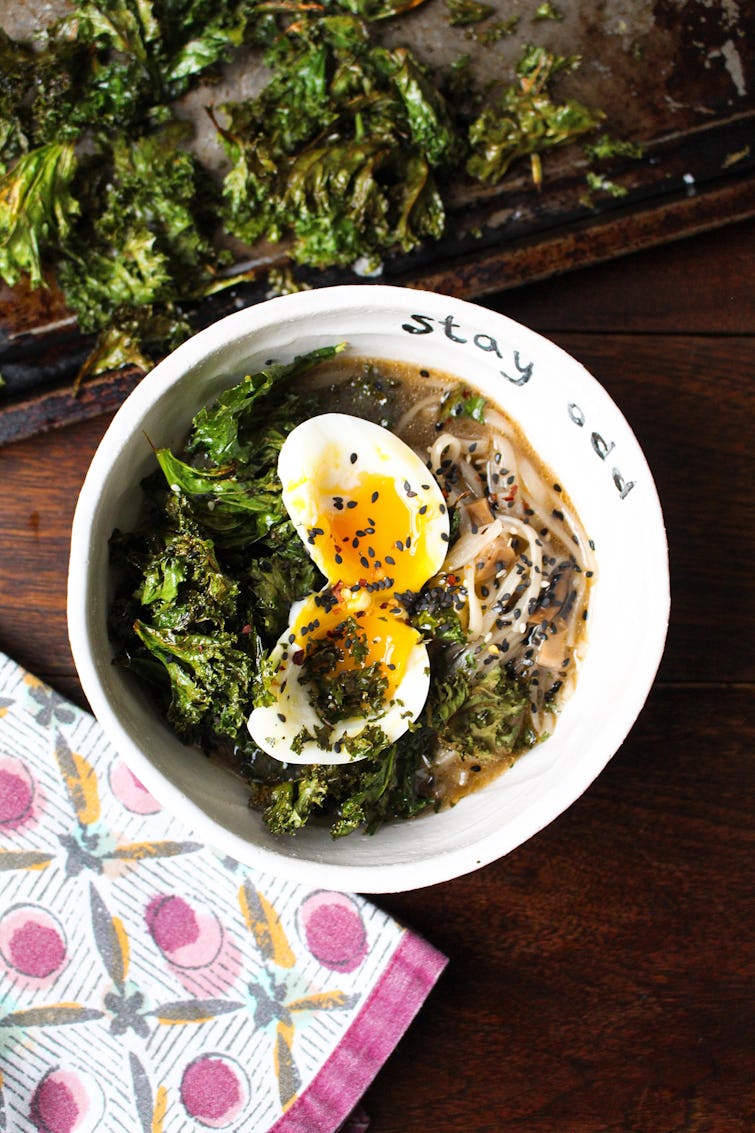 ---
How to store
You can make the broth in advance and store it in the fridge for up to 5 days. It will also freeze well for up to 1 month. When ready to eat, bring the stock to a boil and cook your noodles in. Store the roasted kale in an airtight container, in a cool dark place.
Leftovers
Make spring rolls! Stuff your rice paper with your noodles leftover, along with kale, grated carrot or any vegetables you have on hand.