Kale and Chickpea Flour Fritters
Little fritters made from shredded kale, dill, garlic powder, chickpea flour and seasonings. The batter is made in minutes, and the fritters pan fried until golden brown.
Substitute:
No kale? Make these chickpea flour with other green or veggies such as cavolo nero, lettuce, rocket, red onions, onion, or shallot.
No dill? Use chives, parsley or any fresh herb you have on hand. 
No cayenne pepper? Try with chilli powder or paprika instead.
Prep time: 10 minutes
Cook time: 10 minutes
Total time: 20 minutes
Servings: 2
Ingredients:
For the fritters:
60 g Kale
210 g Gram (chickpea) flour
10 g Garlic powder
1 tsp Cayenne pepper
1 tsp Ground cumin
15 g Dill
Sea salt 
220 ml Water
For cooking:
Vegetable oil (or light olive oil)
For serving:
Yoghurt (or dipping sauce of choice)
Recipe:
Measure your ingredients. Finely chop the kale leaves and dill.
In a large mixing bowl, combine the chickpea flour, garlic powder, cayenne pepper, cumin powder and a generous pinch of salt. Add the kale and dill, and mix to combine.
Add the water (start with 200 ml) and stir to make a thick batter, add more water as needed. The batter shouldn't be liquid. It will be sticky but you should be able to make fritters by hand.
Heat a generous drizzle of oil in a large frying pan. Shape about 2 tablespoon portions of batter into patties, and fry in batches, for 3-4 minutes, or until crisp and golden. 
Remove from oil with a slotted spoon and let drain on a paper towel lined plate.
Serve hot with your favourite dipping sauce!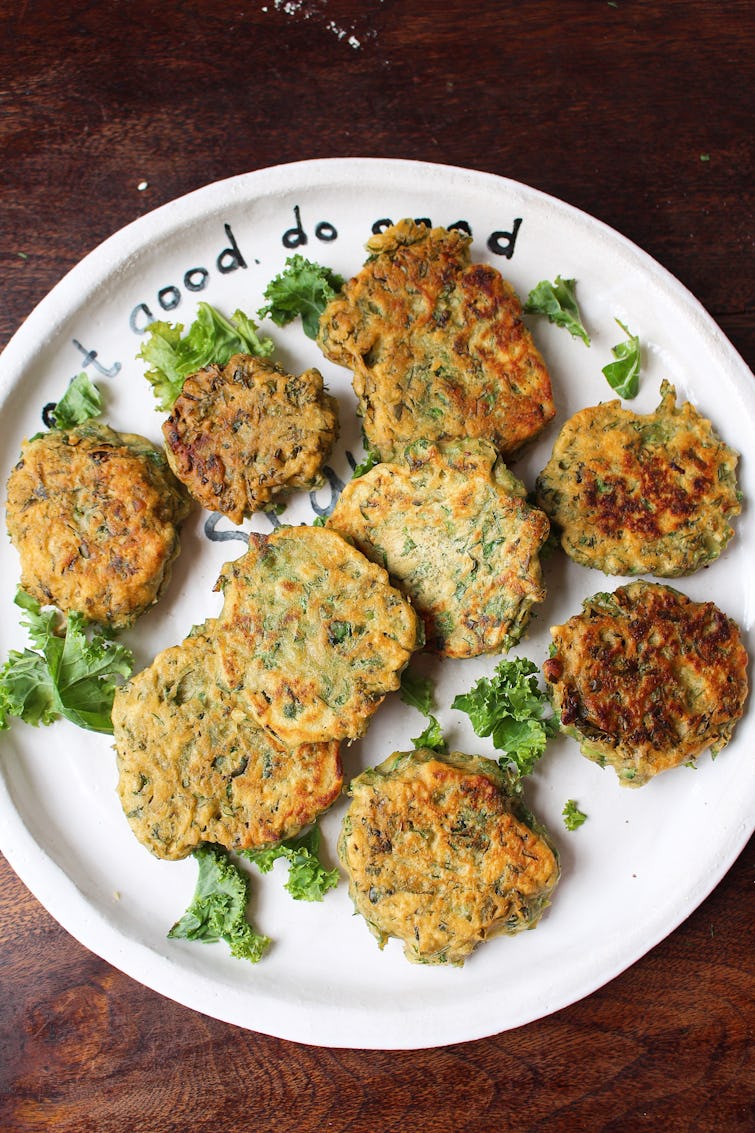 ---
How to store
Store in an airtight container, in the fridge for up to 4 days, or freeze for up to 1 month. To eat, reheat in a hot oven for 5-10 minutes and serve. 
Leftovers
Enjoy your fritters over a lettuce or rocket salad with a light tahini and lemon dressing, or alongside simple roasted vegetables from your Oddbox.