Hasselback Rosemary Potatoes
The potatoes are thinly sliced into "hasselback" and roasted at high heat. Crispy, tender with rosemary and garlic flavours.
Substitute:
No potatoes? Try with parsnips or carrots instead. 
No rosemary? Use thyme or oregano instead. 
No butter? Try with olive oil instead. 
Prep time: 10 minutes
Cook time: 40 minutes
Total time: 50 minutes
Servings: 2
Ingredients:
400 g Small potatoes
50 g Butter / Vegan butter
3 sprig Rosemary
4 Garlic cloves
Salt & pepper
Recipe:
Preheat the oven to 190 C/170 fan/5 gas mark. Get your ingredients measured up.
Slice the potatoes into thin slices, leaving 0.5 cm at the bottom to not slice all the way through. To do so, position 2 wooden spoons on either side of the potato to help prevent you from cutting through the potato. 
Place in a large roasting pan, toss with melted butter, chopped rosemary, chopped garlic, salt and pepper.
Arrange the potatoes cut side down in the roasting pan. Transfer to the oven and roast for 20 minutes. Flip over the potatoes, return to the oven and roast for another 20 minutes, or until the potatoes are golden and crisp.
Serve warm!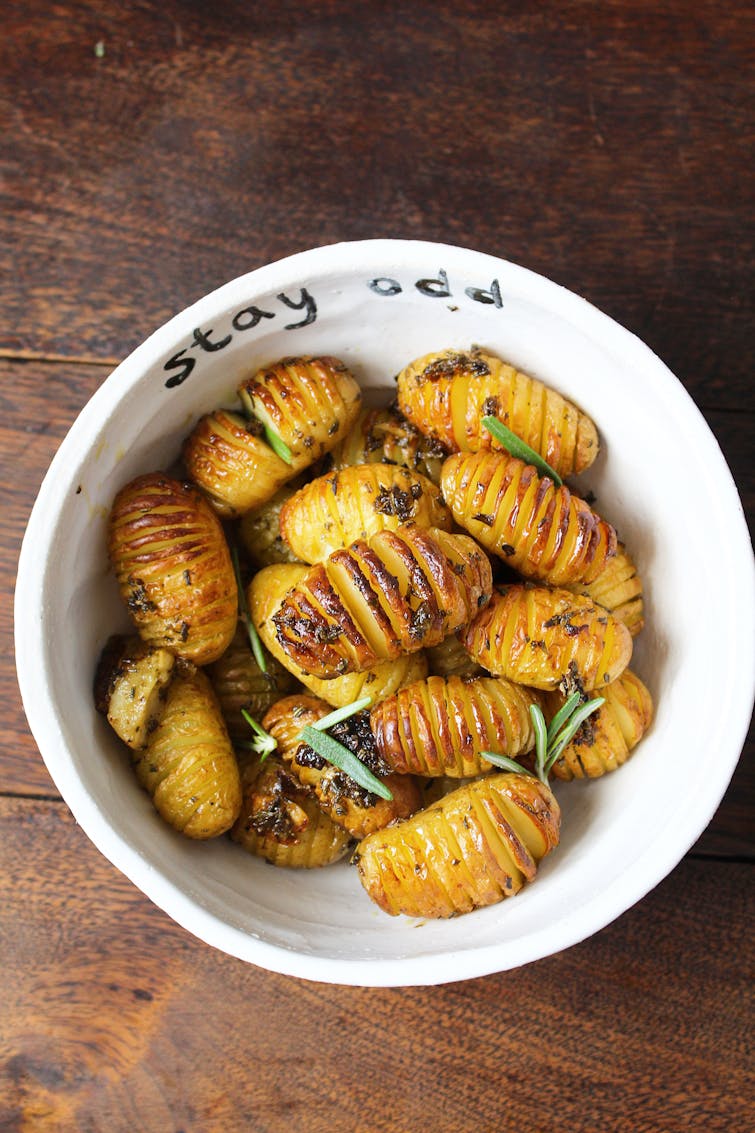 ---
How to store
Store in the fridge for up to 3 days, or in the fridge for up to 3 months.
Leftovers
The hasselback potatoes are a great side for all your other Oddbox meals, such as soups, stews, or salads.  You can also crush your potatoes to make a rustic potato puree. Add a splash of milk/plant based milk if needed.