Hasselback Aubergine Parmigiana
Recreate this simple and summery aubergine recipe. The hasselback aubergine is stuffed with cheese and fresh basil leaves and then roasted in an oregano tomato sauce. Perfect on its own or as a side dish. 
Substitute:
No aubergine? Try with courgette instead. 
No onion? Use shallot, or red onion. 
No mozzarella? Try with only grated parmesan or slices of feta. 
Vegan? You can use any vegan cheese instead of the mozzarella and parmesan. You can also use slices of tofu instead of the vegan cheese substitution. 
No tomato sauce? Use passata instead. You can also use only 2 cans of chopped tomatoes. 
No oregano? Try with rosemary or thyme. Any italian mix of dried herbs will work. 
Prep time: 15 minutes
Cook time: 40 minutes
Total time: 55 minutes
Servings: 3
Ingredients:
2 Aubergines
1 Onion
1 Mozzarella
30 g Parmesan
½ a bunch of Basil leaves
400 g Tomato sauce
400 g Tin chopped tomatoes
1 tbsp Oregano
Olive oil
Salt & pepper
Recipe:
Prepare the tomato sauce: Preheat the oven to 190C/170 fan/5 gas mark. Halve, peel and dice the onion. Compost the onion skin or keep it for making stock. Heat 1 tbsp of olive oil in a large frying pan over a medium heat and fry the onion for 5 minutes to soften. Add the oregano, tomato sauce and chopped tomatoes. Season with salt and pepper, simmer and cook for 10 minutes. Pour the sauce into the baking dish.
Prepare the aubergines: Take the aubergines and make widthways cuts at 1cm intervals, three quarters of the way through, so the slices are still attached at the bottom. You can use two wooden spoons on each side of the aubergine to get perfect hasselback cuts and avoid cutting through. Slice the mozzarella, grate the parmesan and pick the basil leaves. Stuff the aubergine cuts with mozzarella slices, grated parmesan and basil leaves.
Cook the aubergines: Arrange the aubergines in the baking dish on top of the sauce. Drizzle with a little olive oil, season to taste and bake for 35-45 minutes, or until the cheese is melted and the aubergines are tender. Top with fresh basil and serve.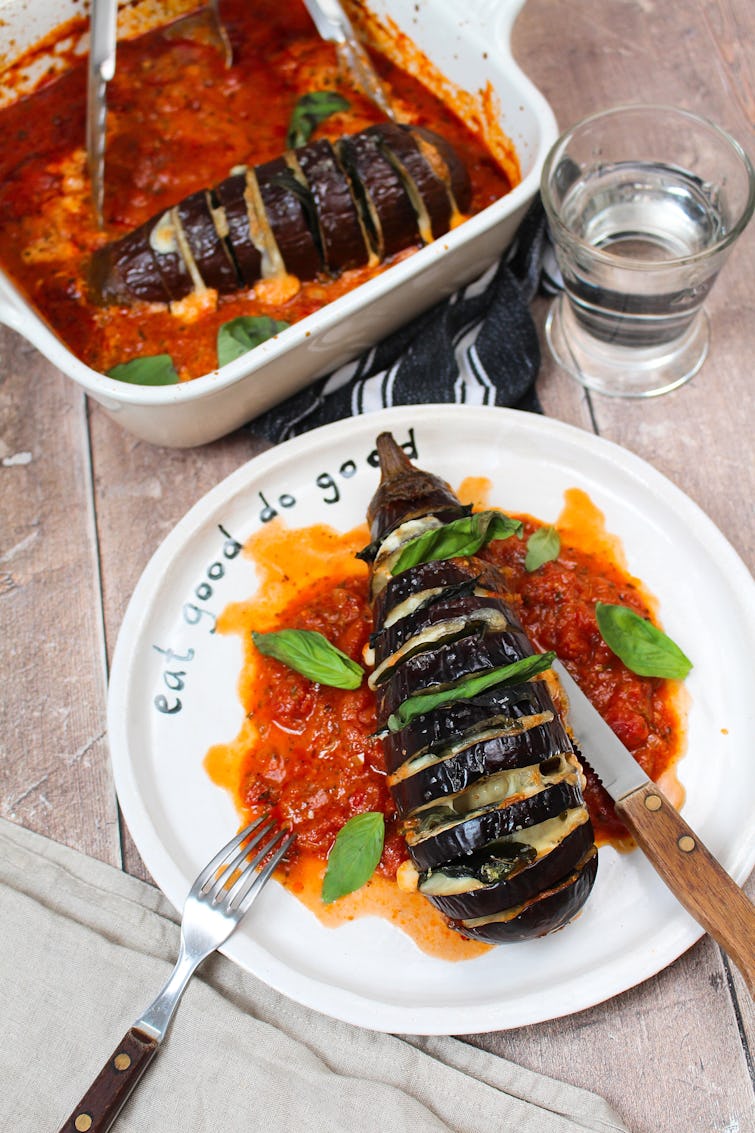 ---
How to store
Store the hasselback aubergine parmigiana in an airtight container, in the fridge, for up to 3 days.
Leftovers
Aubergine dip: Add the aubergine and tomato sauce leftovers into a food processor along with a little tahini, and blend until smooth. You can spice things up with a little smoked paprika, chilli powder, garlic and lemon juice. Season to taste and serve with toast, crackers or crudites.  Aubergine pasta sauce: Similar to the dip but without the tahini. Blend all the leftovers until smooth and serve with your favourite al dente pasta.   Aubergine pizza: Slice the aubergine following the hasselback cuts for the pizza topping. Use the tomato sauce as pizza sauce. For the pizza dough, you can make it yourself from flour, yeast, sugar and water.