Harissa Roasted Squash Salad
Skin on, sliced squash rubbed in harissa sauce with olive oil, salt and pepper. Roasted until soft and golden and served with rocket and crumbled feta/vegan alternative.  
Substitute:
No butternut squash? Use any squash or pumpkin for this recipe. 
No rocket? Try with shredded brussels sprouts or salad leaves.
Prep time: 10 minutes
Cook time: 30 minutes
Total time: 40 minutes
Servings: 4
Ingredients:
1 Butternut squash
5 tbsp Rose harissa pesto
5 tbsp Olive oil
90 g Rockets
90 g Feta / Vegan feta
4 tbsp Pomegranate seed
Salt & pepper
Recipe:
Preheat the oven to 190 C/170 fan 5 gas mark. Cut the butternut squash skin-on into 1 cm thick slices. 
Do not discard the squash seeds. Place the seeds in a small saucepan and cover with water. Bring to the boil and simmer for 5 minutes. Drain and set aside for now.
In a large mixing bowl, add the rose harissa pesto, olive oil and a generous pinch of both salt and pepper. Mix well to combine.
Add the butternut squash slices into the bowl with the harissa mixture and mix well to coat. You can use your hands to evenly massage the harissa mixture onto the squash, but wash your hands right after to avoid burning yourself with the heat of the harissa.
Line a large baking tray with baking paper. Spread the butternut squash slices into 1 layer. Bake for 20 minutes, then add the butternut squash seeds and place back in the oven for 6-7 minutes.
In a large mixing bowl, add the rocket, roasted squash and seeds. Gently mix and season to taste with salt and pepper.
Plate the salad and top with crumbled feta and pomegranate seeds. 
Serve warm or cold!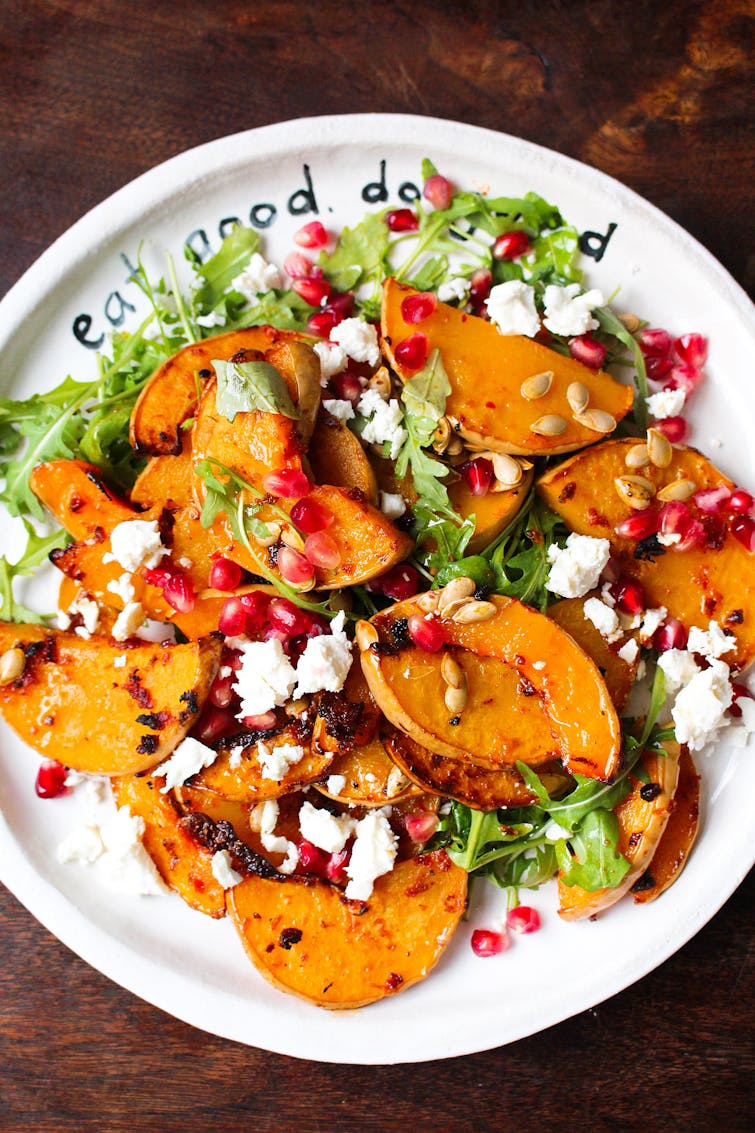 ---
How to store
Store in an airtight container, in the fridge, for up to 3 days.
Leftovers
Roasted squash risotto: Blend the harissa roasted squash with a little stock and pour into your almost cooked risotto for a colourful and creamy result.  Pasta sauce: Blend the harissa roasted squash with a little stock or cream/vegan cream for a creamy pasta sauce. Serve with your favourite pasta!