Harissa Roasted Carrot Dip
Try this flavour-packed alternative to hummus! Made with spiced, slow-roasted carrots, which are then blended into a creamy dip with red lentils, almonds, harissa, garlic, lemon juice, and olive oil.
Substitute:
No carrots? Try with other root vegetables: parsnips, beetroot, celeriac, turnips, and kohlrabi are all good substitutes. 
No cumin? Use coriander powder, turmeric or any curry blend instead. 
No red lentils? Try with any other lentils. 
Not into spicy food? Try with a lighter harissa such as a harissa pesto, or add less harissa paste. Blend and adjust to your liking. 
Prep time: 15 minutes
Cook time: 45 minutes
Total time: 60 minutes
Servings: 5
Ingredients:
For the roasted carrots:
500 g Carrots
2 tbsp Olive oil
1 tsp Cumin
1 tsp Paprika
Salt & pepper
For the dip:
40 g Red split lentils (Cooked)
40 g Flaked almonds
1 tsp Harissa paste
2 Garlic cloves
½ Lemon (juice)
¼ a bunch of Coriander leaves
70 ml Water
For the topping:
extra virgin olive oil (for drizzling)
Crackers of choice (for dipping)
Recipe:
Cook the carrots: Preheat the oven to 180 C/160 fan/4 gas mark. Scrub to clean the carrots skin and cut into 1 cm thick slices. Place on a lined baking tray, and toss in olive oil, cumin, paprika, salt and pepper. Bake for 40 minutes, or until carrots are soft, tossing once or twice during baking. Let cool for 5-10 minutes.
Blend to a dip: Add the carrots to a food processor along with the cooked red lentils, flaked almonds, harissa, garlic cloves, lemon juice, coriander, and olive oil. Blend until smooth, then slowly stream in the water and blend until the dip is lighter and creamier. Season to taste and serve with a drizzle of olive oil and crackers.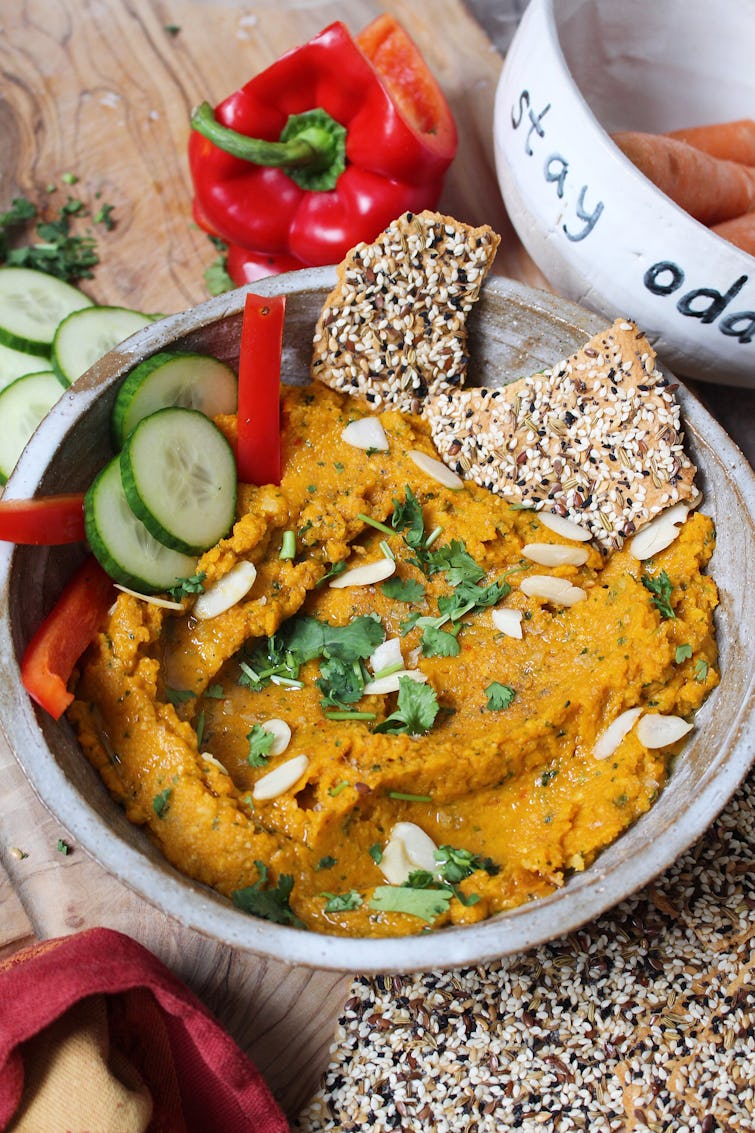 ---
How to store
Store the harissa carrot dip in an airtight container in the fridge for up to 3 days. To freeze make sure the dip is fully cooled and freeze for up to 3 months.
Leftovers
The harissa carrot dip is great served as pasta sauce. Toss your favourite al dente pasta in the dip and add some pasta water until you are happy with the consistency.