Grilled Pineapple With Coconut Cream
Serve this delicious warm and caramelised pineapple with coconut cream for dessert or at breakfast. Check out the leftover tips for vegan pineapple pancakes and rustic pineapple galette recipes. 
Substitute:
No pineapple? Make this with banana, mango, whole strawberries or any other fruits you have on hand. 
No sugar? Try with maple syrup or runny honey. 
No coconut yoghurt? Use any yoghurt/vegan yoghurt you like. You can also use creme fraiche/vegan creme fraiche instead. 
No lime? Try with lemon instead. 
Prep time: 15 minutes
Cook time: 10 minutes
Total time: 25 minutes
Servings: 4
Ingredients:
1 Pineapple
1 tbsp Sugar
50 g Desiccated coconut
130 g coconut yoghurt
1 Lime (zest and juice)
Recipe:
Prepare the pineapple: Top and tail the pineapple so that it stands on your chopping board. Use a serrated knife or sharp knife to remove the skin and cut the pineapple into quarters, lengthways. Cut the flesh into chunks. Compost the pineapple peels.
Cook the pineapple: In a bowl, mix the pineapple chunks with the sugar. Pan fry (or place in the oven under the grill) over medium high heat to caramelise. Keep an eye on them to prevent the sugar from burning and turn halfway through to caramelise both sides.
Make the coconut cream: Toast the desiccated coconut in a dry pan until light brown in colour. In a bowl, mix together the coconut yoghurt, toasted desiccated coconut, zest and lime juice. Serve the coconut cream with the warm caramelised pineapple chunks.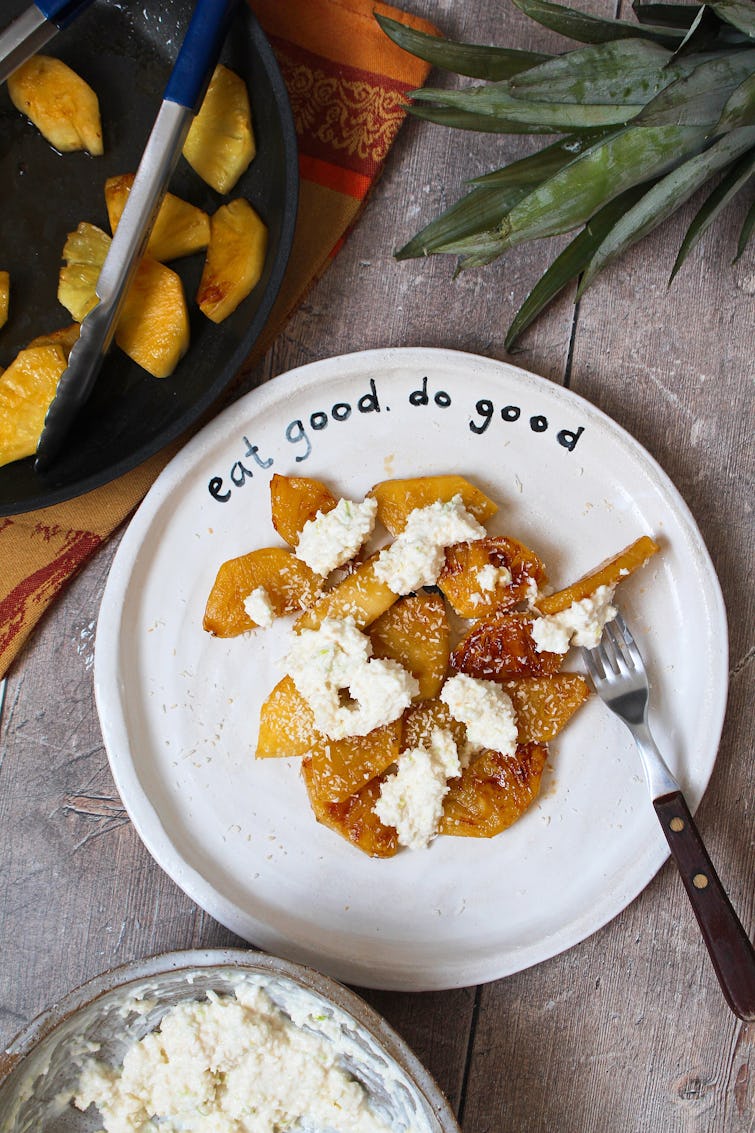 ---
How to store
How to store: Store both your pineapple and coconut cream in the fridge for up to 3 days.
Leftovers
Leftovers: - Rustic pineapple galette: Roll out a puff pastry/vegan puff pastry and place your pineapple chunks in the center. Fold the puff pastry side over the fruits, egg wash (vegan uses plant based milk) the pastry and bake at 180C/160 fan/4 gas mark for 30 minutes, or until puffed and golden. Serve warm or cold with the coconut cream.  - Vegan pineapple pancakes: Make your pancake batter from 150 g flour, 20 g porridge oats, 1 tsp chia seeds, 1 tsp baking powder, 190 ml plant based milk, 1 tbsp maple syrup and 10 ml melted coconut oil. Spoon the pancake batter in your oiled frying pan and add a few chunks of pineapple. Cook for 3 minutes then flip your pancakes over and cook for another 3 minutes. Serve with the coconut cream on top.