Grilled Aubergine Spaghetti
Nothing beats a good pasta dish. This one uses a simple tomato sauce as a base, with grilled aubergine slices tossed through for even more goodness. Served with grated parmesan and fresh basil: a real crowd-pleaser! 
Substitute:
No aubergine? Try with bell peppers or courgettes. 
No spaghetti? Use your favourite pasta instead. 
No parmesan? Try with grated pecorino or a vegan alternative. 
Prep time: 20 minutes
Cook time: 20 minutes
Total time: 40 minutes
Servings: 2
Ingredients:
2 Aubergines
1 Onion (chopped)
4 Garlic cloves (chopped)
1 Tin chopped tomatoes
150 g Spaghetti 
extra virgin olive oil
Salt & pepper
Parmesan / vegan parmesan
Basil leaves
Recipe:
Salt the aubergines: Aubergine soaks up oil like a sponge and salting helps reduce that, as well as reducing their bitterness. Use a mandoline or a sharp knife to slice the aubergine lengthwise (approx 1 cm thick). Place them in a colander, sprinkle with salt and let it sit for about 15 minutes. Before using, pat dry the aubergine with a clean tea towel.
Grill the aubergine: Preheat the oven to 200C/180 fan/6 gas mark. Drizzle the aubergine slices with a little olive oil and place on a large oven tray (on a single layer - use 2 trays if needed). Grill in the hot oven for 10-15 minutes, until tender and lightly charred, then set aside.
Cook the pasta sauce: Heat up 2 tbsp of olive oil in a large frying, and cook the onion and garlic over low-medium heat for 5 minutes. Add the chopped tomatoes, a small glass of hot water and cook for 15 minutes or until reduced and the aubergine slices are ready.
Cook the spaghetti: Bring a large saucepan of salted water to the boil. Add the spaghetti and cook until al dente. Reserve 2-3 tbsp of pasta water, drain and set aside.
Add the aubergine: When the tomato sauce has reduced, season to taste with salt and pepper, then add the aubergine slices, reserved pasta water and spaghetti. Gently mix to combine and serve with fresh basil leaves and parmesan/vegan parmesan.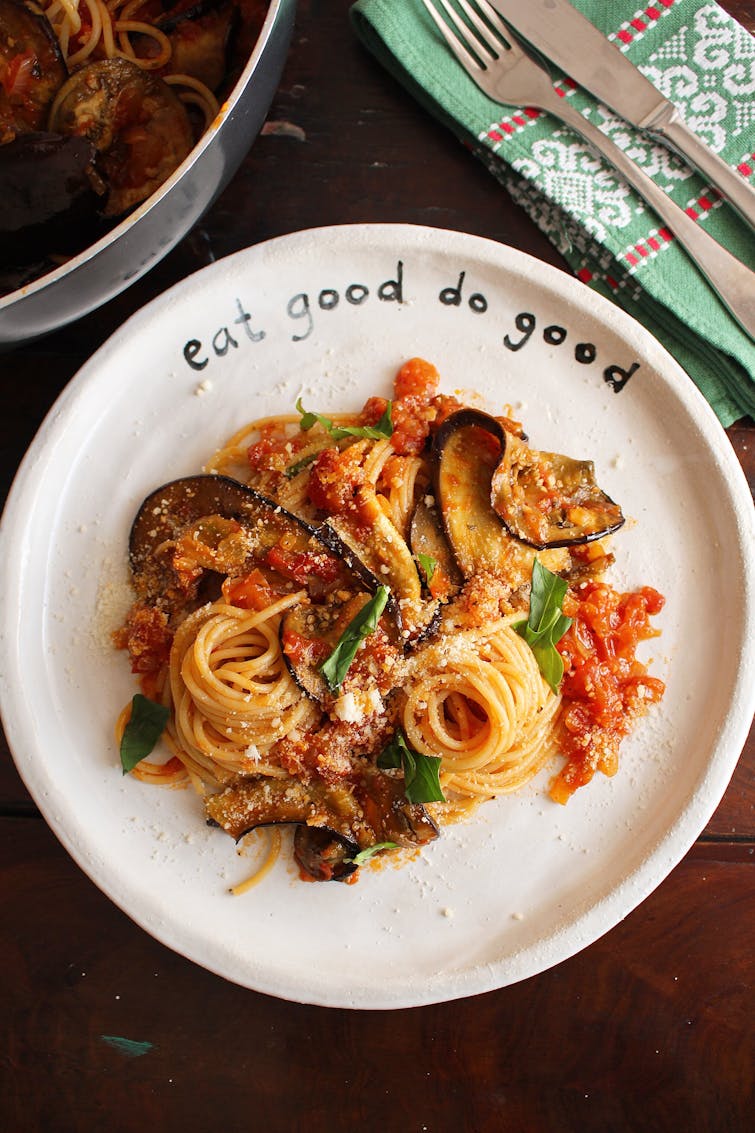 ---
How to store
Store in an airtight container in the fridge for up to 3 days. Store in the freezer for up to 3 months. 
Leftovers
Use your leftovers to make pasta bake, or frittata. For the bake, add your aubergine pasta to a greased baking dish and cover with more tomato sauce and grated cheese of choice. Bake until golden. For the frittata, chop up the pasta and mix with eggs and fresh herbs. Pour into a baking dish and roast until cooked through.