Grilled Aubergine Coronation Chickpea Salad
A royal British inspired dish that is quick to make and perfect for the warmer weather. Creamy, sweet and spicy, this salad showcases beautiful grilled aubergine wedges, is packed with flavour and can be served on its own, or in lettuce cups for extra crunch. Leftovers will make an amazing sandwich filling too.
Substitute:
No mayonnaise? Use yoghurt/vegan yoghurt instead. 
Vegan? Use vegan mayonnaise. 
No ginger paste? Use fresh grated ginger or fresh grated garlic instead. 
No mild curry paste? Try with mild curry powder or garam masala instead. 
No mango chutney? Try using tomato chutney or onion chutney instead. 
Prep time: 10 minutes
Cook time: 20 minutes
Total time: 30 minutes
Servings: 4
Ingredients:
For the grilled aubergine: 
1 Aubergine
1 tbsp Soy sauce
2 tsp Ginger paste
Salt & pepper
For the chickpea salad: 
1 can chickpeas (drained and rinsed )
5 tbsp Mayonnaise (or vegan mayonnaise )
1 tbsp Mango chutney
1 tsp Mild curry paste
1 tbsp Raisins
1 tbsp Flaked almonds
4 tbsp Coriander leaves (chopped )
Salt & pepper
For serving:
2 Baby gem lettuce
Recipe:
Preheat the oven to 200 C/180 fan/7 gas mark. Cut the aubergine into wedges.
Place in a mixing bowl along with the soy sauce, ginger paste and a pinch of both salt and pepper.
Toss to coat, then place in a baking dish and bake for 20 minutes, until tender and golden. 
In a large mixing bowl, add the chickpeas, mayonnaise, mango chutney, curry paste and a pinch of both salt and pepper.
Mix well to combine and use a fork to crush a third of the chickpeas for a chunky texture. 
Add the raisins, almonds and fresh coriander. Mix well and season to taste.
Spoon the chickpea salad into baby gem leaves and top with the grilled aubergine wedges.
Enjoy!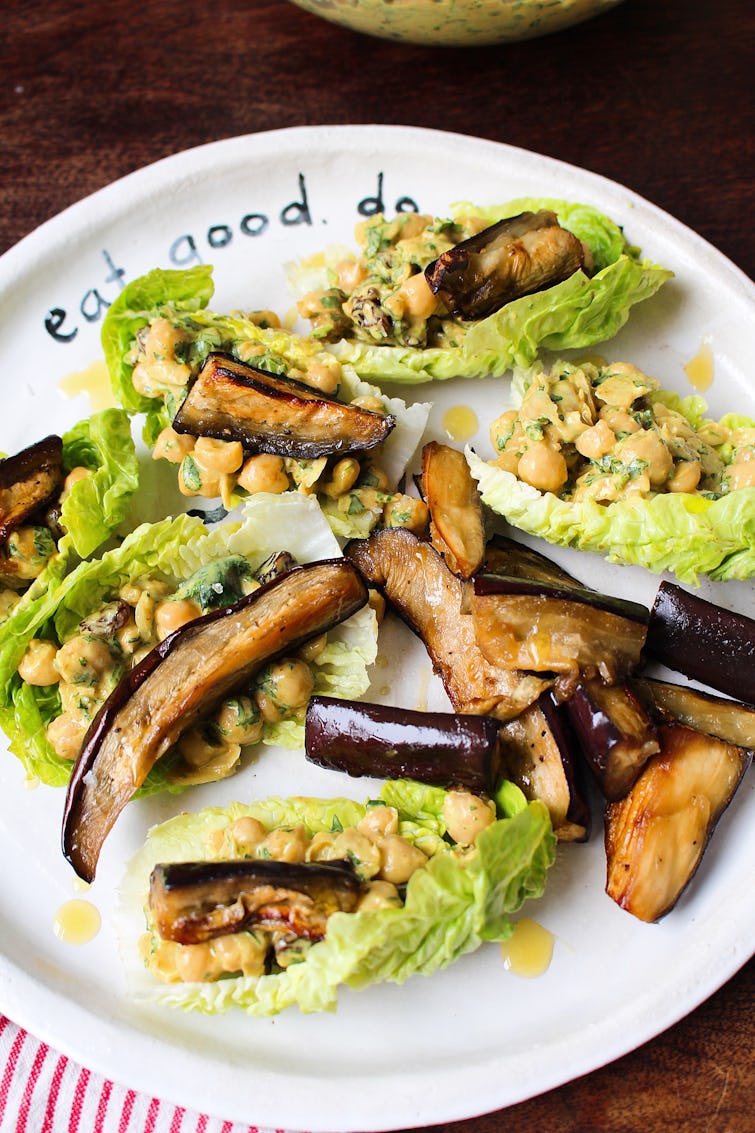 ---
How to store
Store in an airtight container, the fridge for up to 3 days. 
Leftovers
Make a chickpea and aubergine dip: place the leftovers into a food processor and blend into a creamy dip. If too dry add mayonnaise/vegan mayo, yoghurt/vegan yoghurt or simply a splash of water. Serve with bread, crackers or crudites.